Affiliate marketing is a multi-billion dollar industry. Top affiliate marketers earn millions of dollars annually for their efforts, and an increasing number of people are entering the space. However, before you join an affiliate program or network, you must do your research on the various affiliate programs and the features available to you.
Every affiliate wants to maximize their revenue, but not everyone knows how to do this.
Affiliate marketing techniques have evolved considerably over time, thanks primarily to the introduction of new technologies and advanced tracking features. As an affiliate, you should know that there are several different ways to maximize revenue from affiliate programs that pay weekly. 
Weekly Payouts  – Choose the Right Affiliate Program
One of the important things to consider when choosing an affiliate network to partner with is its payout plan. The reality is that not everyone can or wants to wait 30 days before they can access their earnings. Some marketers want to be able to access their earnings daily or at least weekly.
To make this easier for you, we have compiled a list of 15 top affiliate programs that offer weekly payout options to their publishers. We also included the type of products available on these platforms, features available for marketers, and other pertinent facts that might affect your performance.
weekly Payouts – What does it Mean?
An affiliate marketing program is an all-in-one solution designed to connect brands (advertisers/merchants) with affiliate marketers (publishers). Publishers promote the offerings of the merchants and as compensation, based on performance, they receive a commission.
In essence, an affiliate marketing program is a referral program. The affiliate program provides affiliates with relevant marketing tools and also helps affiliates track, manage and optimize their performance. Most importantly, the affiliate program is responsible for paying affiliates their commissions, which can be monthly, bi-weekly, weekly, daily, or even instantly upon conversion.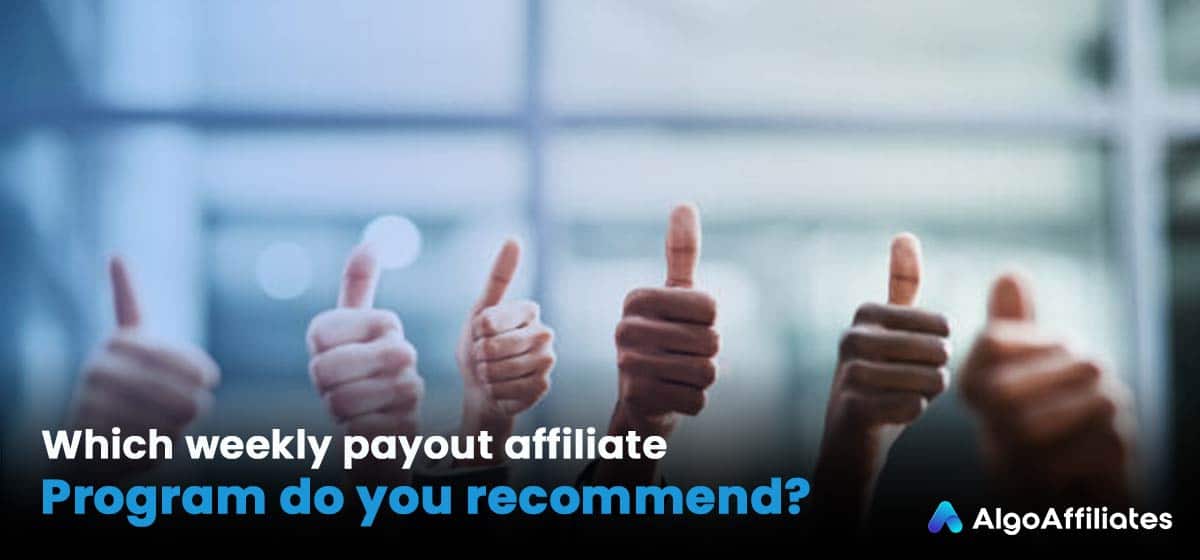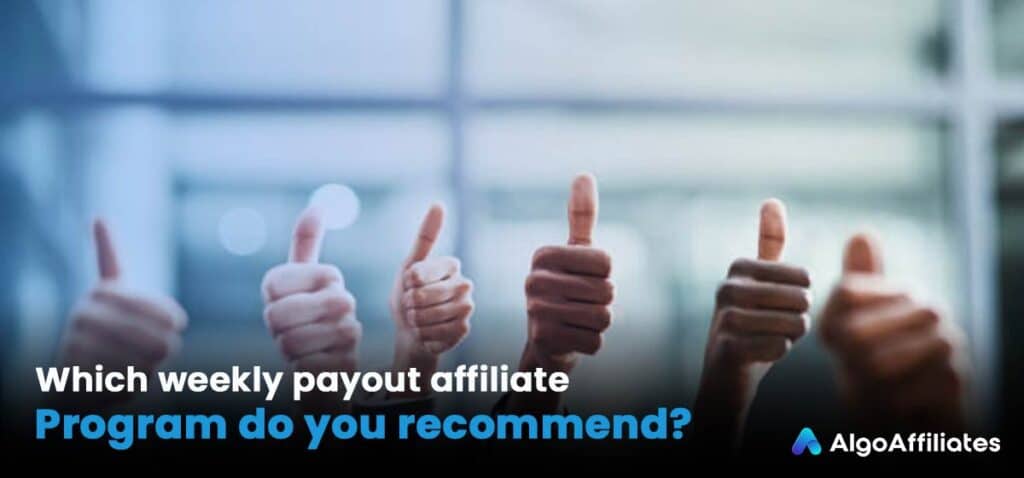 What to consider when choosing an affiliate program that pay weekly
When choosing an affiliate program, there are certain features you have to consider. Here are some of them to keep in mind:
The first thing you have to consider when choosing a program is the offers available on their platform. This not only means picking offers that align with your target niche but also understanding your audience and what offers will appeal to them the most. Obviously, if the affiliate program doesn't have suitable offers for you, there is no point in pursuing them further.
You cannot ignore commission rates when choosing an affiliate marketing program. The payouts and earnings models differ with various programs. However, the commission rate should not be viewed in isolation and things like EPC and conversion rates will give you a better indication of which program is best suited to your business needs.
In essence, don't just jump at the highest-paying offers, because if they don't convert well, it will all mean nothing. You will be better off with a lower payout offer that brings reliable and consistent conversions, than a high high-ticket offer that only converts occasionally.
Some affiliate marketing programs may have certain requirements that an affiliate marketer must meet before opening an account. Some programs might require a minimum amount of traffic or authority before you register to be an affiliate with them. Others might require that you have a large social media following. Go through the terms and conditions thoroughly before registering with them.
It is vital to understand that when you join an affiliate program or network, you are entering into a legally binding agreement that can have ramifications for you. If the terms of the agreement are very vague or overly in favor of the affiliate program, you need to decide if you want to negotiate the terms or find another program.
The bottom line is you need to protect yourself and your affiliate business because the last thing you want is to have payments withheld because of some fine print you didn't pay attention to.
Check the level of support and help offered by a program before registering with them. Some programs offer training and support to new affiliate marketers, while there are also others that assign dedicated account managers to their affiliate partners.
Whether you are completely new to affiliate marketing or highly experienced, building relationships with affiliate managers is vital. A good affiliate manager can add immense value to your efforts, and when you have a solid relationship with them, you can request higher payouts, better payment terms, exclusive content, and marketing materials.
This is often an overlooked feature, but it is important for affiliate marketers. Long cookie duration is a positive for affiliate marketers because most leads don't usually make purchases instantly. With a longer duration, you stand to earn a commission if your leads return at a later stage. Hence, when choosing an affiliate program, choose one with a long cookie duration.
Know this before You Join Weekly Affiliate program: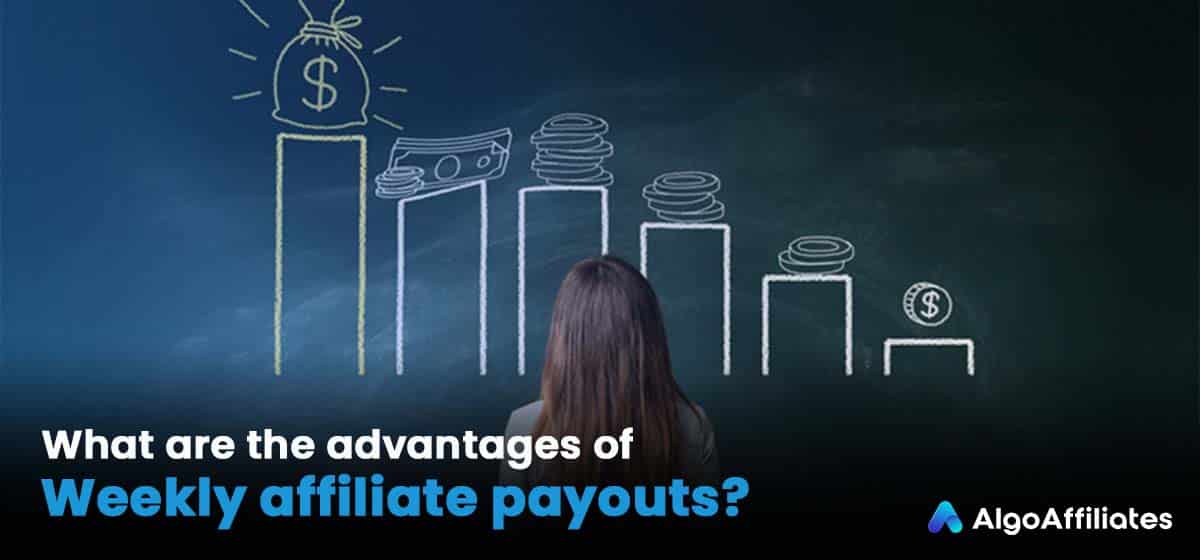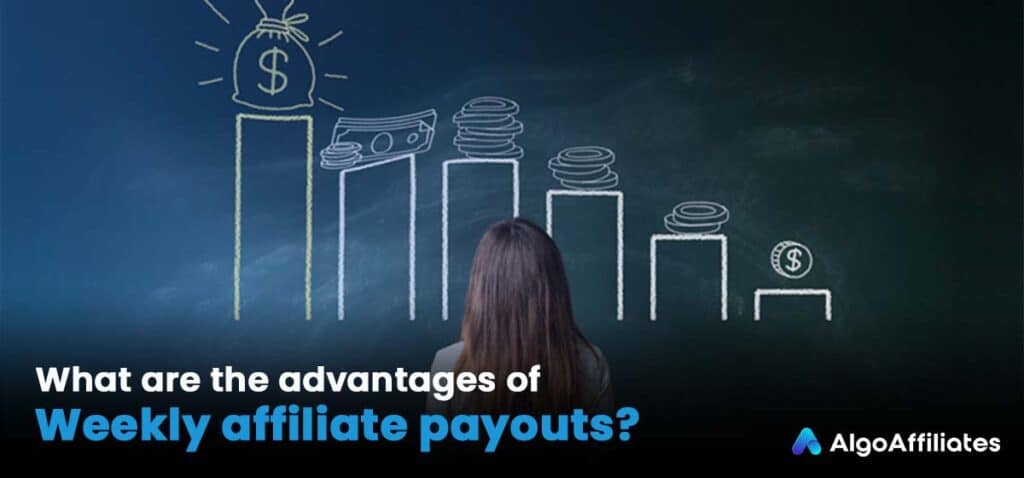 What are the advantages of weekly affiliate payouts?
The most obvious advantage is that you get your money quickly, but it goes beyond this. Depending on how you run your affiliate business and how much cash flow you need for your campaigns will also determine if weekly payouts are beneficial to you. If you use paid media campaigns to generate traffic, then weekly payments can help fund your marketing campaigns.
What are the disadvantages of weekly affiliate payouts?
On the surface, it might not seem like there are disadvantages to getting paid weekly but there are some factors to consider in order to make an informed decision. In some cases, the commission rates for some offers will be lower than those with longer payout periods.
The reason for this is the merchant has to factor in their risks, like returns, refunds, chargebacks, and fraud. To cover the potential costs of these risks, they may pay lower commissions. This is not always the case, but you should check this.
Another disadvantage of weekly payments is depending on the payment method, there may be fees every time a payment is received. While these fees might seem negligible, they add up and eat into your profits over time. Once again, you should investigate whether getting paid monthly will be more beneficial or costly to you. Also, receiving payments less frequently will make your accounting and tax reporting simpler.
Lastly, if you are not diligent about managing you're your finances, you may find that weekly payments are tedious to manage and reconcile, plus you may spend the funds before allocating them towards marketing costs. You may find that a monthly lump sum is easier to manage and keep your cash flow positive.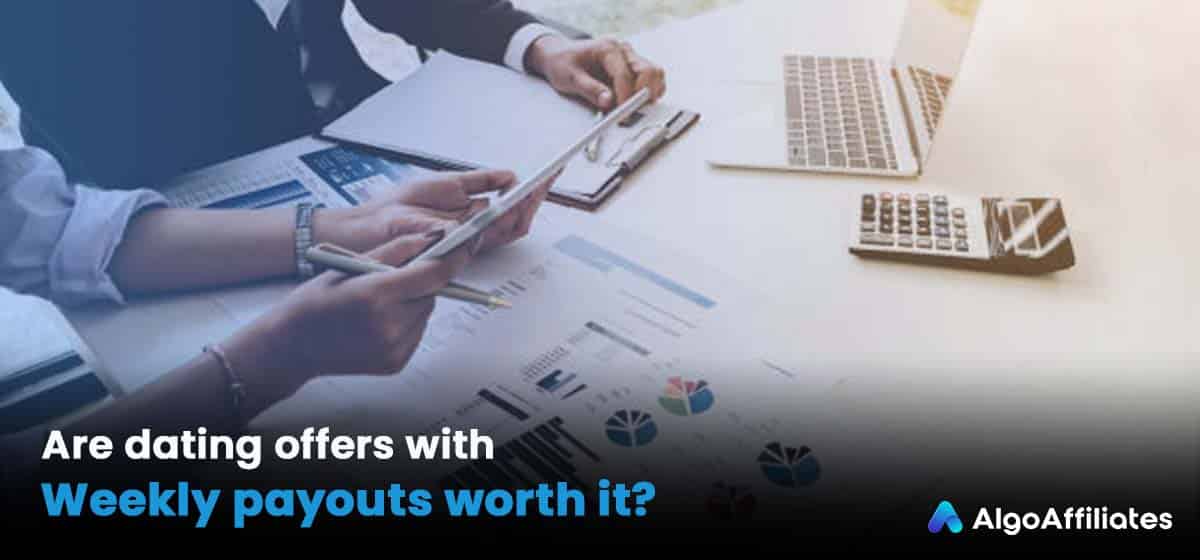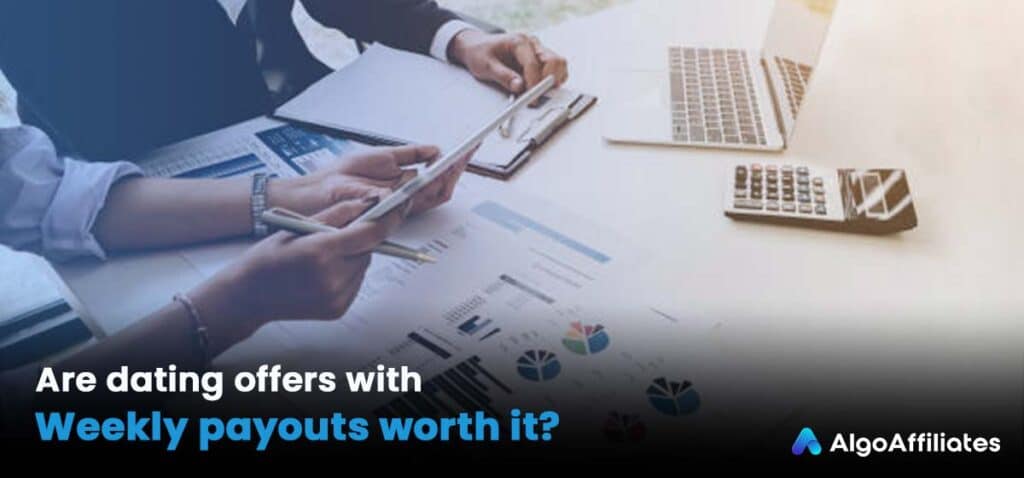 Are dating offers with weekly payouts  program worth it?
Any affiliate dating offers that convert well and put profit in your pocket are worth it, irrespective of whether it pays daily, weekly, or monthly. Weekly payouts are really just there for your convenience and a selling point to attract affiliates.
What else should I consider

besides the payout frequency?
The payout frequency is just one piece of the puzzle. The key things to consider include:
Affiliate program/network reputation
Commission rates
Tracking and reporting
Types of offers and marketing content
Payment methods
Support

Which weekly payout affiliate program do you recommend?
There is no one size fits all affiliate program out there, and you need to carefully consider your needs. If you want a solid network with a good range of offers and excellent commissions, then Algo-Affiliates is a great place to start. We have loads of high converting offers and we work closely with our publishers to really help them achieve.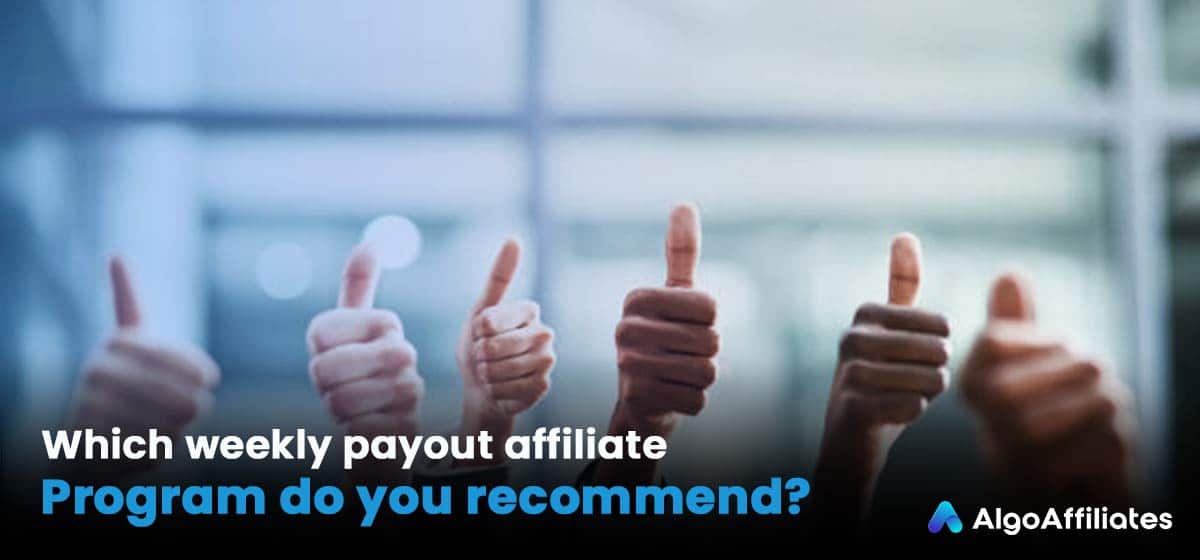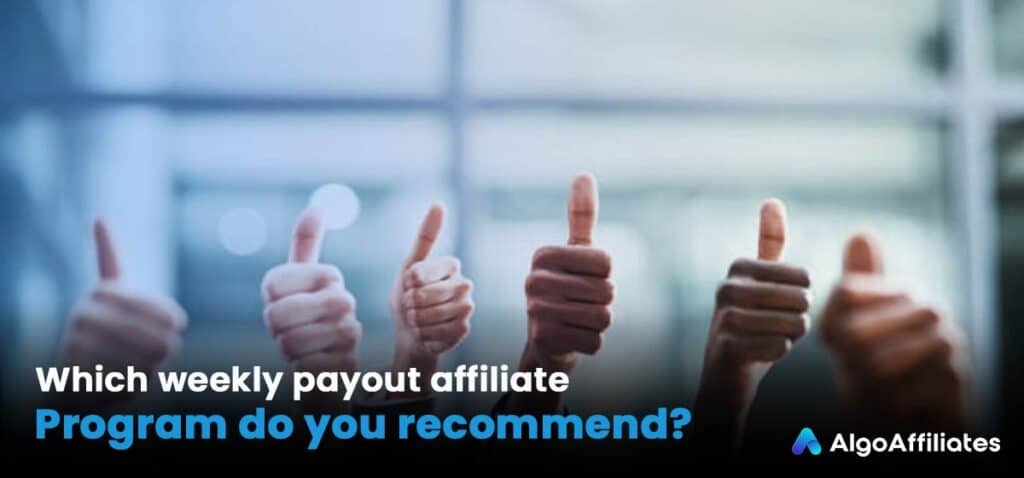 The Best Affiliate Marketing Strategies to Drive Sales ( For weekly programs ) 
Now, let's go into detail with some of the most popular tips and strategies that can help you maximize revenue from affiliate programs that pay weekly. 
Learn to Use CTAs Effectively
A CTA, also known as a call to action, is simply a small phrase that encourages the reader to take action, thus the name. Too many affiliate marketers write blogs with the entire purpose of making an affiliate sale. However, the affiliate links that they pepper throughout their article are bland, boring, and hard to find, which is why CTR (click-through rates) and ultimately conversions are often disappointing.
One important thing that you need to realize is that most people don't go over every line in your article. Most readers generally just scan articles instead of going over each and every word. Therefore, if your article isn't "scannable," it's going to cause issues. A vast majority of your readers are only going to click on links that are prominently placed. Your CTA could be in the form of a text link or a button. 
If you have placed some prominent links, you will see that the CTR is much higher when compared with links that are just obscurely spread out in your articles. One of the best ways to deal with this issue is to use call to action buttons and CTAs in the right way. 
A call to action button could be placed prominently on your website in order to draw attention to your affiliate links. Just make sure that you don't randomly place the call to action button in the articles; make sure that the text makes sense once the CTA is placed. Another key consideration of the button is its color. Certain colors will produce better results, so be sure to test which color button produces the best result. Just be sure not to change the text of the button while testing the effect of different colors or you won't know whether it's the color or the text that is producing a different result. 
If you know how to weave the CTAs properly, you could easily increase conversions by a significant margin. For instance, if you are using a prominent affiliate network like Algo-affiliates to maximize revenue from affiliate programs that pay weekly, adding CTAs could help you improve conversions significantly. 
Get Paid

through

more Clicks
This point just builds on to the previous one. One of the best ways to get more clicks on affiliate links that you have placed throughout your blog is by creating comparison tables. Lists and tables make it easy for your viewers to absorb relevant information without having to read long paragraphs. Tables often get high amounts of clicks and generate loads of interest, so you should definitely consider adding a few to your content.
The content needs to be very scannable, and comparison tables are an excellent way of doing just that. Instead of presenting all of the information in large chunks of text, you should consider adding tables. It's a good way to show comparisons of different products and subtly nudge your readers into a specific direction and get more clicks on your affiliate links.
Good affiliate marketers can understand the needs of their customers and play on their psychology. By gently hinting for specific products and adding buttons in the comparison tables from where a person can make a quick purchase, you could easily generate more sales.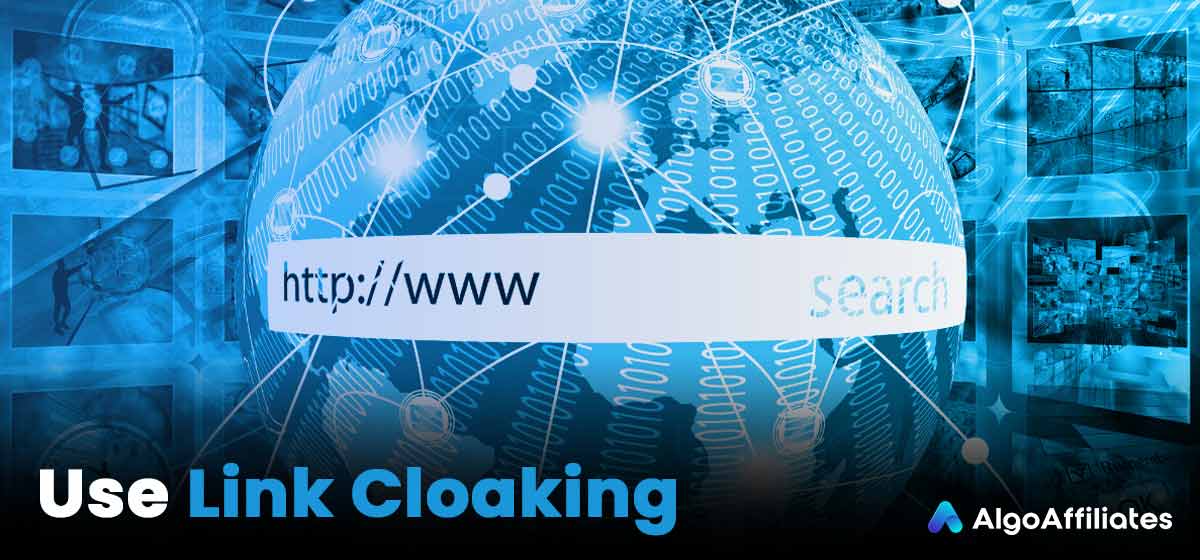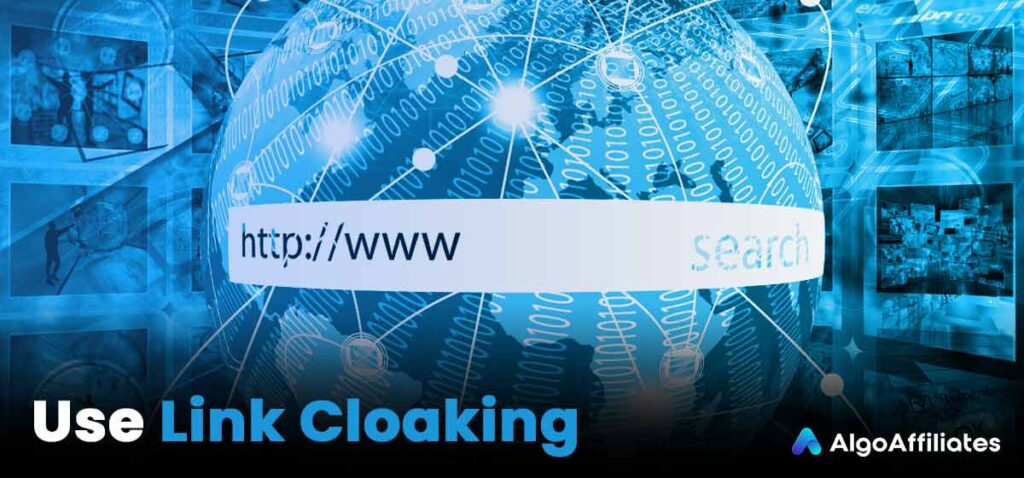 Link cloaking is critical if you want to succeed as an affiliate marketer. Most affiliate programs usually assign long tracking and ID links that generally seem suspicious to new readers. You really don't want people to see the bottom left of their browser indicating a terribly long link that points to a URL they don't know when they just hover their cursor on a button.
That's where link cloaking comes in. There are plenty of different link cloaking plugins that you can use in order to cloak those long links, especially if you have joined multiple affiliate programs for bloggers. Link cloaking is a very presentable way of making sure that your links don't appear suspicious, especially for readers who don't know much about affiliate programs or links. Another benefit of link cloaking is you can add additional layers of tracking to each and every link to give you even more granularity for additional optimization. 
Use Intent-Based Trigger Popups 
One of the most effective ways of increasing conversions is to use intent-based trigger popups in order to increase affiliate sales. If you know a thing or two about how to create intent-based trigger popups, you could really generate some fantastic commissions. 
One of the key things to keep in mind when creating intent-based affiliate popups is to use the AIDA framework, which simply means attention, interest, desire, and action. Essentially, what this means is that your popups should immediately grab the readers' attention.
If you are using intent-based trigger popups, you should consider using exit-intent popups. Exit-intent popups usually appear when a visitor's cursor is going off the browser or when they are tracking user intent. The popup appears just before a person is about to close the website, so you know that they are paying attention and are active on the website.
The best thing about this is that you don't need any kind of technical knowledge if using a CMS such as WordPress. Using a simple WordPress plugin like OptinMonster or MailOptin, you can easily create intent-based trigger popups. There are a whole host of different templates that you can use to create different kinds of popups.
Exit-intent trigger popups, for instance, are some of the most effective when it comes to driving affiliate sales. As long as you use the AIDA framework and add a prominent button to convince users, you could generate lots of sales. Here are some simple techniques that you can use in order to effectively utilize intent-based trigger popups:
Always use the AIDA framework to divert your readers' attention.

Always create multiple variants and use split testing in order to determine which one is working best.

Try different kinds of intent triggers to determine which one is performing well. 

Do Proper Keyword Research
A major mistake that many affiliate marketers make is that they do not conduct proper keyword research before they place offers on their blogs. Keywords are an essential part of the targeting, and if you don't know how to conduct comprehensive research, you are always going to face issues. 
There are plenty of different tools that you can use to conduct proper keyword research, such as Ahrefs and KWFInder. Even the Google Search Console is a pretty handy tool for figuring out which of the keywords generate the most interest. 
Ideally, you need to integrate a combination of different keywords, including transactional, informational, and commercial keywords. This way, you could make your blog more prominent and ensure that it ranks high.
Driving traffic through an affiliate network like Algo-affiliates.com and using the right keywords is a very strong combination that will help maximize revenue from affiliate programs that pay weekly and drive more conversions over time. Don't forget to track which keywords on your site actually deliver sales. Remember, your goal is to make money and not simply generate irrelevant traffic that does not take action. 
Keep an Eye on Your Competition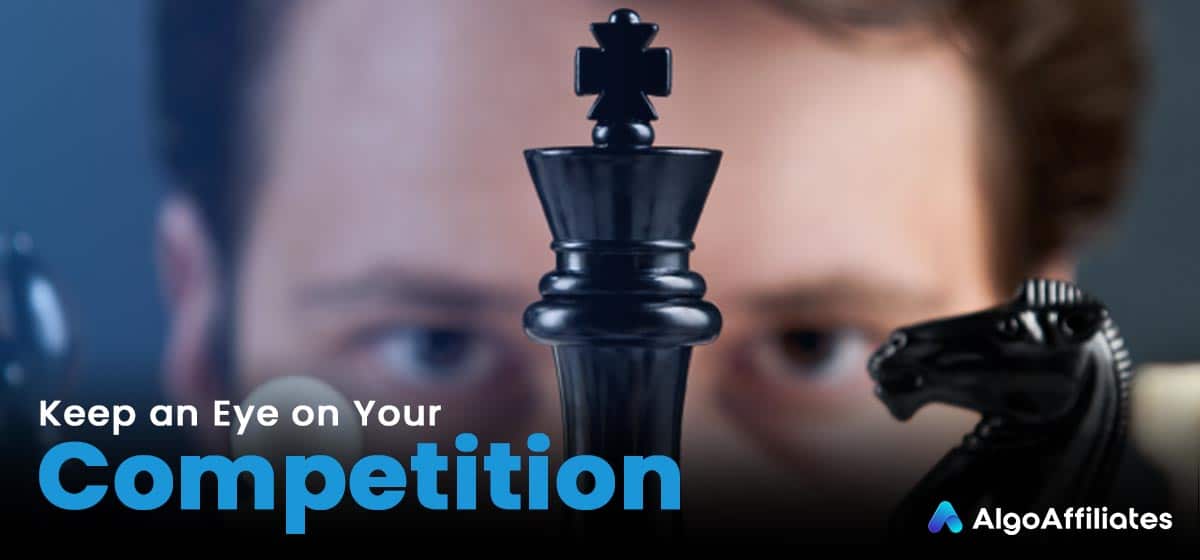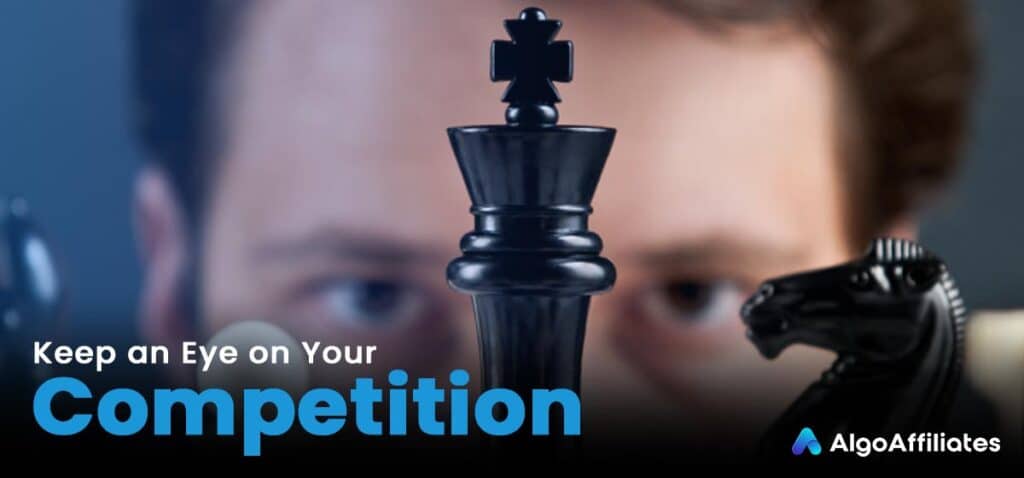 You are not the only affiliate vying for a piece of the market share. By making sure that you keep an eye on your competition, you will know the kind of content that they are producing, and more importantly, what you need to do in order to rank higher than the competition.
For instance, if a competitive blog has written a review of around 1,000 words, you would probably want to write something a bit more detailed. Google pays very close attention to the depth of content that you write, so it's important that you write something that's more comprehensive and better than your competition.
This is not going to be possible if you don't track your competition on a consistent basis. Thankfully, there are plenty of content management tools, like Frase, that you can use to get a comprehensive overview of what your competition has done and what you need to do to rank better.
It's also important that you track metrics carefully. How is your blog faring since the last time you updated it or made any changes? You need to make a spreadsheet in order to track figures and compare them carefully. Experienced content marketers are very particular about tracking the performance of their content. 
Always Keep an Eye on Google's Updates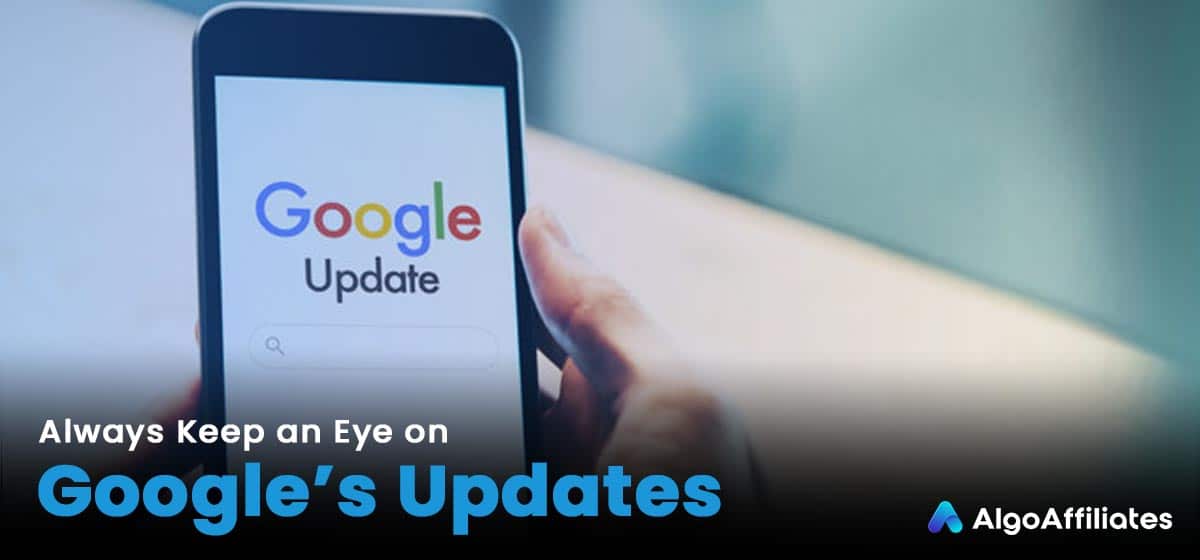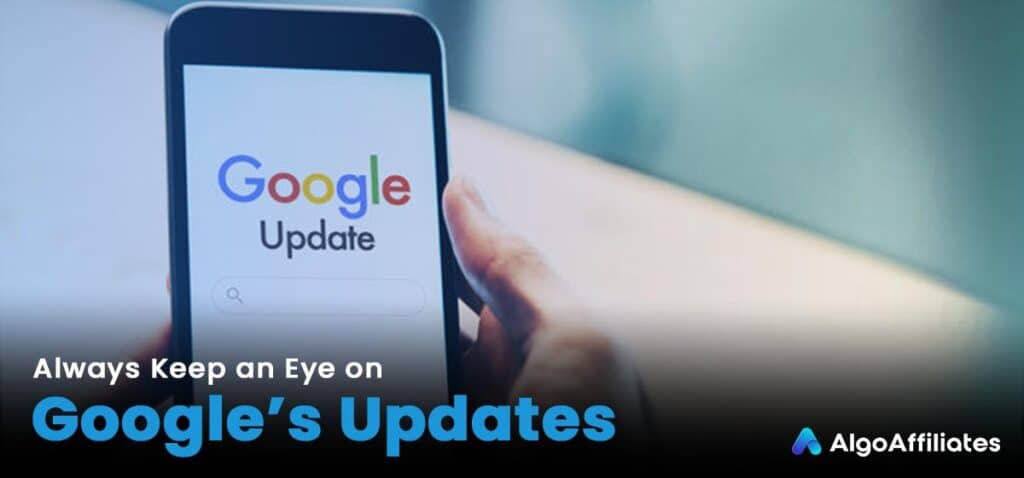 Google is constantly updating its algorithm to provide more relevant content to viewers. If you do not keep a consistent check on what Google is cooking up next, your affiliate blog could be badly affected. For instance, the latest May 2022 update changed quite a few things, so if your blog was not properly optimized, there's a pretty strong chance that your rankings took a hit. 
Use Social Media Marketing To Your Advantage
Simply running a blog or website isn't enough if you want to maximize revenue from affiliate programs that pay weekly. You also need to learn how to market it properly. Social media marketing is an incredibly effective way of sharing your content through multiple channels and making sure that your content is further shared across more platforms.
You can build your Twitter feed and create a Facebook page to share your latest blog updates. The more you share, the more engagement you are going to get, and this is going to help you promote your site. Organic search is great for boosting your traffic, but you also need to make sure that you promote yourself through multiple social channels, especially the most popular social media platforms. 
Become a Frequent Guest Poster
Guest posting is highly underrated, and most people don't understand just how effective it can be. Guest posting doesn't just increase engagement, but it also helps in building relationships. You could get a lot of backlinks to your site this way, and it will greatly help you grow your profile.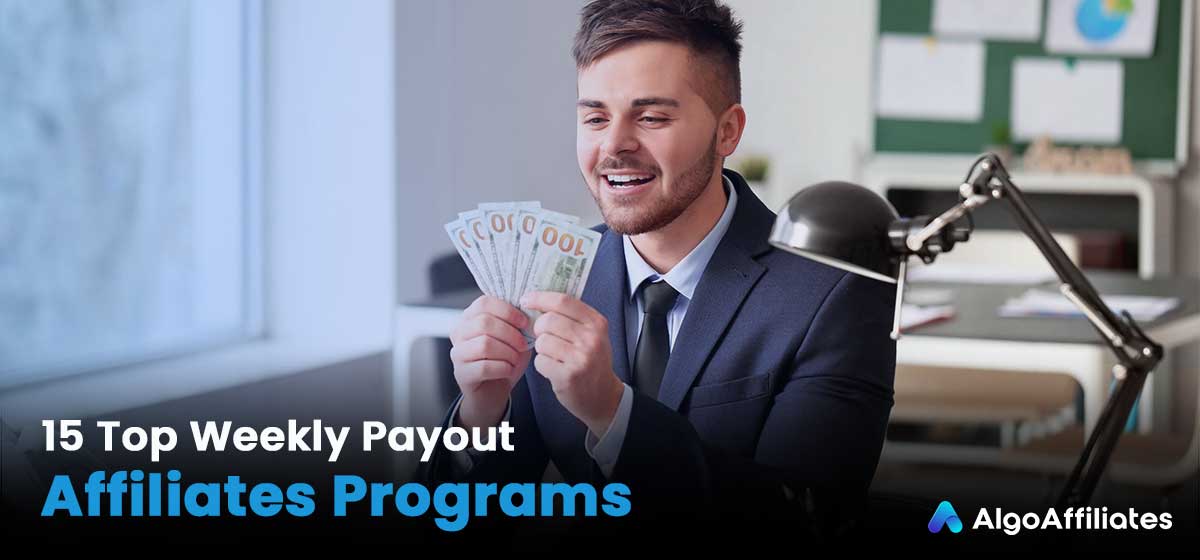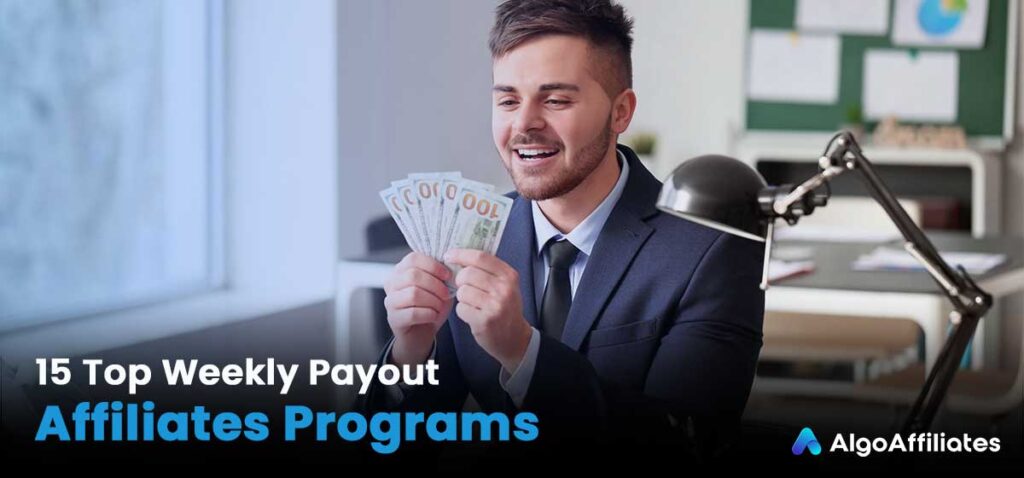 15 Best Affiliate Programs That Pay Weekly
1.     Algo-Affiliates
At Algo-Affiliates, we are one of the leading affiliate networks in the industry. We are a team of energetic performance marketers who are driven to achieve more, plus qualifying affiliates can get weekly payouts.
We have a huge catalogue of more than 1,500 high converting offers available for you to promote. Our offers cover various niches, including finance, dating, insurance, loans, home improvement, health & beauty, sweepstakes, and more.
At Algo-Affiliates, we believe in building mutually beneficial relationships, so that we all reap the rewards. We provide you with optimized marketing materials available in various languages to help you drive up conversions. Our AI-powered technology is designed to adapt ads automatically for the target audience which drives up CTR and EPCs when using our Smartlinks.
On our platform, you will find CPA, CPS, CPL, and other lucrative offers in a variety of languages so you can target more markets, expand your reach, and increase your earnings potential.
Affiliate Network Name: Algo-Affiliates
Commission Rate: Varies per offer
Cookie duration: Varies per offer
2.     Groove
Another leading affiliate program that pays its marketers weekly is Groove. Groove is a marketing tool designed to enable people to build sales funnels. The platform also allows users to set up and run their own affiliate programs, write and publish blog posts, and carry out other marketing-related activities.
Groove has a solid affiliate program, and similar to Algo-Affiliates above, Groove also pays weekly. As an affiliate marketer for Groove's solutions, you can earn up to 40% commission per sale.
In addition to that, you can also earn a 10% second-tier affiliate commission when you refer other affiliates, and they make sales. Groove operates with sticky cookies, which means basically there is no cookie expiration i.e., a lifetime cookie.
What makes Groove an exciting choice is that it is also the company behind numerous online marketing automation tools, such as GrooveFunnels, GrooveMail, and GrooveSell. Affiliate marketers who specialize in the digital marketing space should find Groove and its numerous applications a good fit for their audience.
There are numerous tiers on Groove, and whenever your referral upgrades from the free tier to a paid tier, you stand to earn as much as 40% in commission. All commissions on Groove are paid weekly as long as you have completed your required payment methods and the necessary tax information.
Affiliate Network Name: Groove
Commission Rates: Around 40% recurring commission
Cookie Duration: Lifetime
3.     JVZoo Affiliate Network
If you have been an affiliate marketer for a while, then you have definitely heard of JVZoo. JVZoo is an affiliate network that has been around since 2011. JVZoo is a highly popular affiliate network used by many affiliate marketers across the globe.
JVZoo is an excellent affiliate network because it offers marketers a wide range of physical and digital products to promote. The platform also provides affiliate marketing and other online marketing training to help beginners become better and improve their marketing skills and overall performance.
JVZoo also offers weekly payouts to its marketers, but they also have the options for daily and monthly payments depending on your needs.
The platform's real-time conversion tracking tool and earnings-per-click data make it easy for marketers to find the best programs to promote. It also gives them a clear picture of what to expect in terms of returns.
What you should know is that many products on JVZoo are in the 'how to make money' niche. There are other popular categories on JVZoo, including social media boosters, SEO optimization, video editing, lead generation, and several others.
JVZoo has a 2-tier program so you have a chance to refer other affiliates, enabling you to earn commissions from sales made by them.
Affiliate Network Name: JVZoo Affiliate Network
Commission Rates: Varies per offer
Cookie Duration: Varies per offer
4.     Siteground
Siteground is particularly popular amongst website owners as it is one of the leading web hosting companies. Siteground currently has more than two million domains hosted and has managed to retain a large number of its users over the years. Siteground is known for providing affordable but fast, secure, and top-notch hosting.
Siteground runs a high-paying affiliate program that pays marketers weekly. The commission can reach up to $100 per sale, depending on the number of customers that a publisher refers.
Furthermore, members of the Siteground affiliate program get to enjoy a month of free hosting, allowing them to check out the services before recommending the services to their audience. The demand for quality and affordable hosting is only going to continue growing and will provide loads of opportunities to earn commissions.
Affiliate Network Name: Siteground
Commission Rates: $50-100+ per sale
Cookie duration: 60 Days
5.     Clickbank
Similar to JVZoo, Clickbank is a household name in the affiliate marketing world. It is one of the most popular affiliate marketing platforms in the world and has thousands of affiliates promoting its offers.
Clickbank is popular amongst new affiliate marketers because it is free to join and also easy to use. In the past, Clickbank was mostly known for promoting digital products but has expanded its base to include physical products too.
There are more than 4,000 affiliate products you can promote on Clickbank, and they have over 100,000 affiliates, making it one of the largest affiliate networks in the world. Clickbank is also home to some of the highest-paying affiliate offers, with some paying as high as 90% commission.
Clickbank has a weekly payout option available to affiliates and they pride themselves on never having a missed payment and have processed over $5 billion in affiliate commissions over the last 25 years.
However, the Clickbank interface could use a little remodelling as it is behind the times compared to most modern platforms. Furthermore, there are questionable products available on Clickbank. Hence, you have to do your research before you start promoting a product.
Affiliate Network Name: Clickbank
Commission Rate: Varies per product
Cookie duration: 60 days
6.     MaxBounty
MaxBounty is another well-known brand in the affiliate marketing world. Anyone that has been in the game, even for a short time will know MaxBounty, which was launched back in 2004. This affiliate network is highly rated by advertisers and has won various awards over the years.
MaxBounty has a large catalogue of products you can promote. There are more than 2,000 offers currently available on the platform, which means you will never be short of products to promote and earn money in the process.
With MaxBounty, you can earn up to $100 per lead, depending on the offer you are promoting. Another unique aspect of MaxBounty is that it is trusted by some big tech companies, including Microsoft, GoDaddy, Apple, American Express, and several others.
After opening an account, MaxBounty will assign you a dedicated affiliate account manager whose role is to help you improve your campaign performance. However, getting accepted by MaxBounty will require you to meet some strict criteria. Similar to the other affiliate networks in this list, MaxBounty also has weekly affiliate payouts.
Affiliate Network Name: MaxBounty
Commission Rate: Varies per offer
Cookie duration: Varies per offer
7.     Jumbleberry Affiliate Program
This affiliate network has a unique name you probably will never forget, and its business model is also unique. With more companies and businesses all over the world getting online and running paid media advertisements, a lot of them are wasting money on invalid clicks, wrong targeting, and other technical aspects.
Jumbleberry was created to solve that problem for these companies. The platform makes it possible for businesses to run campaigns based on performance, therefore eliminating impression and click-based media campaigns, and making it possible to reduce marketing costs and maximize profits.
With Jumbleberry, companies can run paid media campaigns on various platforms, including Facebook, YouTube, Twitter, Instagram, Snapchat, LinkedIn, and several others. The Jumbleberry affiliate program works on a CPA model with a range of offers in the diet, men's health, skincare, eCom gadgets, and muscle and fitness verticals.
Affiliate marketers have access to various promotional tools and creatives and 24/7 support, plus Jumbleberry offers weekly payouts.
Affiliate Network Name: Jumbleberry
Commission Rate: Varies
Cookie duration: not disclosed
8.     Digitstore24
Number eight on our list is Digistore24. Digistore24 is an online sales platform that gives clients an online store, affiliate network, and accounting automation tools. In a nutshell, Digistore24 is an all-in-one online sales platform and affiliate network solution.
Digistore24 has an easy-to-use dashboard, and the marketplace currently has more than 8,000 products available in roughly 44 niches for affiliates to promote. The program offers commissions of up to 70% per sale, and it also has a 180-day cookie window, which is one of the longest in the industry. As an affiliate marketer, you can choose to get paid weekly, bi-weekly or monthly.
The one-click upselling and cross-selling features on Digistore24 mean that there are various ways you can increase your average revenue per customer. As such, you can generate more sales and more commission for yourself.
Affiliate Network Name: Digistore24
Commission Rate: Up to 70%
Cookie Duration: 180 days
9.     PayKickStart
PayKickStart is a comprehensive platform that gives businesses a range of tools, including subscription billing and management, tax and accounting systems, checkout experience management, affiliate management platform, and reporting tools. PayKickStart is used by more than 9,600 businesses that utilize various tools to power their online growth.
You can promote the PayKickStart solution, and you will earn a 25% customer lifetime commission. Through the self-service affiliate dashboard, you will find all your tracking tools and promotional materials to enable you to promote their products with ease. As can be expected, PayKickStart pays out weekly.
Now, here is the interesting thing about PayKickStart. They also have an affiliate marketplace where you can find hundreds of offers to promote from other merchants. You will need to first create a free affiliate account on the platform. After doing that, you can search the marketplace for affiliate products to promote.
Affiliate Network Name: PayKickStart
Commission Rate: 25% lifetime rev-share
Cookie duration: not disclosed
10.  Profitner Affiliate Program
Payday and personal loans affiliate offers can be super lucrative, and if you combine that with weekly payouts, you have an opportunity to earn well. Profitner specializes in payday and personal loans affiliate offers.
When you partner with Profitner you gain access to loads of marketing tools, JavaScript forms, API integrations, and a fortune of eye-catching creatives that convert like crazy. With a 90% successful lead matching to lenders, you can expect 30%+ conversions, so you can start earning big money in less time.
Affiliate Network Name: Profitner
Commission Rate: up to $230 CPL
Cookie duration: not disclosed
11.  Grayton Watches
If you are a huge fan of watches, then Grayton is the perfect affiliate program for you. Grayton is a watch brand known for manufacturing and selling high-end modern watches to people who love real quality. Grayton has a large catalogue of wristwatches, and they are all available at competitive prices.
The company manages its affiliate program using Refersion. With Grayton, affiliates have the option of daily, weekly, or monthly payout options. The commission rate is up to 20% per sale. On their site, they claim that if you can get 1 sale per day, you should be able to make at least $1,200 per month. Grayton offers a wide range of weekly payment options, including PayPal and bank deposit.
The referral period on Grayton is 15 days, and they provide you with web banners, promo codes, tracking tools, and product data feeds.
Affiliate Network Name: Grayton
Commission Rate: up to 20%
Cookie duration: 15 days
12.  Leadstead
This list would not be complete without Leadstead, one of the top-performance marketing networks. Before you can get started with Leadstead, they will put you through a strict approval process to confirm you are whom you claim to be and that you don't use dubious tactics to get traffic. If you have no track record or are a complete beginner, you probably won't get approved.
When you do make the grade, you will gain access to hundreds of affiliate offers, marketing tools, landing pages, and more. LeadStead does offer weekly payments, but you will need to be earning at least $100 per day to qualify for it. LeadStead has a selection of payment methods including PayPal.
Affiliate Network Name: Leadstead
Commission Rate: Varies per offer
Cookie duration: Varies
13.  LeadBit
LeadBit joins our list of the top affiliate networks that pay weekly. LeadBit is known as a leading CPA affiliate network and manages dozens of affiliate programs on behalf of its clients.
The platform works across a wide range of markets and niches, including popular ones like finance, Nutra, and dating. On this platform, you will also have access to various funnel models that will help you attract more prospects and record more sales.
LeadBit also offers its affiliate marketers numerous promotional tools, such as a free translation service, banner rotators, and several exclusive affiliate offers.
As mentioned, LeadBit offers weekly payouts to its publishers but if you want your money even faster, you can get instant payments on request. However, this option might not be available for new affiliates immediately.
Affiliate Network Name: LeadBit
Commission Rate: varies
Cookie duration: unknown
14.  CPAlead
CPAlead is another affiliate network that offers daily and weekly payouts to affiliate marketers.
CPAlead focuses on mobile app installs for iOS and Android. They offer up to a $4 CPI, and through their marketplace, advertisers bid against each other for your traffic. The better you perform, the more that the advertisers will compete for your traffic.
If you're unsure about joining CPAlead, you should know that they have won numerous awards including:
Trust Pilot – Highest ranked mobile app install network
500 – One of the top 40 fastest-growing companies in the US
MThink BlueBook – Ranked as one of the top mobile ad networks
While CPI is the primary focus of CPAlead, they do have hundreds of email and zip submit offers as well as mobile CPA offers.
Affiliate Network Name: CPA Lead
Commission Rate: Up to $4 CPI
Cookie duration: varies
15.  Dr. Cash
The first thought people have when they hear Dr. Cash is that it is a finance-related affiliate network. Well, that is wrong. Dr. Cash has been around since 2016 and is a focused affiliate network for nutraceutical products (health supplements).
Dr. Cash is a leader in the Nutra space with more than 2,000 products available on its platform. Furthermore, the products are spread across various countries globally, making it one of the most popular health affiliate networks in the world.
If you want weekly affiliate payouts, then Dr. Cash has got you covered, there is even a daily payout option available if you wish to exercise that.
Before you start promoting products on Dr. Cash, you will need to open an account. Opening an account on Dr. Cash is quite unique because the platform will require your Skype or Telegram ID in addition to your email. Make sure you have a Skype or Telegram ID before you open an account on Dr. Cash.
In terms of payment options, you can receive payment via various methods, including PayPal and Paxum. The customer support team at Dr. Cash is superb, which is ideal, especially if you are new to navigating your way in this space.
Affiliate Network Name: Dr. Cash
Commission Rate: Varies by offer
Cookie duration: not disclosed
Conclusion
There are plenty of top weekly payout affiliate programs to choose from. We have covered some of these weekly payout programs in this article but with a little research, you can find plenty more. It is however important to compare similar offers from different networks with different payout terms to establish if the weekly offers are competitive, or if you will be better off accepting longer payout periods.