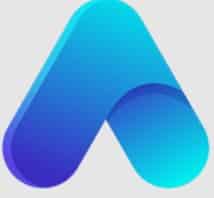 Published on August 08, 2021
Best Bloggers Affiliate Programs – A Complete Guide
One of the best things about the internet is that it is full of money-making opportunities. Blogging is one of the most popular, with the internet being home to over 600 million blogs.
For most bloggers, the goal is simple; become an authority in a niche of their choice and find ways to monetize their traffic. Affiliate marketing then becomes lucrative, especially when the numbers start raking up. What many bloggers don't realize is that it takes more than just adding a few links to their blog posts. On the contrary, becoming a successful affiliate requires hard work and consistency. 
So, how do you get into the world of affiliate marketing as a blogger? And how do you decide the best affiliate programs for your niche? 
This article gets into the details of affiliate programs for bloggers and everything you need to know about them. We have added some tips to help you succeed as an affiliate marketer!

But first, here's a rundown of affiliate marketing and its basics.

What are Affiliate Programs for Bloggers?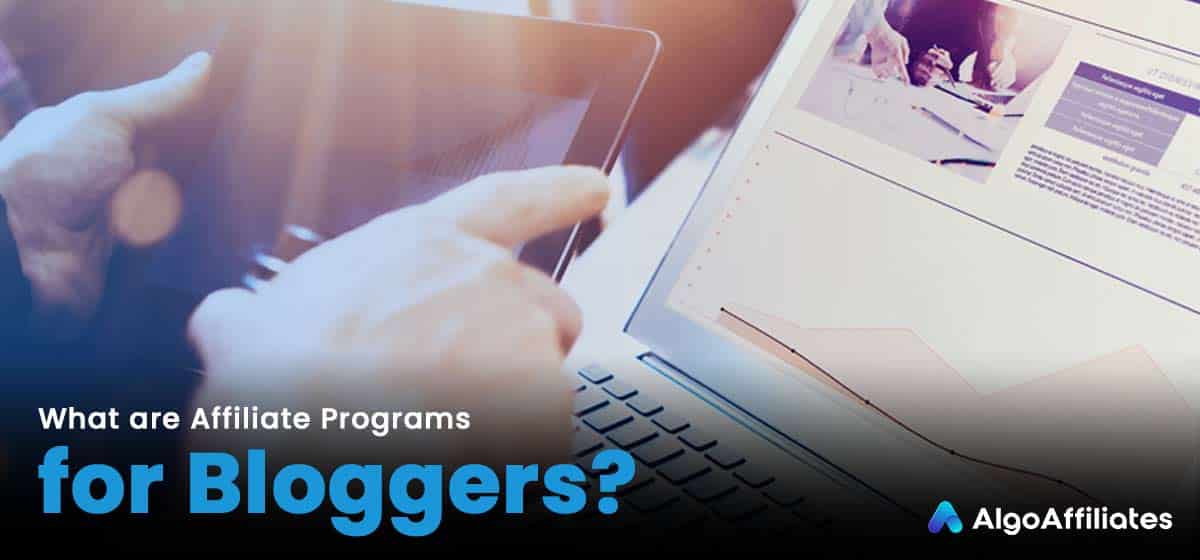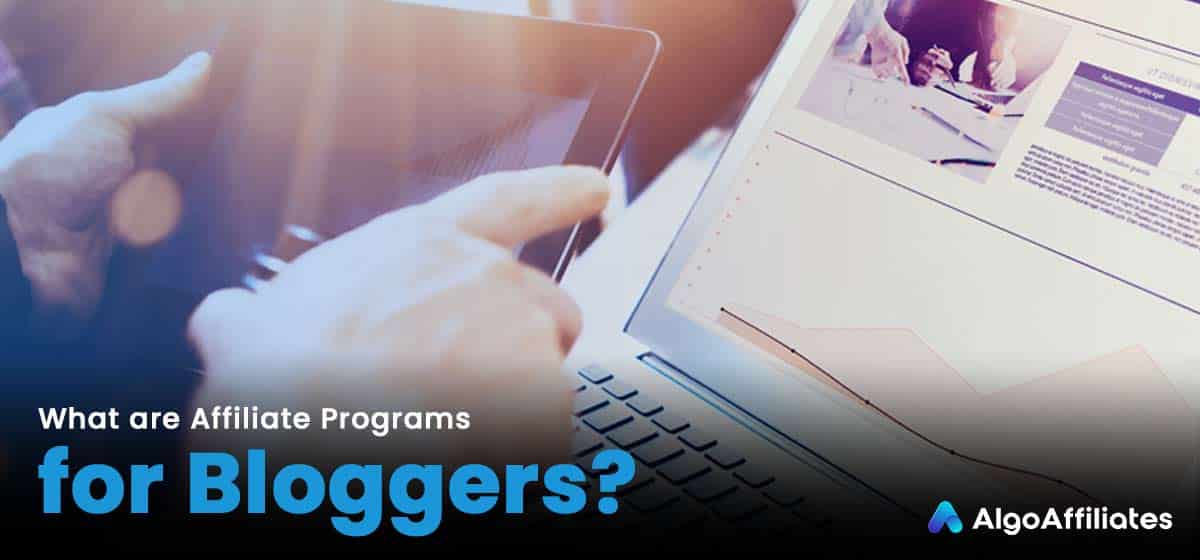 Bloggers are a key form of content creators, diving deeper into subjects than the mass media, or uncovering new and exciting content areas that could be the next big thing.
Either way, affiliate programs work with bloggers to market specific products to your knowledgeable and interested audience.
The affiliate programs and niches you work with will depend on your blog content, with plenty of affiliate offers for almost any market or area.

Great Blogging Subjects to Write About
With your blog started, setting up affiliate offers is key to generating an income for yourself for your efforts or to help build your blogging business further. Whatever your ambition, our bloggers' guide to affiliate marketing can help you make money and inspire you to grow your content.
Your Blogging and Affiliate Marketing Options
 Before considering which affiliate program or network to choose, you might need inspiration for your blog topics. You might already have a definitive passion or area to blog about, but there are plenty of affiliate marketing niches for bloggers if you are looking for something new to dive into. The key to any blog is engaging with your audience on the subject matter using:
Your unique perspective and resources (photos, videos, artifacts).
Your sense of style, attitude, or humor.
Access to other insights and experiences (interviews and guides).
With that in mind, pick a subject, create your blog and use the related affiliate offers to generate income. If you're a beginner to affiliate marketing, then pick a simple and well-known affiliate marketing tool to start with, such as Amazon, but once you're on board with them, go fast and hard with dedicated affiliate marketing programs that will better serve your audience.
Description:
Bloggers can use affiliate marketing as a way to generate income and grow their online presence. The joy of blogging is that you can always find a niche that interests you, one that hasn't been swamped by content. From local news and events to your personal sense of style, art, use of technology in unique ways, travel tales, or love of bargains. Anyone can start a blog and create an impact in that space.
However, while it can take ages to generate any income through AdSense or Amazon links, there are plenty of affiliate marketing efforts that will boost your audience and income rapidly and give you more to write about.
4 Tips For Becoming A Successful Affiliate As A Blogger
Keeping up with the affiliate marketing world can be a challenge. So, you need all the help you can get. Here are four tips to help you keep afloat in the continuously evolving industry. 

Find a niche and become an expert. If you're already an expert in a specific niche, convincing your readers to buy a particular product will be much easier and enjoyable for you.
Promote multiple products to increase your revenue streams. Find as many products as you can in your niche, and group them into appropriate categories. However, don't go overboard!
Use diverse advertising channels for your affiliate links. Don't just rely on placing the links in your blog posts. You can use social media posts, banner ads, marketing emails, and just about anything else that works for you.
Always put the audience first. Keep track of the offers that get the most clicks and focus on those. Understanding your audience's needs and creating content around that is the best solution.
So Here the 16 Best Affiliate Marketing Programs for Bloggers: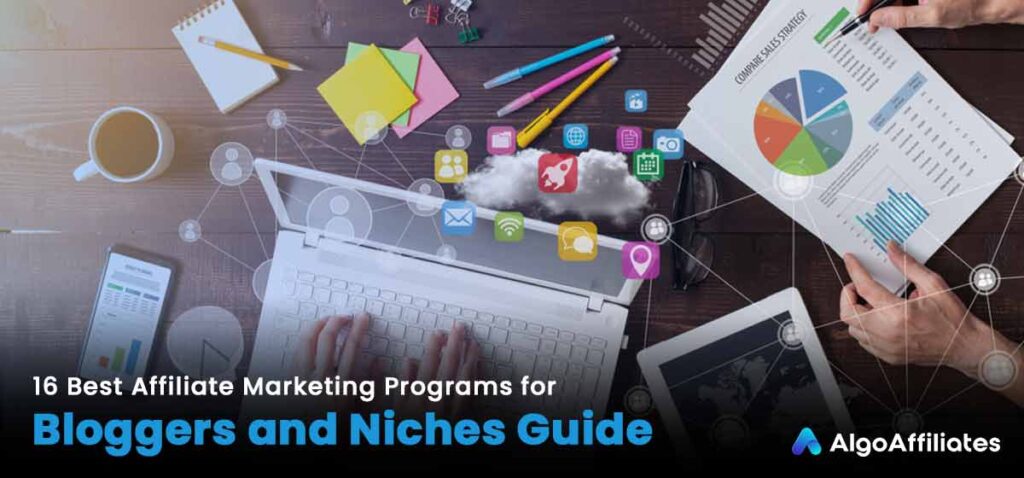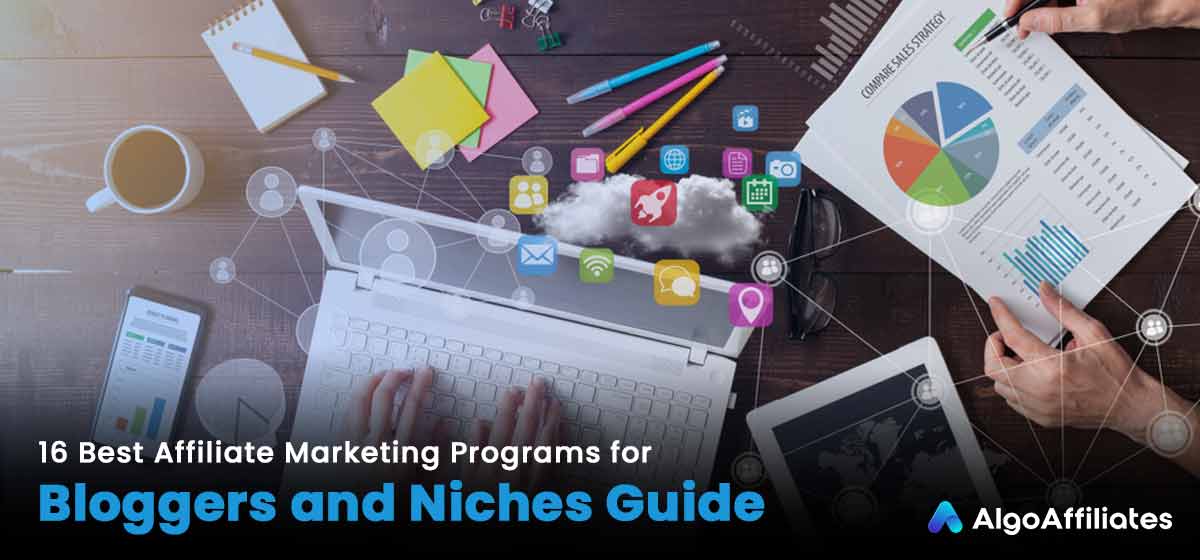 1.   Travel Bloggers
Unless you live in a major metropolis, most regions and towns are underserved by travel writers, creating large gaps in the market. You can sign up with affiliates offering local or regional bargains to exploit your insights and travels whether you are a digital nomad or stuck in one place with tourist potential. If you do live somewhere big, you can keep your finger on the pulse with the latest trends or hidden gems.
Travel blogger ideas:
Up and coming destinations near you.
Tie in concerts, local acts, festivals, trade shows, and other events.
Write virtual tours about places you would love to visit.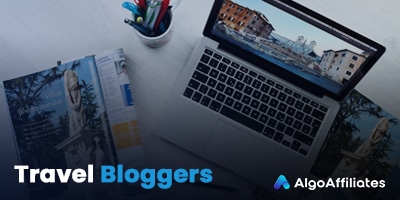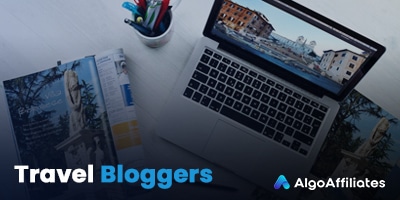 Affiliate Programs for Travel Bloggers
Travelpayouts is dedicated to the travel market and links multiple affiliate programs together for flights, hotels, car rental, insurance, tours, and activities. Leveraging the strength of world-leading brands like TripAdvisor, Expedia, and Booking.com along with niche travel agents that might be more useful for your travel blog, you might not need to look further than Travelpayouts.
Travelpayouts Highlights:
$50 minimum payout via PayPal
Have paid out over $40 million since 2011
Work with over 300,000 partners
Global targeting with tools in over 60 languages
Technology tools for deep links, APIs, and widgets
2.   Beauty and Fashion Bloggers
One of the busiest affiliate market segments is that of beauty and fashion bloggers. Creators are always in demand for advice, tips, and inspiration, with most bloggers having their unique take or look that others can take inspiration from. From step-by-step videos to colorful tutorials, there is endless content to create as seasons and fashion trends change. In a very busy market like beauty and fashion, do some research to check that your blog brings something unique to the scene.
Beauty Blogger Ideas:
What the people you admire are wearing/using and their cosmetic routines.
Recreating looks from famous movies/classic photos.
Beauty routines and regimes using natural or local products that keep you fresh.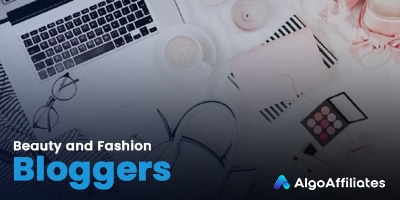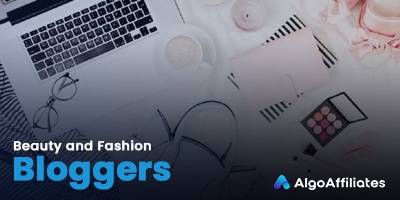 Affiliate Programs for Beauty and Fashion Bloggers
With such a massive market, there are plenty of affiliate programs for fashion bloggers, ranging from instantly recognizable brands like Chanel with a 10% commission rate to more modern offers like Beauty Bay. Beauty bay (managed by Awin) is an ideal affiliate program for beauty bloggers with a wide range of incentives, commission rates, and offers.

Beauty Bay Highlights:
Ships to over 100 countries for a huge audience
Commissions of up to 40% (typically 10% to 15%)
Experienced having paid out over $920 million last year
Work with over 20,000 fashion brands
How to start as a Blogger Affiliate
Whatever practical skills you have, the knowledge you possess, or abilities you are good at, there are always endless numbers of people who are new to that area/subject. This creates a repetitive cycle of fresh readers all eager to learn. From crafts to skating or surfing, to art and design, from model making to auto repairs, using your knowledge is a great way to create a "beginner's guide to…" blog and generate revenue through an affiliate program for beginners.
Starter Blogger Ideas:
Make tutorials in written or video form of anything you do.
Create short snippets from them for Twitter or TikTok to grow an audience.
Use news and events about your topic to keep things fresh.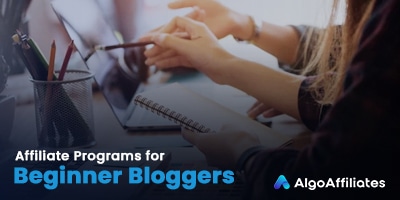 3.   Affiliate Programs – best Niches  for Bloggers
Your audience can vary wildly depending on the subject, but for those looking for something more glamorous and advanced for their blogs, Masterclass is an affiliate program that provides classes by famous experts from tennis stars to chefs and more.
Masterclass Highlights:
Commission: 25% of sales plus milestone bonuses.
Provides: Over 150 classes from recognizable experts.
Communications: Biweekly updates with new text and banners.
Backend: Account management by Acceleration Partners
Book Bloggers
Books, like vinyl records, theater, and live music are making a comeback as people prefer to step away from technology and screen overload. Writing about them has always been one of the more noble editorial callings. There are plenty of affiliate programs for book bloggers to help them generate income among new and second-hand publications. Whether you are blogging about your favorite author or a particular genre, book blogging is back with a bang.
Book Blogger Ideas:
Discuss your favorite books.
Writing about the books that major movies or TV series are based on.
Writing your own stories/fan fiction.
Discuss new genres or review non-fiction/educational books.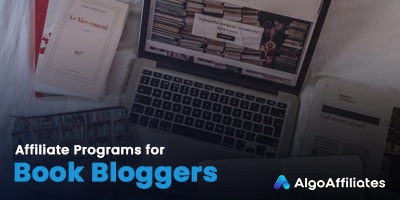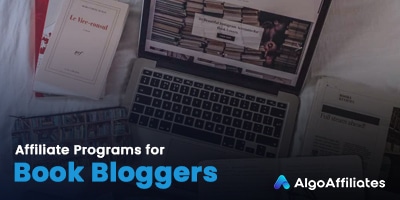 4.   Affiliate Programs for Book Bloggers
Those with long memories will remember that Amazon started out as an online bookstore before becoming the retail behemoth we know today. Amazon still provides a great service, but many people do not consider it a book retailer anymore. Therefore, the likes of Book Depository (provided via Awin) can provide a more bespoke service.

Book Repository Highlights:
Ships to over 80 countries for a large audience
Commission of 5% on all orders (including pre-orders)
Range of over 19 million books of all types in stock
Craft Bloggers
There were plenty of craft bloggers long before Etsy, but that and other online marketplaces have created a new generation of crafters. These creative people make all sorts of arts and crafts out of every imaginable material either for pleasure or to sell online, making it a natural sector for affiliate marketers who can sell materials, kits or finished products.
Craft Blogger Ideas:
With plenty of modern crafters out there, dive into history or sci-fi to come up with a less common creative angle.
People love cute creations based on movies (even horror films), video games, and literature, get creative and bend the norms to deliver something that can trend.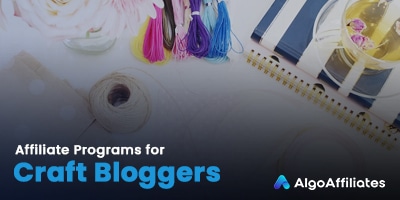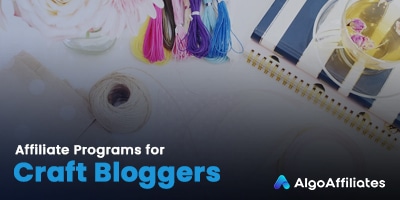 5.   Affiliate Programs for Craft Bloggers
The Etsy market is a massive global craft fair and a great way to earn commissions on your and other people's creations, making it the go-to affiliate program for bloggers.
Etsy Highlights:
Commissions percentage varies on a case-by-case basis, typically 2% to 4%.
There is a $5 refundable joining fee.
Payments are made twice per month (typically, the 1st and 15th of each month) with a $20 minimum.
Warning: Has restrictions on low-engagement Pinterest, Instagram, and YouTube sites. Grow your audience first!
Education bloggers
Education never stops, with online business advice and courses doing huge business. Before that, education bloggers can cover the whole sphere of learning from kindergarten, K5-12 to college and beyond, across languages, improving learning skills or core subjects. While those with experience can provide advice on encouraging good behavior, course tips, and guides to surviving those nervous first few weeks or exam pressures.

Education blogger ideas:
From local education events to high-brow science subjects, education bloggers need to keep up with the latest news and have a mastery of the subject and a passion for them.
Talk about complex subjects (say, calculus or physics) in plain English to grow your audience among people who struggle to grasp the typical convoluted explanations.
Use affiliate marketing programs for education to deliver valuable information and services.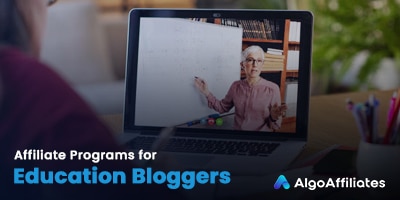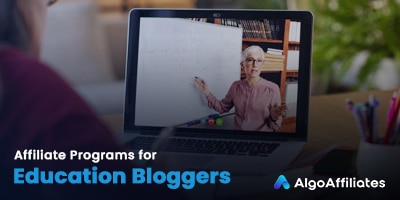 6.   Affiliate Programs for Education Bloggers
There are plenty of learning courses available through affiliate programs, and those that help prepare for specific courses or subjects. A solid education affiliate program is Teachable which offers creative lessons for subjects across academics, arts, business, and more.
Teachable Highlights:
Commissions up to 30% of course fees.
Resources and courses from over 100,000 creators online.
Monthly payments (minimum $50) with recurring commissions.
Finance and Financial Bloggers
Everyone needs financial advice from time to time, and bloggers represent an increasingly knowledgeable source of information, especially around cryptocurrencies, digital banking, and investments. Finance bloggers have come to the fore during the many recent financial crises and can provide a natural service that benefits greatly from affiliate marketing.
Finance Blogger Ideas:
In tough times, people are always looking for savings or ways to access money.
People need help deciding to convert from traditional banks.
Digital money concepts like crypto and blockchain tools require a clear explanation of the technology and risks.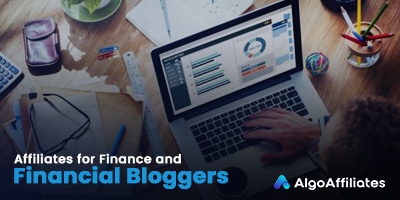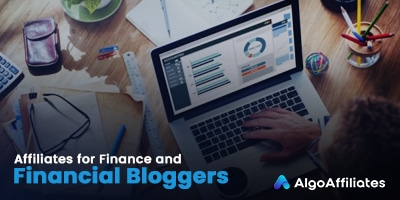 7.   Affiliates for Finance and Financial Bloggers
There are plenty of digital banks or complex products out there, but one that has wide appeal is the credit rating brands that have fast become broad financial advisors. One example is Credit Karma, all you have to do is highlight the value of their free service to get a slice of further commissions on financial products your readers sign up for.

Credit Karma Highlights:
CPL of $2 per signup (plus commissions on further products)
Payment minimum of $6, with a payment lag of 45 days.
Range of affiliate offers including banking, insurance, credit, and other products.
Integration with Affilimate for simple management.
Food bloggers
Another endless source of content and inspiration, food bloggers can appeal to huge audiences via their eyes and stomachs with glorious recipes, stylish food photography or video productions. This is another blogging sector with plenty of competition so aim for unique local flavors, rare or unusual ingredients, or just presenting food in a different manner to create a great impression.

Food Blogger Ideas:
Stiff competition means creativity and originality will win an audience.
Sustainable food is a massive topic and low/eco-impact recipes are huge.
There is always a large market for quick-and-easy recipes, or "feed your family for $20" ideas.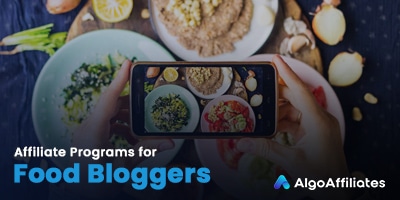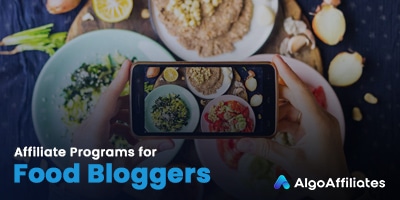 8.   Affiliate Programs for Food Bloggers
From wine to steaks, cooking accessories to staples, there are affiliate marketing programs for all types of food bloggers, and it is a market where you can naturally use several working together. As an all-rounder, Thrive Market provides a healthy-eating approach with customers likely to make regular repeat orders.
Thrive Market Highlights:
Commission: $40 for annual, $4 for monthly memberships.
Benefits: Appeals to both the cost-conscious and health market.
Backend: Powered by CJ Affiliates.
Lifestyle Bloggers
With the rise of reality TV and social media, just about any lifestyle will find an audience, and writing or talking about them creates interest and revenue, just ask Perez Hilton. Blogging about your own life and lifestyle can create a growing audience, with affiliate offers used to generate income on the accessories or products you use.
Lifestyle Blogger Ideas:
Find a lifestyle area you love and focus on it to build a loyal audience rather than spreading yourself and your content too thinly over a wide area.
Look into the background, history, and detail of your lifestyle subjects to come up with unique insights.
If you want to grow a loyal audience focus on upcoming lifestyle trends and the related personalities/acts from their earliest days.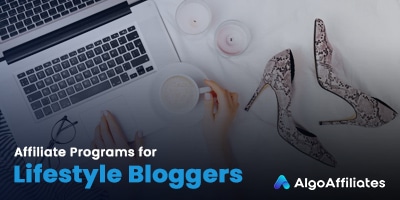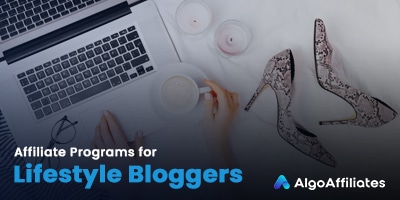 9.   Affiliate Programs for Lifestyle Bloggers
With such a broad audience and likely range of subjects, an affiliate network like Algo-Affiliates is a better option than tying yourself down to one brand. Algo-Affiliates has a huge number of partners, smart tracking tools, and global reach.
Algo-Affiliates Highlights:
Over 50,000 partners globally
A range of over 1,500 offers for publishers to work with.
Technology and smart traffic monetization algorithm to maximize revenue.
Mom Bloggers
Moms can build great audiences and spread across almost any subject that falls under mom blogging. And their affiliate marketing efforts can reach far and wide across the huge range of products and services that every mom will need at some point. Not everyone will reach the heights of Oprah, but even a modest mom blogger can make an outsize impact with honest, down-home posts.
Mom Blogger Ideas:
You will know your ideal audience, so write about and cover what will work for them.
Look for a mix of value, excitement, discovery, and creativity as overall topic ideas.
When there's a local and on-topic event, hit it hard with coverage to add newsiness.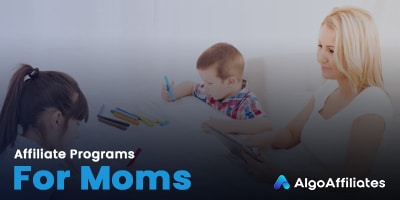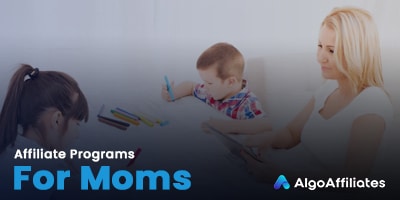 10.   Affiliate Programs for Moms
Ideal for the mom blogger market, ShareASale is a great way to promote a variety of suitable products for your audience. Offers will cover home health and fitness, cooking and gardening, fitness, and ecommerce shopping hotspots that most moms are interested in.
Benefits of ShareASale:
Over 21,000 partners and merchants.
Commission range typically from 10% to 20% on sales.
Support and plenty of provided marketing graphics and adverts.
Plenty of experience with $194 million in affiliate commissions paid out in 2021.
Christian/Faith Bloggers
In uncertain times people turn to their faith or try to find it through others. Avoiding the money-grabbing preachers and traditional churches where they may feel unwelcome, faith bloggers can write extensively about the moral dilemmas we face and how to find peace or order in the good book of their religion.
Faith Blogger Ideas:
Mix the real world and your sermons of choice to add insight and value.
Create listicles of ways for readers to be better people and benefit themselves and their communities.
Consider and highlight the many ways that faith can be expressed and shared in the 21st century.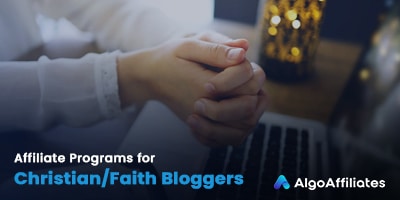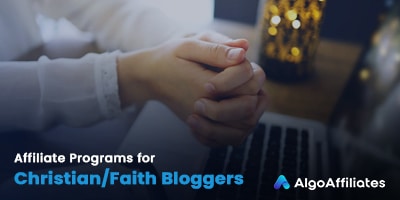 11.   Affiliate Programs for Christian/Faith Bloggers
Your options may be limited by your religion and outlook, but a good generalist religious marketing affiliate program is DaySpring. They strive to bring God to the wider, modern, world through greeting cards, gifts, and inspirational ideas.
Highlights of DaySpring:
Commission between 5% and 15%
Ships to the global market
Comprehensive range of marketing banners and assets, plus extra rewards for top affiliates.
Mental Health Bloggers
Mental health is a huge issue and a growing topic among bloggers, with many trying to support others, provide positivity, or share stories with people who have anxiety, disorders, stress, and similar issues. Fortunately, a wide range of affiliate services and products is on offer to help people engage with and deal with their problems.
Mental Health Blogger Ideas:
Sensitivity is the key word for all posts, advice, and discussion.
Focus on positive outcomes and practical advice while being original in expression.
Only link to high-value, high-quality resources, and do not make questionable claims.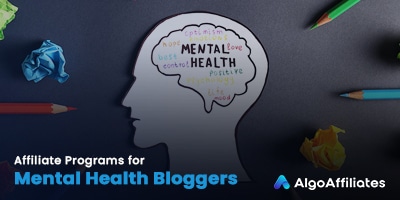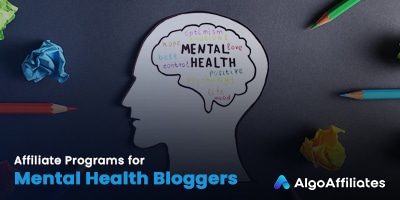 12.   Affiliate Programs for Mental Health Bloggers
Affiliate programs for mental health bloggers cover wellness apps and services, physical well-being products, and motivational or coping courses. The right one for your blog will depend on the overall theme.  Be sure to take a look at Panic Away subscriptions which might have broad if not universal appeal.
Highlights of Panic Away:
Commission of 70% ($43) for each Panic Away sale.
More than 10 years' experience with affiliate offers
Reach a global market for their App.
Business Bloggers
There's an army of professionals who have turned their knowledge into a boutique business advice service or blog. You too can offer your experience and advice to help startups and related professionals to understand the processes and challenges of a market, or how to get ahead in highly competitive landscapes. As part of that, you can use business affiliate programs to sell business books, services, and much more, to create a lucrative income stream.
Business Blogger Ideas:
Focus on your ow knowledge and experience rather than repeating others' views.
Show practical examples and results to build confidence in your audience.
Track your segment or market news and deliver interesting opinions to spark discussion.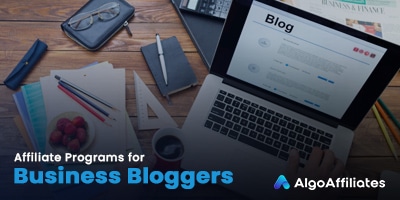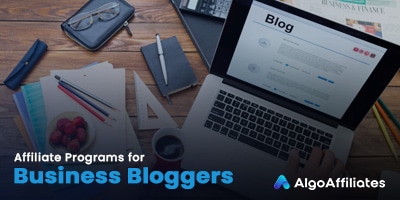 13.   Affiliate Programs for Business Bloggers
There is a staggering volume of marketing affiliate programs and networks across all areas of business, from services to design templates, imagery, and online tools. The ActiveCampaign customer automation experience tool is an interesting option with a huge $1,350 average referral rate.
Highlights of ActiveCampaign:
Commission of 20% to 30% with recurring rates.
Support and professional starter pack with assets and dashboard.
Business automation is a hot topic.
Coupon Bloggers
Couponing, either extreme or typical variety, continues to be a huge business, and people are getting more and more into saving on their shopping all the time. As an experienced couponer, you can pass on the latest hints, tips, and offers in a blog, while newer couponers can share the joys of their savings and the "news-from-the-street" as they shop.
Coupon Blogger Ideas:
Much of the area is focused on the latest deals, so keep tracking them.
Online deals change from day to day, so ensure your posts are current and delete or highlight expired content as such.
Make couponing fun and a challenge rather than just a money-saving exercise.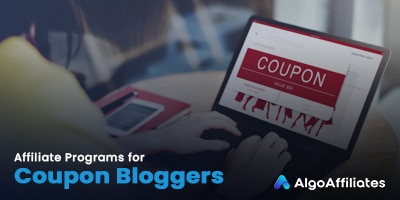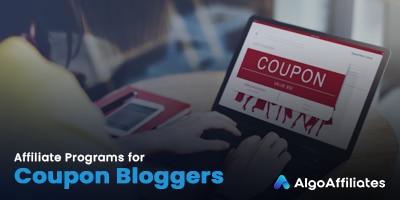 14.   Affiliate Programs for Coupon Bloggers
The simple option here is to use Coupons.com, for its scale, experience, and relevant content for coupon fans. Note that Coupons.com will be replaced by the Quotient brand.
Highlights of Coupons.com:
Commission rates vary depending on the coupon and retailer.
Support and widgets to deliver the latest coupons.
Massive range of coupons for hundreds of stores.
DIY Bloggers
As the cost-of-living impacts more people, plenty are going down the DIY route, and searching online for bloggers and creators that can provide ideas and advice. Creating a DIY blog with your skills, knowledge, and cautions about your own rookie mistakes is a great way to share in an era when less of it is passed down from previous generations. As a bonus, affiliate marketing for DIY bloggers is a great way to create income and ensure people buy the right parts and tools for the job.
DIY Blogger Ideas:
The most common jobs can never be explained too simply or carefully, assume that your audience knows nothing and has none of the tools for the task.
Always highlight the value of quality tools, and good care and maintenance practices.
Link individual articles into projects or related categories so your blog becomes a destination.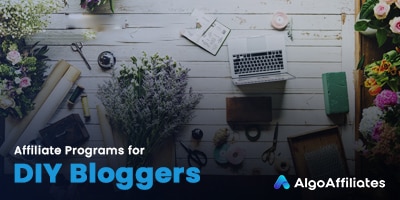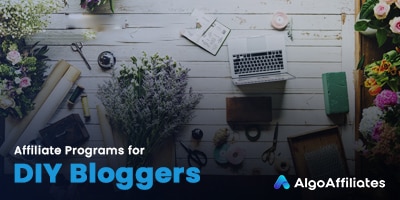 15.   Affiliate Programs for DIY Bloggers
As a DIY blogger, you will typically promote tools and materials for DIY projects. ToolBarn is a merchant worth promoting as they have thousands of products for the DIY market.
Benefits of ToolBarn:
More than 2 decades of experience serving the DIY market.
Commission rates of up to 3%, but typically high-value orders (average $75)
Longer than average 45-day cookie duration
Gaming Bloggers
Console, PC, mobile, and other forms of gaming are highly competitive spaces, but there is always room for bloggers who really know a series of games or a genre in-depth. That knowledge can be transformed into high-audience blog posts covering, for example, Assassin's Creed, flight simulators, or block-building games like Minecraft.
Gaming Blogger Ideas:
Provide a broad level of news, advice, in-depth articles, and opinion pieces.
Do not rehash the content from major gaming sites, make your own voice heard.
Gaming is full of trolls and abuse. Be sure to block and ignore these nuisances, and never share their content.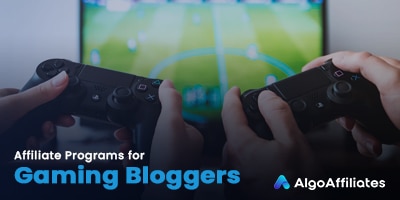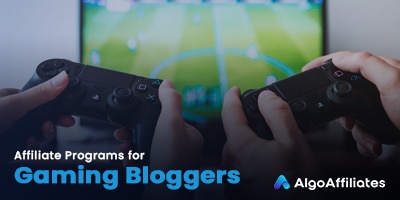 16.   Affiliate Programs for Gaming Bloggers
An obvious contender for your gaming blog is Amazon, as they support all platforms and games and have endless accessories and sales. But, if you want something a little less generic and high-end, SecretLab provides gaming chairs.
Highlights of SecretLab:
Commission up to 12% per sale.
Payments made monthly via PayPal.
SecretLab uses retargeting ads to complete sales.
Bloggers Affiliate marketing FAQ:
What is affiliate marketing for bloggers?
As AdSense and other advertising revenue streams continue to fall for new or smaller bloggers, affiliate marketing is a more valuable source of revenue and engagement. Affiliate marketing is a simple service that allows you (the affiliate) to promote the products of various brands, putting targeted products, adverts, and offers in front of your audience, with you collecting a percentage of sales or subscriptions.
How does blogger affiliate marketing work?
As the blogger, you either paste some affiliate links or code into the HTML of the blog (there are usually guides for this) or use widgets that show adverts on your site. Readers click on these affiliate adverts and if they buy something, the affiliate program automatically credits you with a percentage of the sale, paid periodically or when you hit a particular threshold.
What affiliate marketing program should I choose for my blog?
Pick one that will naturally resonate with your audience, so a travel affiliate program would fit well with your adventure blog, while food bloggers can choose from specialist wine or ingredients or kitchenware affiliate programs, or work with multiple affiliate programs. If your blog covers a wide range of subjects, then a general affiliate program or network will be your best bet.
How fast will my blog's affiliate income grow?
That depends on your subject, your audience reach, and how fast your reader numbers increase. Go in with realistic expectations, but if your content attracts lots of attention and is shared widely, or one post goes viral, then you can expect fast growth in your revenue.
What should I check about my affiliate program for my blog?
Read their small print, and terms and conditions carefully. Many do not like blogs spamming readers with promotions or using competing affiliate programs. Others, such as finance and health, expect their affiliates to be considerate and careful about what they write. Some will also only work with blogs of a certain size, so note their threshold and only apply when you are safely over their required numbers.
How long does it take to be approved as an affiliate?
Typically, the process for you is only as long as filling out a form and adding the right code when accepted. That acceptance may take some time depending on the size of the affiliate program, and its terms and conditions for approval. If they need to manually check your blog or application, it may take a few days.
What are the best affiliate marketing programs?
Most of the established players have a highly automated and scalable approach to support an affiliate's efforts, which is great for most non-technical affiliates, new to blogging and marketing. They will partner with major brands or players in your market. But, if you have a niche blog or are looking for a specific type of product, finding a smaller affiliate marketing program might be more rewarding in the long term for your blog and its readers.
Affiliate Marketing 101: How Does it Work?


Before we even get into the details of affiliate programs, it's essential to understand the entire concept of affiliate marketing and how it works. 
Although digital marketing has turned affiliate marketing into the billion-dollar industry it is today, the marketing technique dates back to the pre-internet era. In this marketing model, companies pay commissions to third parties- the affiliates- to drive traffic to their sites and generate leads for their products and services. An agreement exists between the business and the affiliates, detailing how and when the commissions will be paid out. 
The affiliates then have to work to generate traffic for the said company. As an affiliate blogger, there are many ways to go about this, but often, placing banners on your blog and providing your audience with links will do the trick.
When it comes to affiliate marketing, there are four key players. You must understand the unique roles they play before you get started. 
4 important  key Players in  the affiliate marketing World
The merchant:
is also known as the advertiser or retailer. This is the company that is looking to generate extra leads and traffic and is willing to pay third parties to do the same. In some cases, the merchant will offer suggestions of the best ways to advertise their products. They might even go ahead and provide the required marketing materials, such as the website banners.
The affiliate:
is the third party that receives commissions for advertising the merchant's business. In this case, that's you- the blogger. As an affiliate, you will need to implement the provided strategies to earn commissions depending on the agreement with the merchant.
The consumer:
is the person who ends up paying for the merchant's products through the affiliate's advertising efforts. The affiliate may earn their commissions whenever a consumer purchases or clicks on a link that leads them to the merchant's site.
The affiliate program or network:
is the organization that manages the entire process with the aid of an affiliate management platform that connects affiliates and merchants. Through this platform, affiliates can choose from a range of merchant offers to promote. The network is also in charge of the payments, provides the necessary advertising material, reporting, support, and more. The affiliate deals with the affiliate program and not directly with the merchant.
Affiliate Programs vs. Affiliate Networks
Before you decide to become an affiliate blogger, you will need to weigh your options and decide whether to join an affiliate program or a network. 
So, what's the difference? 
As we've explained in the previous section, an affiliate network is a bridge between the merchant and the affiliate. Therefore, the affiliate and the merchant don't deal directly with each other. The network usually gathers a bunch of companies looking for affiliates. As a blogger, you will then have to apply to join the network to access the different merchants. Sometimes, you may even have to apply again to join the said company as an affiliate. 
A neat example of an affiliate network is what we here at Algo-affiliates do. We have an expansive network of merchants, all looking for affiliates. So, we act as an intermediary and do all the heavy lifting, such as handling payments. 
Things are slightly different when it comes to affiliate programs. Here, the program works with a select merchant, and the program may even be owned and managed by the merchant. You will only have products from that merchant to promote. The drawback with programs is you will want to promote multiple merchants, which means you need to sign up with multiple programs. 
Choosing between a network and a program will depend entirely on you. However, as a new affiliate, a network may be the better choice since you won't have to worry about finding the ideal programs. Besides, most networks will handle everything automatically, so it becomes easier to track your referrals and stats through a single point. 
There are different ways to earn from affiliate marketing. However, most bloggers prefer using affiliate links that they can easily embed into their blog posts. The tracking allows you and the program/network to track crucial metrics such as clicks, impressions, conversions, and commissions. The program may be designed so that the affiliate is paid for purchases or leads. 
These are some of the most common commission models:
Cost Per Acquisition (CPA)

Cost per Sale (CPS)

Cost per Lead (CPL) 

Revenue Share
A Fast CPA Guide
This is the most popular payout model, and most programs will employ this. CPA or cost per action is usually a once-off payment and requires the customer to complete a specific action for you to qualify for the commission. In most cases, the action required is to make a purchase. CPA links usually have cookie trackers to keep an eye on the metrics. Whenever a site's reader clicks on the link, a cookie placed on the person's computer or phone allows for tracking whether they buy the linked product or any other on the merchant's site. Often, the purchase has to be made within a specified time frame, known as the cookie window, so that the affiliate can earn their commissions. Now, if you're wondering how much money you'll make through CPA, that depends on many factors. 
Retailers offer different commission rates, and you may notice a difference across multiple networks too. Usually, brands will use various retailers, so you can compare several options before choosing one. The cookie window refers to when the cookie remains valid in the reader's browser and varies across different retailers. Cookies are disadvantageous in that they can be replaced or erased entirely. For example, a reader may use your link to browse a brand's store but not purchase anything. Say they use a different blogger's link tomorrow and end up checking out; the other blogger will receive the commissions. 
Finally, your earnings from a CPA offer can also depend on the commission window. This period refers to the set amount of time when commissions are left open. Usually, affiliates don't receive their payouts until this window closes. If the customer cancels their purchase during this period, the affiliate's earnings are withdrawn too. For most programs, the commission window could be anything between 60-120 days. You will want to check what the commission window is for the program or network you choose to work with, and it may even vary from offer to offer. 
A Fast CPL Guide
CPL, aka Cost per Lead, is popular with certain niches, such as finance offers. With CPL, the merchant aims to collect leads i.e., the referral you send simply needs to sign up or register but does not need to purchase for you to qualify for the commission. CPL commissions are much lower than CPA, but you will usually get more volume of leads. A key benefit of CPL is you get paid whether the merchant converts them into a paying customer or not. What is important to note with CPL is what is considered a lead i.e., the action required. If the visitor only needs to put their name and email, you can expect to achieve a lot more than when someone needs to complete a long form. Also, you should be aware that if a lead you sent has previously submitted their information, be it with your link or another affiliate, they are considered a duplicate lead and you will not receive a commission. 
How To Choose The Best Affiliate Program: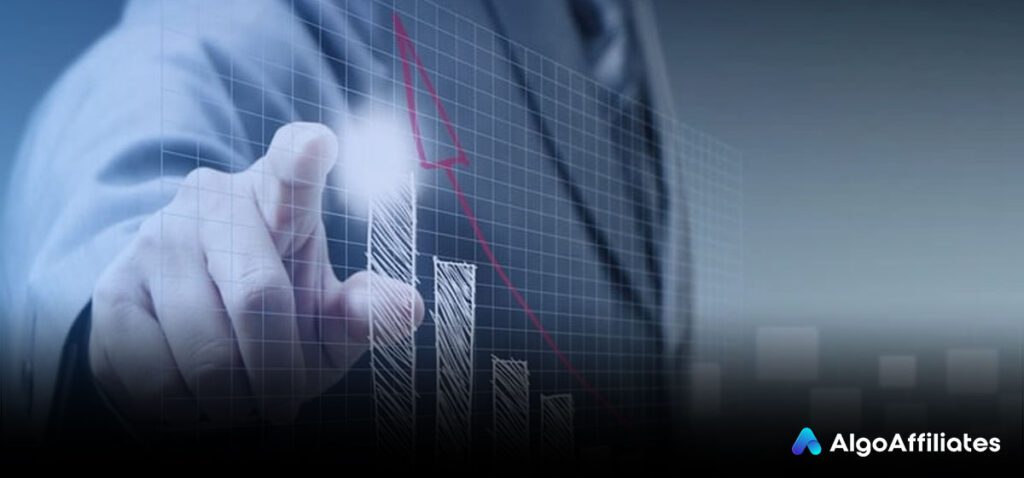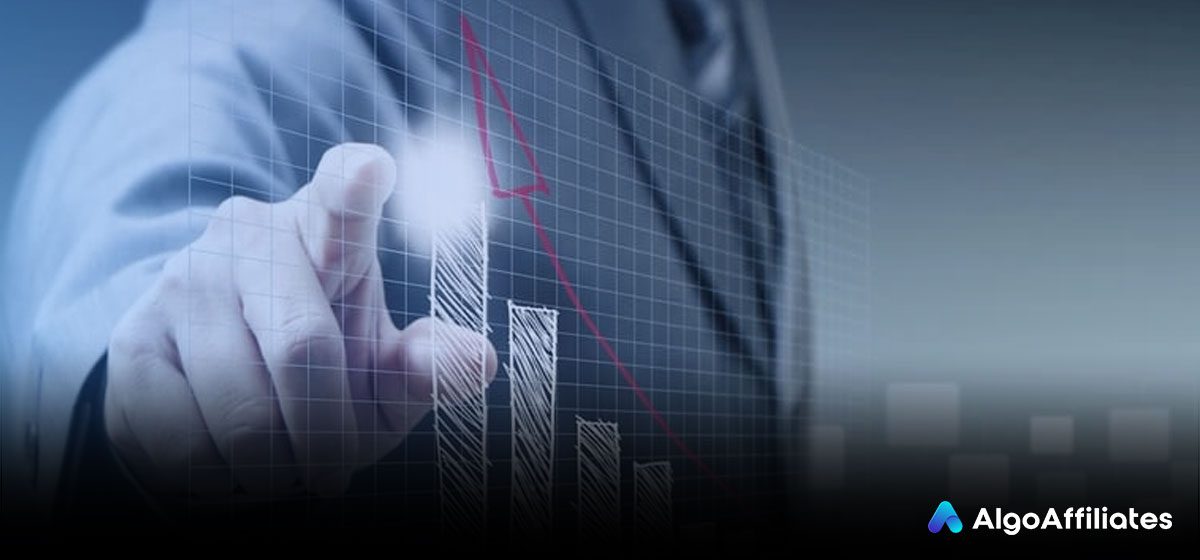 So, you've already decided that affiliate marketing is the way to take your blog to the next level. Luckily, you can choose from a wide range of affiliate programs. But how do you separate the wheat from the chaff? 
Answering these five questions should help you make the right decision:
What are the joining requirements? 
Whether you are joining an affiliate network or joining a program directly, you might have to consider several factors. Some programs will only require that you fill out a form and you're in. Others will need you to meet specific minimum requirements, such as a particular threshold for page site views or any other metric the merchant considers essential to them. 
What are the commission models and rates? 
As we've explained above, the best affiliate programs for bloggers employ different payment structures and commission rates. Check that the program of your choice offers a payment structure you're comfortable with and that the commission rates are lucrative enough. Should you decide to join an affiliate network, be sure to scout around for the best deal. A vital question that needs to go hand in hand with this is conversion rates or EPC (earnings per click). Don't just jump at an offer that sounds the highest because the conversion rate or EPC will impact this substantially. 
What marketing materials and tools are available?
For your advertising efforts to be a success, you're going to need some pretty convincing marketing material. The best affiliate programs for bloggers will offer specific tools and materials, so you can focus on getting the word out there. For example, there may be a selection of banners to place on your blog. Others may provide product widget builders so that you can create interactive ads for your site. 
How easy will it be to manage the links and track data? 
Let's face it. If you're doing the advertising, creating ads, and tracking links all by yourself, it can get pretty overwhelming. You may have to become an affiliate for multiple programs, in which case keeping track of everything becomes even more challenging. In this regard, going for an affiliate network that offers a diverse selection of retailers could be ideal. You get to manage everything from one dashboard. An even better deal is if the network uses an automated optimization system, that will simplify your efforts.
What support does the program offer? 
The best affiliate programs for bloggers will be serious about supporting you with your efforts and work as your trusted partner. Having a knowledgeable and experienced affiliate manager to turn to with questions or assistance can go a long way towards your success. 
Join Algo Affiliates For The Best Affiliate Programs For Bloggers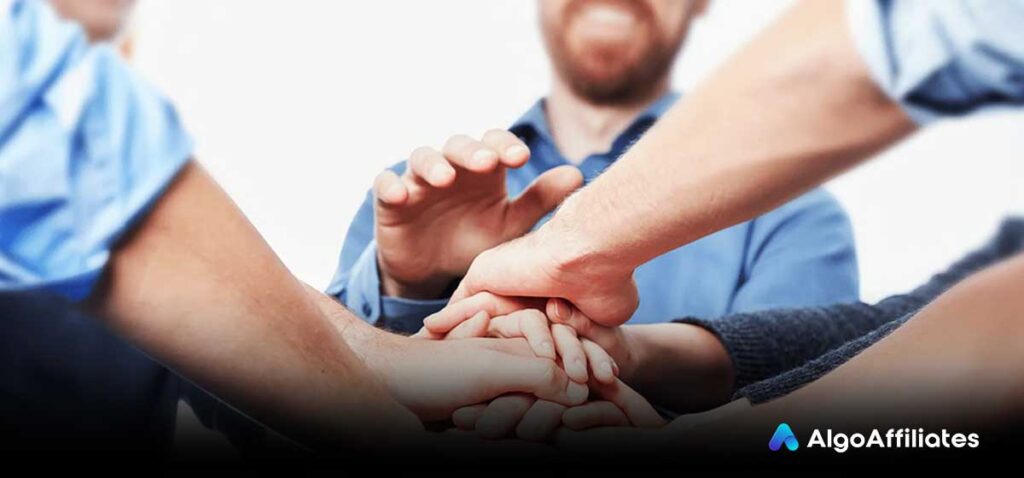 Although it takes hard work, consistency, and determination, becoming a successful affiliate as a blogger is entirely possible. But first, you must find the ideal program. Joining a network gets a chunk of the work out of the way. 
At Algo-affiliates we have built a comprehensive network of merchants and affiliates with hundreds of high converting offers. Join our network today to enjoy a diverse selection of products to get you started on your journey as an affiliate blogger.