In the last decade, forex trading has experienced a huge rise in popularity due to increased accessibility and lucrative returns without a high investment. People from all walks of life are becoming more and more financially savvy and want to be in control of their investments.
Given the growth of opportunities in forex trading, it is quite difficult to avoid being drawn into it. Taking this into consideration, there is no better time than the present to get involved in forex as an affiliate in forex broker affiliate programs to make money from this blooming niche. 
With this complete guide, you will find out all there is to know about these programs and how you can make money as a forex affiliate. However, before we move on to the details, it is important for you to understand the concept of forex affiliate marketing. 
What is Forex Affiliate Marketing? 
Affiliate marketing has been crucial in driving sales for e-commerce sites and forex trading websites for many years. Forex affiliate marketing is based on a referral system where affiliate marketers earn money by promoting and referring new clients to forex brokers.
As a forex affiliate, you are given a referral link, which you use when recommending a service or product to your network of traders or website traffic. The link can be used with banner ads, emails, or any other online channel. Then, when a visitor accesses the web page of the broker or trading system and signs up, you get a commission. The more traffic you generate which results in conversions, the higher the amount of money you can earn.
With a large number of people looking to register for forex trading, there are many reliable forex affiliate programs. You can choose to partner up with many individual forex affiliate programs, alternatively, you could opt to join an affiliate network like Algo-Affiliates which gives you access to many forex brokers and other finance-related products, all through a single portal. Today, many forex affiliates make impressive monthly incomes by promoting forex brokers. 
Ready to learn more and how you can start reaping the rewards from this lucrative niche? Then, keep reading… 
How Do Forex Affiliate Broker Affiliate Programs Work?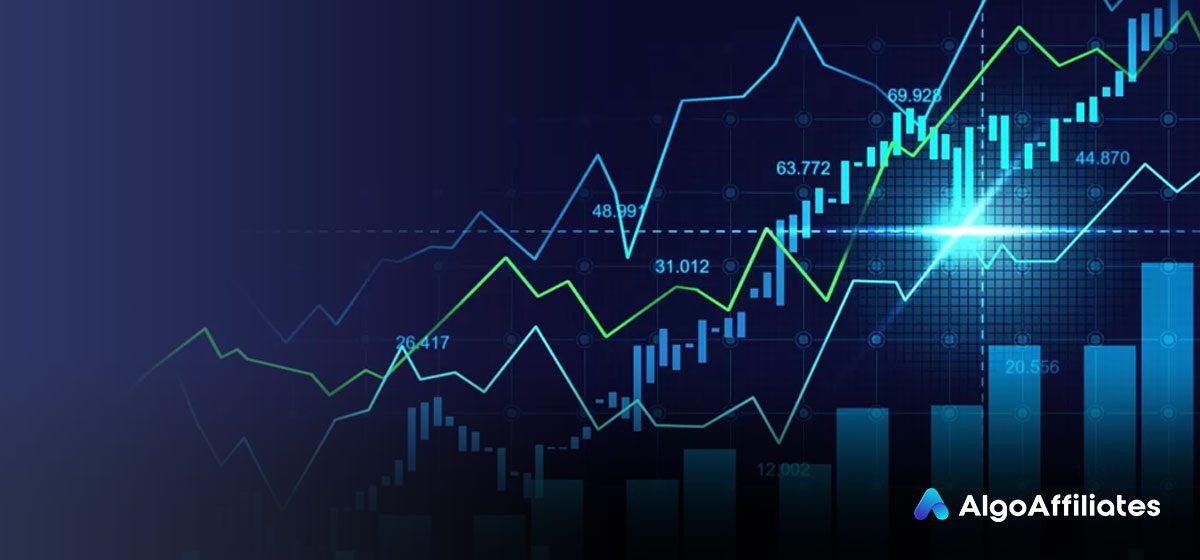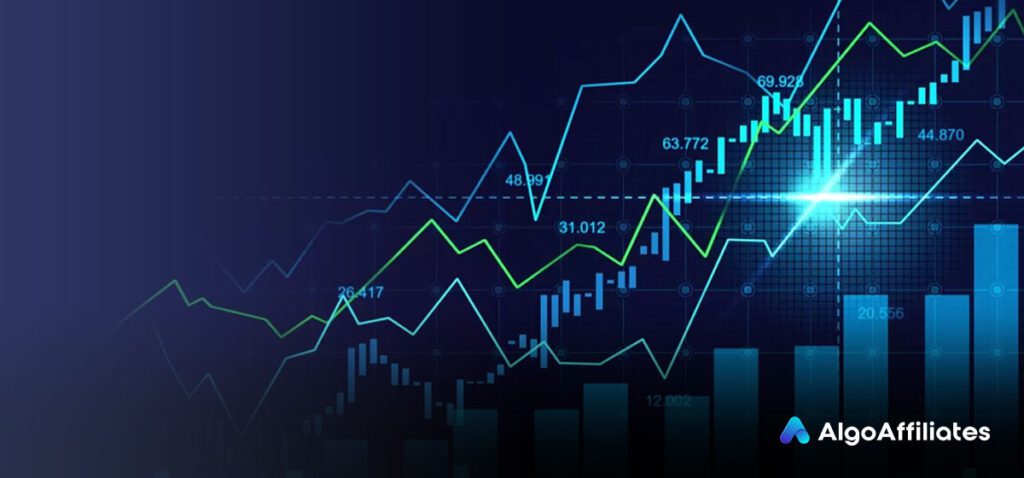 Now, that you have a clear picture of the basics of forex affiliate marketing, let's talk about the affiliate programs or networks so you can get a better idea of how forex broker affiliates programs work. There are different forex affiliate programs that connect marketers with reputable brokerage firms or trading systems. The way they operate, or work is fairly simple and similar. 
Affiliate networks essentially look to collaborate with affiliates that have some knowledge on the subject of forex trading and have an established web presence. This helps the forex broker affiliate programs get more traction from promotions and marketing of their services. 
So, if you are maintaining a trading blog with a large following or a video channel, you can have a higher chance of success with forex affiliate broker programs.
This is how the process works. 
You Sign Up as a Forex Affiliate with a Broker Program or Network. You can choose one according to your goals, commission rate, and skills. 

Once you have registered as a partner or affiliate, you are given a referral link that is unique and allows the program to track your performance. 

As a forex affiliate, this referral link can be promoted with any audience depending, however, the most targeted the audience towards finance, investment, and trading, the greater your odds of success.  
Making Money with Forex Broker Affiliate Programs
Most networks also provide their affiliates with marketing tools and optimization so that it's easier for them to focus on their marketing and ultimately achieve the desired results. Algo-Affiliates is one such example where tracking metrics and automated algorithms give forex affiliates a distinct advantage in the market. 
The commission that you will earn varies according to the payment structure of the program. Sometimes, it can be according to the number of conversions or based on the volume of trading by your referrals. There are other options that you may get as well. 
When you are searching for forex broker affiliate programs, your choice should depend on the quality, reliability, and reputation of the program. Plus, another vital aspect that should never be overlooked is the support they provide. 
How to Choose Forex Broker Affiliate Programs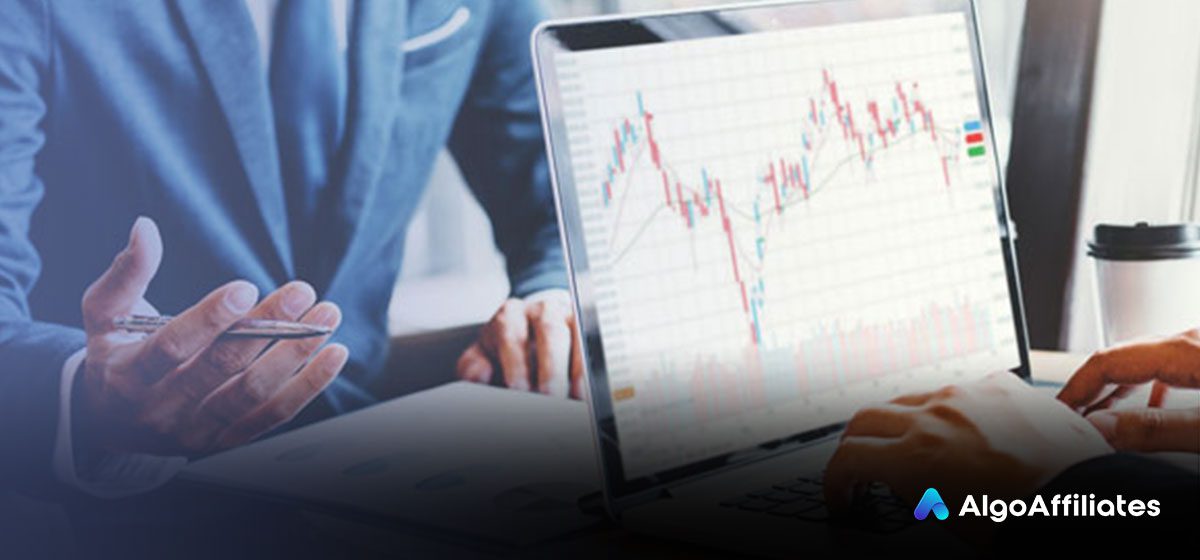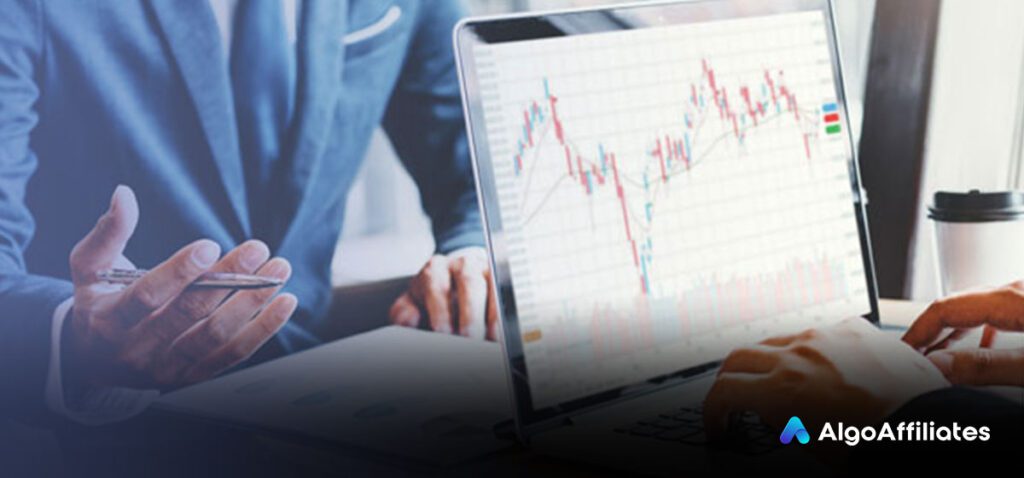 When you are looking for forex affiliate broker programs, things may seem a bit confusing.
There are a lot of factors that you need to consider before making your pick. Ultimately, this can impact your success in forex affiliate marketing and the rate of commission you earn. In order to choose any of the best forex affiliate programs, these are some of the important areas that you should focus on. 
This is one of the first factors that you have to look for in a forex broker affiliate network. Not only do you need to look at the affiliate program but the broker as well. Since you will be promoting the services of a broker, firm, or trading system, you need to know whether they are trustworthy and can provide value to the people you direct towards them. So, it is important to do extensive research and then narrow it down to an affiliate program that offers reliable brokers. 
If you take the case of Algo-Affiliates, it is a network that gives you a big advantage in terms of transparency and trust. Algo-Affiliates only works with top-notch and reliable forex and CFD brokers. They can connect marketers to over a hundred brokers across the globe, in many languages and have a unique optimization algorithm that matches your referrals automatically with the ideal forex broker. 
Quality support is vital when making your choice of a forex affiliate broker program. As an affiliate, you don't want to end up with unresolved issues that cause problems with lead generation and affect your promotional efforts negatively. It's why you want to opt for a forex affiliate program that offers dedicated and quality support. 
In this way, you can get an immediate response to a query and prompt solutions. As an affiliate, you are typically assigned an affiliate manager, who is your point of contact and is there to help you, provide you with guidance and make it easier for you to achieve success. 
Tracking, Reporting, and Payments 
Affiliate marketing falls into the category of performance marketing. What this means is that you earn based on performance. Vital to performance marketing is accurate and reliable tracking and reporting. This means that every click, sign up and conversion should be tracked, and the reporting should be reliable and accurate. Coupled with this are the payments, which need to be on time, every time. Whichever affiliate program you choose to partner with, do some research into their reputation for providing honest and reliable reporting and on-time commission payments.  
What Type of Commissions do Forex Affiliate Broker Programs Offer?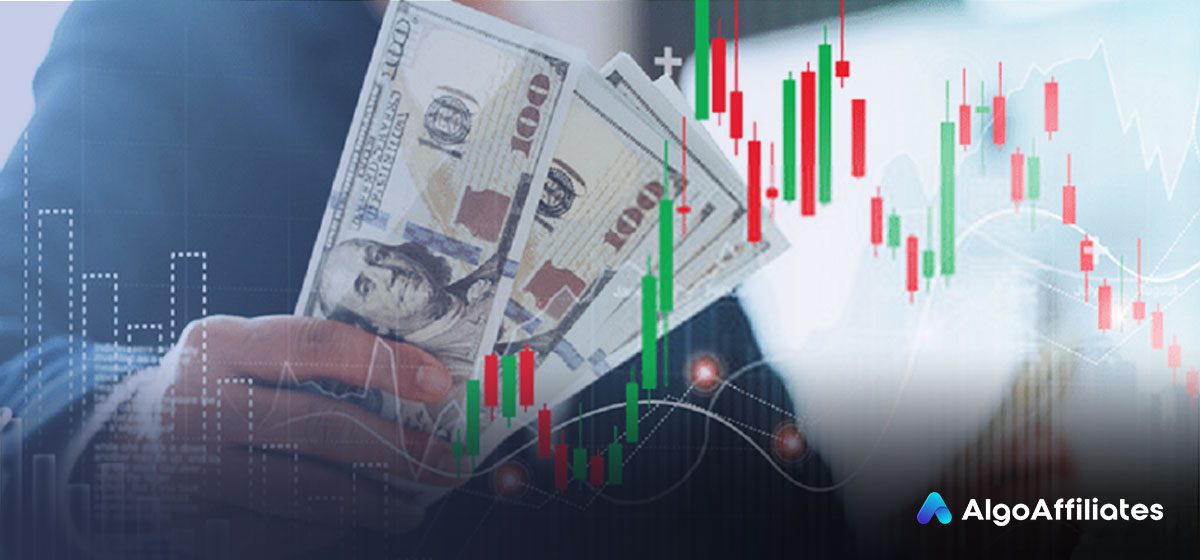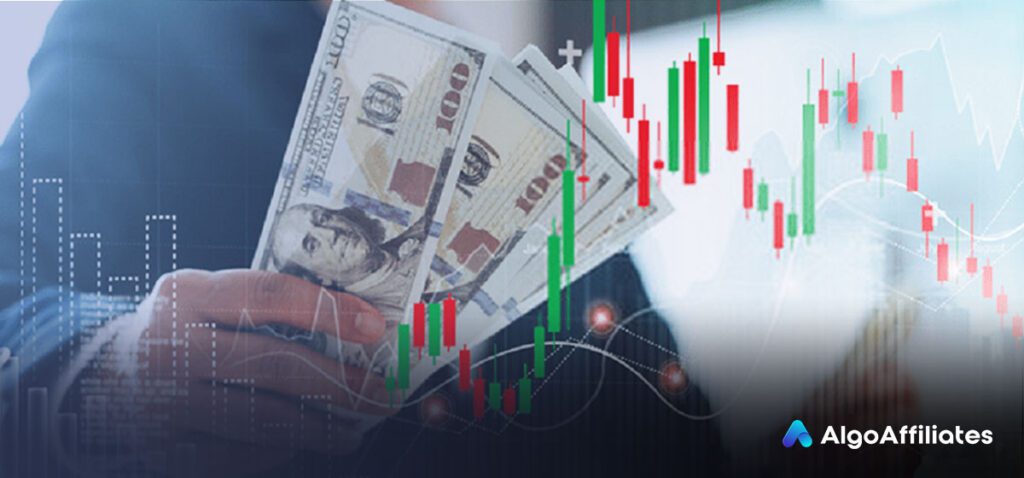 This is undoubtedly a crucial factor in your selection of a forex affiliate program. As an affiliate, if you are not clear on the commission plan or scheme, you may find it challenging to make a suitable choice. Let's explore some of the most common commission structures that forex affiliate broker programs offer. 
Revenue Share 
As you can probably tell, this commission system is based on a share of the revenue generated from the trader you referred to the broker or trading system. The broker earns revenue from trading fees or the spread. The typical revenue share is 20% to 40% percent. So, for example, if you are getting 30%, if the trader generates $100 in revenue for the broker, you will get a $30 commission. Bear in mind, this number can be much higher, plus when you have hundreds of traders under your belt, it all adds up. In this commission structure, your income can be steady, and you can continue to focus your promotional efforts to attract more clients. A big benefit of Revenue Share is that in most cases, it's for the lifetime of the trader, which means years down the line, if the trader is still active, you will continue to earn. 
CPA (Cost per Action )
This is the most popular commission structure that you will find being used by a lot of forex affiliate broker programs. It is essentially a high flat fee that is given to the  broker forex affiliate if they bring traders which meet certain requirements such as a minimum deposit or amount of trading volume. The commission you earn by such conversions can range from $200 to $500.
CPA is ideal if you want to create immediate cash flow, as opposed to revenue share which builds up over time. Always be sure to check what the criteria are to qualify for a CPA as this can vary from offer to offer. You may find that with certain brokers who are exceptionally good and converting but not necessarily as good at retention, then CPA is best. The conversion rate of the broker should always be considered in conjunction with the CPA amount. A $1,000 CPA is pointless if the broker only converts leads into trading clients at 1%.
You would be better off with a CPA of $200 and a conversion rate of 20%. 
CPL (Cost per Lead)
The commission structure is quite similar to CPA, however, there are few key differences. In this earnings model, the forex affiliate earns for each quality lead they direct to the broker. The lead simply needs to register and does not need to deposit or start trading.
The CPL amount will be substantially lower than a CPA, but the volume is higher. Many affiliate marketers specialize in lead generation and don't want to concern themselves with whether the broker converts the leads or retains them as clients. However, it is vital to understand that if your leads are very poor and don't result in some conversions for the broker, the affiliate program may reduce the CPL amount or revoke the deal entirely. Always think long-term, because if you can produce high-quality leads, it gives you leverage to demand a higher CPL commission. Also, just bear in mind that the brokers will scrutinize the leads and you may also not get paid for leads that already exist or were referred by other affiliates. 
Hybrid 
This is a combination of CPA and Revenue Sharing. Some of the best forex broker affiliate programs or networks can offer this to marketers. This basically involves the affiliate earning a smaller CPA amount than a pure CPA deal, however, they will also pay you an ongoing revenue share as well. But the revenue share will also be less than a pure rev-share deal.  Hybrid is a great way to generate some regular short-term cash flow as well as build an ongoing annuity revenue stream. 
In the end, your choice should be made depending on the kind of traffic you can generate and the marketing tools that you can make use of to boost conversions. If you take the example of Algo-Affiliates, the network boasts a range of different options that marketers can use to help to earn a lucrative income. 
Promotions and offers.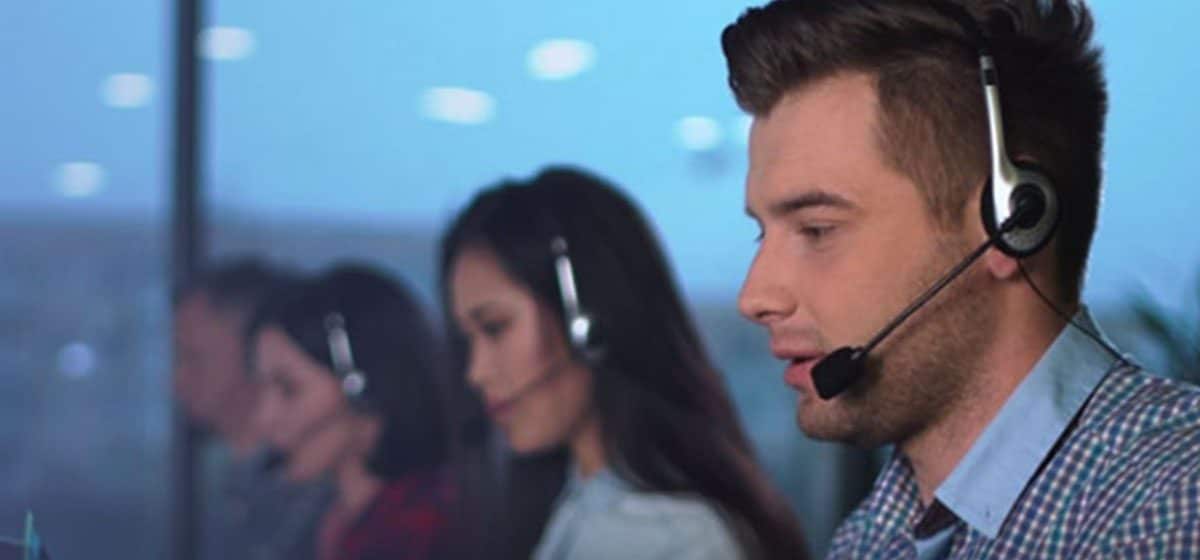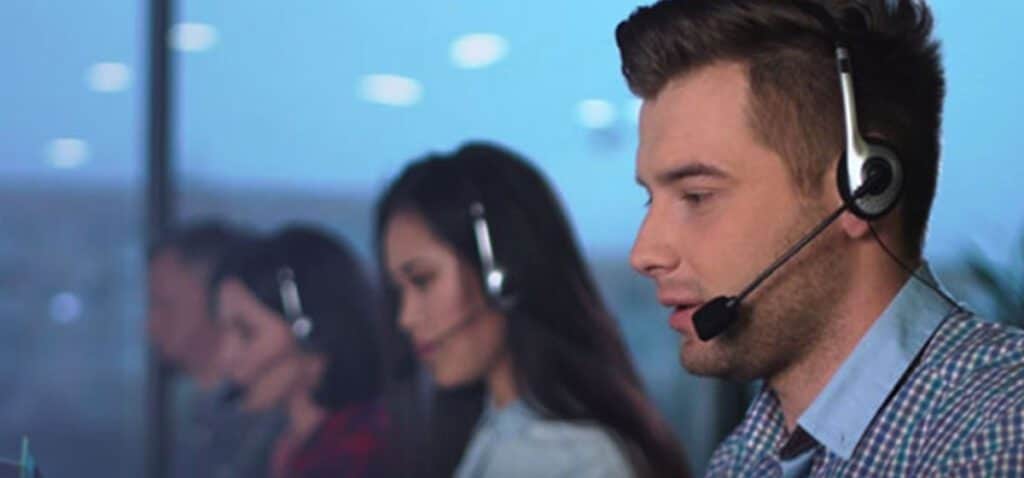 After you have made a decision on which forex broker affiliate program or network you want to work with, the commission model you want, and have signed up, it's time to start marketing. In this guide, we are not going to go into detail about marketing techniques and channels as the scope of that is vast. The most common marketing channels that affiliates use are SEO (Search Engine Optimization), PPC (Pay per click), Paid Media, social media, YouTube, and others. No matter which channel or channels you decide to use, you will need to present your audience with an offer. 
When you join an affiliate program, you will gain access to their offers, promotions, and marketing tools. You will want to take a close look at the promotions. Most brokers offer new clients some kind of welcome sign-up bonus, such as an extra percentage on top of their first deposit. These promotions are a great way to entice your traffic to sign up. Other popular promotions are risk-free trades, where the trader gets a few trades that even if they lose the trade, they get their money back, or they get 1-2 free trades. The broker may offer trader education or trading signals as value-adds and you will certainly want to use these as a way to entice more sign-ups. 
Like everything in the world of marketing, how you package and promote things makes all the difference. As a forex affiliate, you will need to test, test, and test some more to determine what offers work with your traffic and marketing style. 
Track Everything ( the Forex broker will not do it for you)
An especially important tip when it comes to your marketing is to track everything. What this means is not using the same referral link for every single campaign, banner, creative, and marketing channel. Speak with your affiliate manager and get them to show you how you can create unique IDs for each and every banner, channel, etc. Knowing exactly which banners or landing pages or promos work best is essential to be able to optimize your campaigns. Affiliate marketing is not a "set and forget" process but is instead an ongoing process of continuously tweaking and optimizing.
There are entire books written about campaign optimization and it is well worth your time to educate yourself in this regard. Every extra percent that you can squeeze out of your traffic is more commission in your pocket. 
Something worth considering when joining an affiliate program is if they offer what is known as Smartlinks. These links are designed to do a certain level of auto-optimization for you. When a visitor reaches your site, the Smartlinks identify certain aspects of the visitor, such as their location, language, and more. The Smartlinks then present the visitor with an optimal offer based on this. This is an area where Algo-Affiliates shines, as they have built an AI-powered Smartlinks system that really drives up conversions. 
The Bottom Line 
We have covered a fair amount in this guide about forex broker affiliate programs. There is always more to learn and to be a successful affiliate means wanting to constantly grow and discover new marketing techniques, test new channels, and testing, measuring and optimizing. If you are looking to partner with a top-quality forex affiliate network, then Algo-Affiliates should be at the top of your list. With on-time payments and advanced marketing tools, the platform has something to offer everyone, be it beginners or experienced marketers. 
Join Algo-Affiliates Today to Earn Great Commissions and Boost Your Profits!