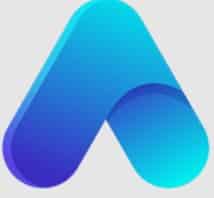 Published on June 30, 2021
Stock Trading Affiliate Programs – Complete Guide
Stock trading is one of the most lucrative affiliate niches, and is worth a look for any budding publisher. Online stock trading platforms have grown in popularity in recent years because they provide easy, quick, and cheap access to global financial markets.
The internet has also made it easy for anyone to access investing education and thus have the capacity to allocate personal capital more effectively. More and more people are taking control of their financial future by utilizing online trading platforms, and you can join in on the action by helping them identify the best online stock trading platforms and get rewarded handsomely for your efforts.
Why Should You Promote Online Stock Trading Platforms?
Choosing an affiliate program is the first decision of a publisher. Some of the factors to consider include payout frequency, brand reputation, technology, cookie duration, and conversion rates. These are considerations for any affiliate program in any niche.
Here is why you should specifically consider promoting online stock trading affiliate programs:

Stocks are a well-known investment vehicle for retail traders. They have been around for centuries and many savvy investors have reaped massive rewards. Trading stocks is well known by the mainstream public, but many people avoid stocks because of the historical complexity and the need for a stockbroker. Nowadays, thanks to technology and the ease of use of various online platforms, it is way easier to promote as an affiliate, plus the demand for self-service platforms is continuously growing.
The global online stock trading market has been growing rapidly in recent years. In 2022, it posted a compound annual growth rate (CAGR) of 6.4% to over $10.2 billion (source: researchandmarkets.com). It is expected to maintain a CAGR of 6.5% over the coming years to reach over $13 billion by 2026. You can be part of this growth and reap the rewards as an affiliate marketer.
Finance has traditionally been considered to be one of the highest paying lucrative affiliate marketing niche. The online stock trading affiliate sub-niche is even more lucrative, with publishers able to earn attractive payouts with both CPL and CPA models. There are diverse offers for earning both one-off and recurring commissions promoting the best online stock trading platforms.
Online stock trading services offer diversified product lines that can boost the commission that publishers stand to earn. Your customers can also trade various other financial asset classes that include forex, cryptocurrencies, indices, commodities, and ETFs. You can generate once CPA commissions from converted leads, or earn ongoing residual incomes from trading fees, as well as products such as managed portfolios and automated trading solutions.

Finance is generally a competitive field. But this also means that online stock trading offers plenty of bonuses and promotions to lure customers. For instance, there may be a signup bonus when a referral deposit trading capital, making it a great sell to potential customers.
Online stock trading services are compelled by the competitive landscape to ensure they convert leads as effectively as possible. This is good news for stock trading affiliates as you stand to earn more.
What Are Stock Trading Affiliate Programs, And How Do They Work?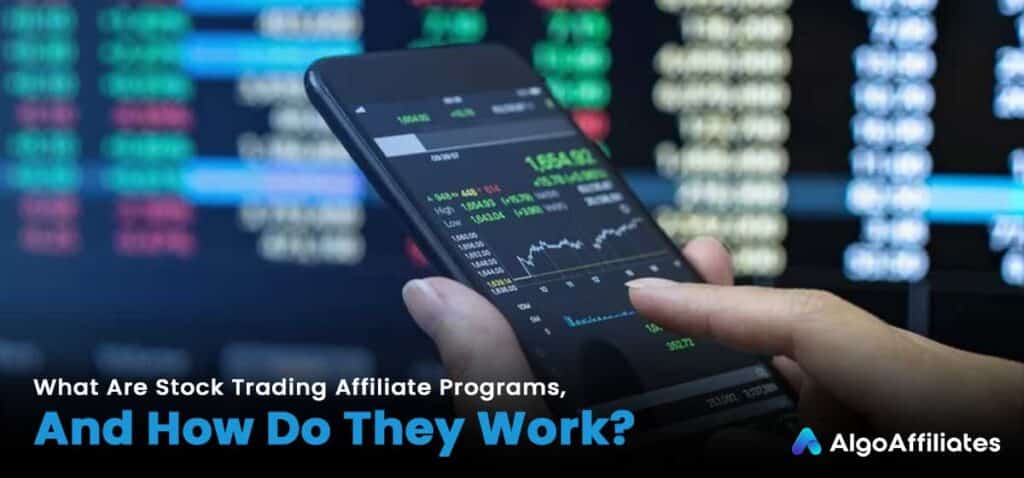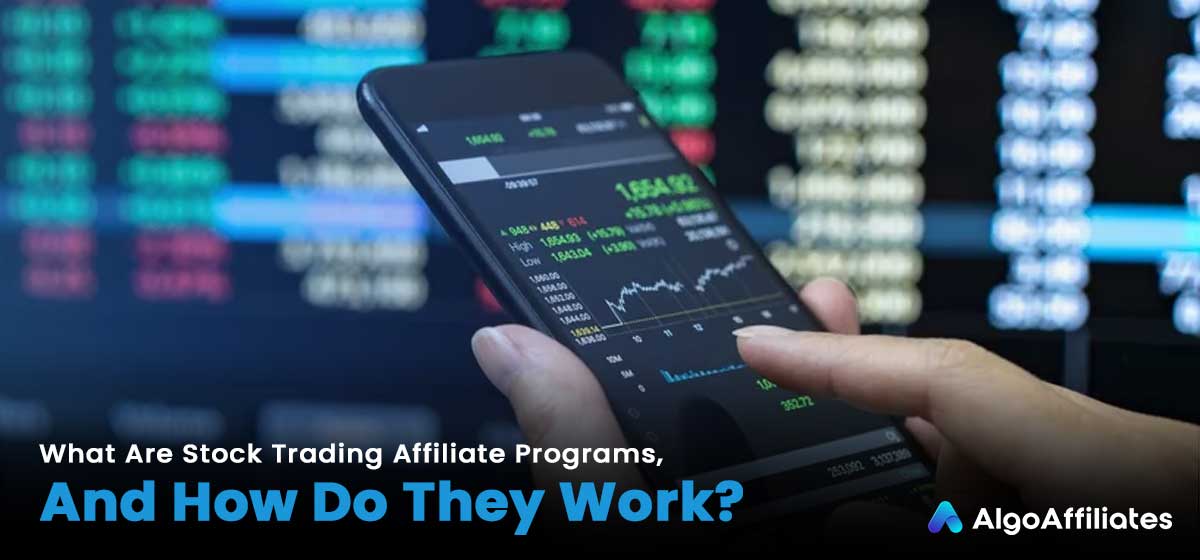 Before getting into the nitty-gritty details, let's start by defining what these programs are and how exactly they work.
Stock market affiliate programs are not any different from other affiliate marketing programs. They are a marketing channel that many stockbrokers are now turning to in a bid to get more traders on board. The programs are an agreement between the affiliates and the stockbroker's affiliate program (which may be internal or outsourced), which awards a commission for bringing more traders on board. 
Usually, the affiliates have a website or blog, which brings in significant traffic. All they have to do is advertise the stockbroker's platform and services to their audience. Depending on the agreement in place, the affiliates then earn commissions whenever any of their referrals takes a particular action, such as signing up for an account with the online stockbroker. 
In any affiliate program, there are four critical players, all of whom play specific roles to ensure the program's success: 

The merchant – 

is the business that provides the products and services being advertised. In this case, the online stockbroker is the merchant. Usually, the merchant will also offer strategies and tips that you can use to promote their services. 

The affiliate marketer  – is the person who implements various marketing strategies to promote the merchant's products in return for some commission. In many cases, the marketers are website owners or bloggers who advertise the merchant's products to their audiences. They use various advertising methods and channels including links, banners, reviews, social media, SEO, PPC, and more. 
The consumer –

is an individual customer who buys/consumes the merchant's products or services. Some consumers may reach the merchant through direct channels, however, in the case of affiliate marketing, they reach the merchant through the advertising elements of the affiliate. 

The affiliate network – 

is the intermediary between the affiliate and merchant that manages the entire referral program and processes. The affiliate network or program uses an affiliate tracking platform that makes it easier for the merchant and the marketer to keep track of everything. The network often features an automated system that tracks and manages referral links, purchases, and commissions due to the affiliate. An example of a top affiliate network is Algo-Affiliates. 
Stock Trading Affiliate Programs Vs. Networks: What's The Difference? 
If you're thinking about becoming a stock market affiliate, you will probably come across both programs and networks. Although they both work similarly, they have some slight differences, which could be confusing to any new affiliates. 
Affiliate programs will typically have the merchant running the program. The merchant generally owns and manages the program and is in charge of every aspect. These programs will typically only focus on the products and services offered by the said merchant. 
On the other hand, affiliate networks typically involve a third-party company in charge of the referral program. The networks often have several merchants they work with who offer a diverse product range. In most cases, the affiliate network will take care of everything related to the affiliates, from onboarding new partners, providing marketing materials, managing payments and support, and more. For example, Algo-Affiliates is an affiliate network that works with many merchants in the finance sector and gives affiliates access to a wide range of products and services to promote such as forex, crypto, and stock trading.  
When deciding to become an affiliate marketer, you may be at a crossroads about joining a program directly or using an affiliate network. Although they are both excellent ways to earn extra income from your traffic, it would be best if you carefully considered both options. For most people, especially those just starting as affiliate marketers, joining a network would be the best way to go. You don't have to worry about finding the ideal program since the network offers a pool of offers to choose from. Additionally, working with a network eliminates the need to sign up with multiple programs and manage all those relationships, tracking, payments, and more. In essence, a network is a "one-stop-shop" for affiliates.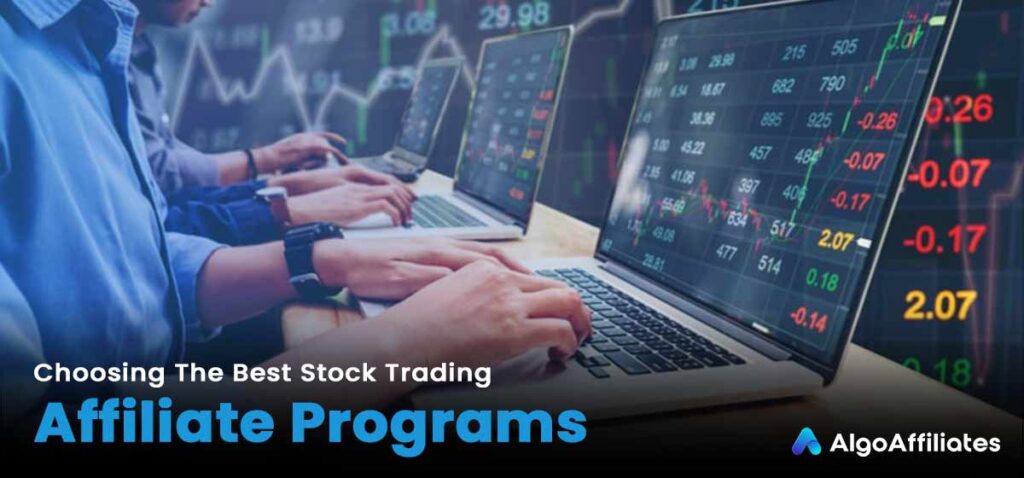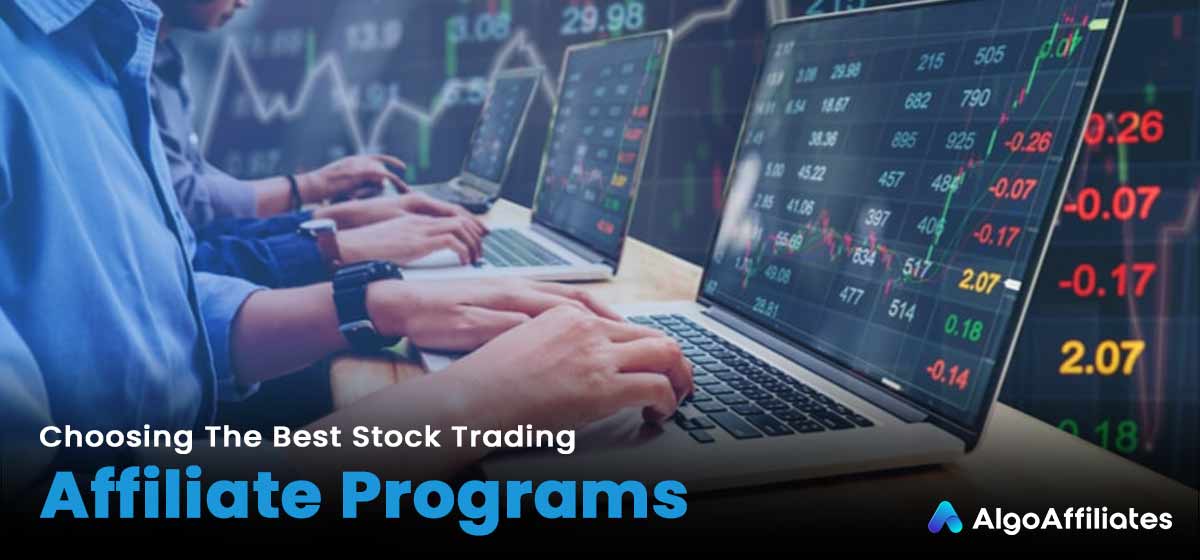 Choosing The Best Stock Trading Affiliate Programs
With different online stockbrokers cropping up by the day, it's no surprise that there are many stock trading affiliate programs currently available. These programs all vary in terms of referral payouts, available tools, and commission structures. 
So, what should you be on the lookout for when shopping around for a referral program? Here are five factors that should absolutely make it to your checklist. 
Reputation And Compliance with Regulation
Most traders cite regulation as an essential factor that they consider when choosing a brokerage firm. Therefore, you must check that the broker you're advertising is regulated and compliant with the regulations set in place. Ideally, the trader should also be licensed to operate in multiple regions, especially if your audience comes from all around the world. 
Keep in mind that the partnership will also reflect on your brand. The last thing you want is having to recommend a scam platform that swindles your referrals' money. A quick fact-check through online reviews could save you a lot of trouble. Besides, it would do everyone some good if you tested out the platform for a while before recommending it to others. 

Commissions Structure and Flexibility
There's no denying that the commission payout is a vital deciding factor and, in most cases, will be the first thing that you check. Stock trading affiliate programs will typically offer two types of commission structures: Cost per Acquisition (CPA) and revenue sharing. 
Under the CPA model, the affiliate earns their one-time commissions whenever any of their referrals sign up with the stockbroker and starts trading. Referral programs that follow this commission structure have varied requirements, fees, and minimum deposits required. Therefore, you should look around and compare several plans before choosing one. Again, depending on the plan's terms of agreement, you could receive your commissions after your referral makes a deposit or completes an initial trade. 
Referral programs that follow the revenue share model have the commissions calculated through the net spread. Therefore, you will receive your commissions as long as your referrals keep trading with the stockbroker. 
CPA referral programs are ideal if your referrals prefer to buy stocks and hold them for a certain period. Conversely, revenue-sharing programs are an excellent choice for those whose referrals are active traders since you earn commissions from each transaction. 

When choosing a referral program, you should ideally go for one that has flexible commission structures. As you get started with affiliate marketing, you may have difficulty identifying what kind of traders your referrals are. Therefore, joining a program that offers flexible commission structures could be more profitable. 
How Should You Promote Online Stock Trading Affiliate Programs?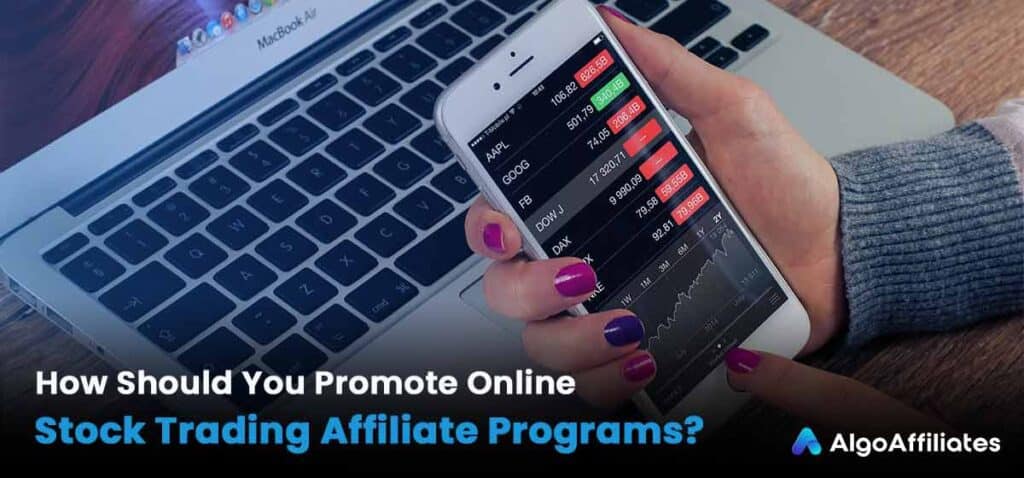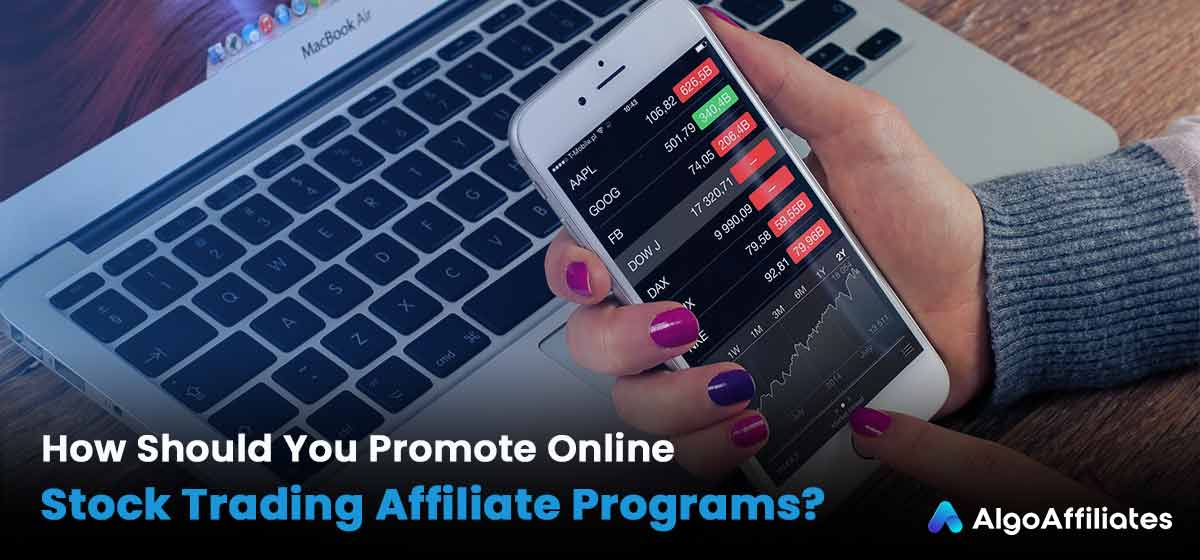 Customers sign up for online stock trading platforms with the intent of making money. But as with any investment platform that offers profit potential, there is the risk of monetary loss. It is therefore very important to promote an online stock trading platform that an audience can trust and rely on to provide transparent services.
Money is a very emotional subject, and you must be able to gain the trust of your audience in order to suggest to them a product where there is the risk of losing something they hold so dear in their lives.

Here are some of the best ways to promote online stock trading affiliate program offers:
When choosing an online stock trading platform, customers consider various factors such as reputation, safety, and security of funds, trading platform, investment resources, and customer services. Writing honest reviews about these aspects can help build authority and trust with your audience. This will make it easier for you to recommend to them the best online stock trading platforms and services that they can consider.
The personalized nature of newsletters makes them a great way of promoting sensitive products such as online stock trading. By consistently sharing your thoughts and expertise with your newsletter subscribers, you can earn their trust over time. Newsletters are also high-converting due to their direct nature.
3. Blogs and Social Media
As mentioned, finance and investing are very personal things for most people. Building a reputable and trustworthy blog or social media presence to connect with your audience can deliver exceptional results.
You can post useful articles to help other investors seek information on how to best approach investment opportunities. Encourage Q&A where you can answer investment-related questions asked by your audience. This way, you will be able to recommend the best online stock trading brokers to an audience that already trusts you and regards you as an authority and expert in your field.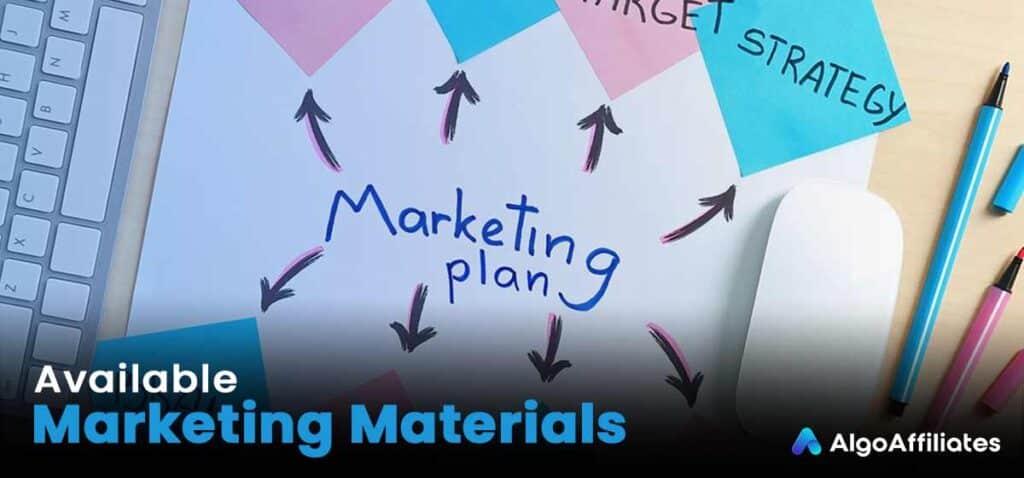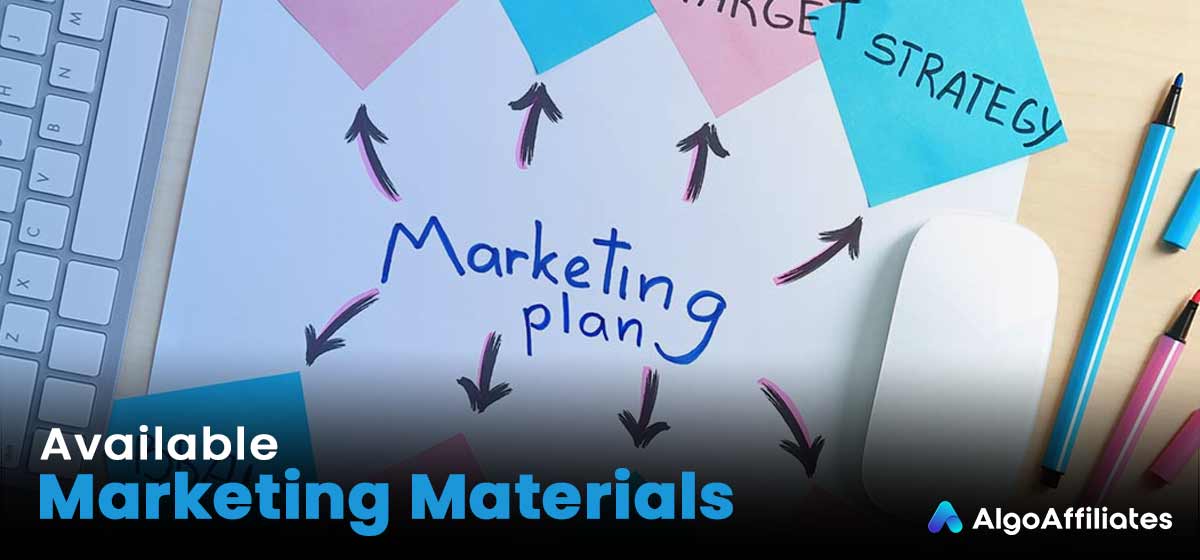 Available Marketing Materials
As we've mentioned above, the affiliate program will provide the marketing material that you will use. Whether you decide to join the program directly or through an affiliate network, ensure you are provided with enough marketing material. 
Most stock trading referral programs will provide landing pages, banners, links, and ads. However, given that marketing strategies play a crucial role in the success of any business, you should also be on the lookout for programs that offer additional material, such as social media content. 
As an affiliate marketer, you aren't limited to the different marketing strategies that you can use. Therefore, you can stick to other marketing methods and techniques if you have proof that they work. The key to success with marketing material is to constantly be A/B testing to find what performs the best with your various marketing channels. While some banners may work well on your website, they may not work as well on social media and vice versa.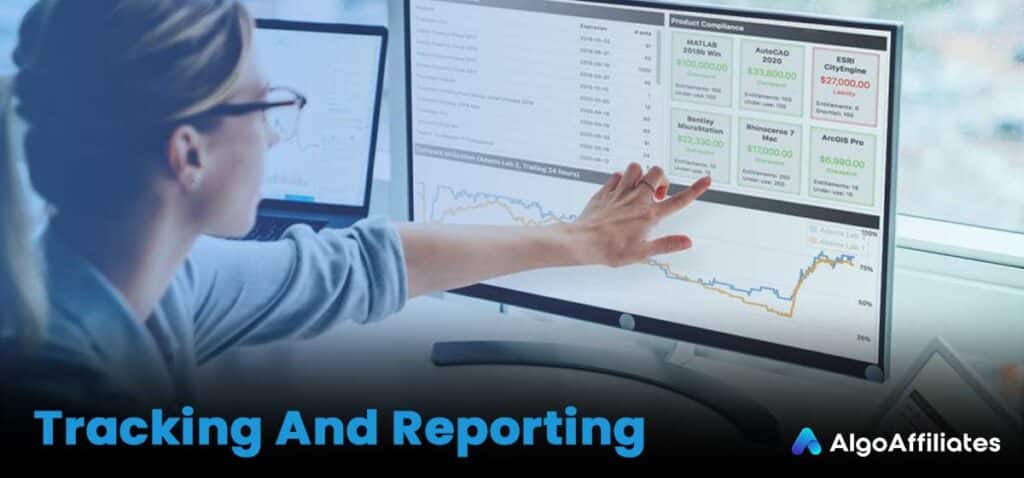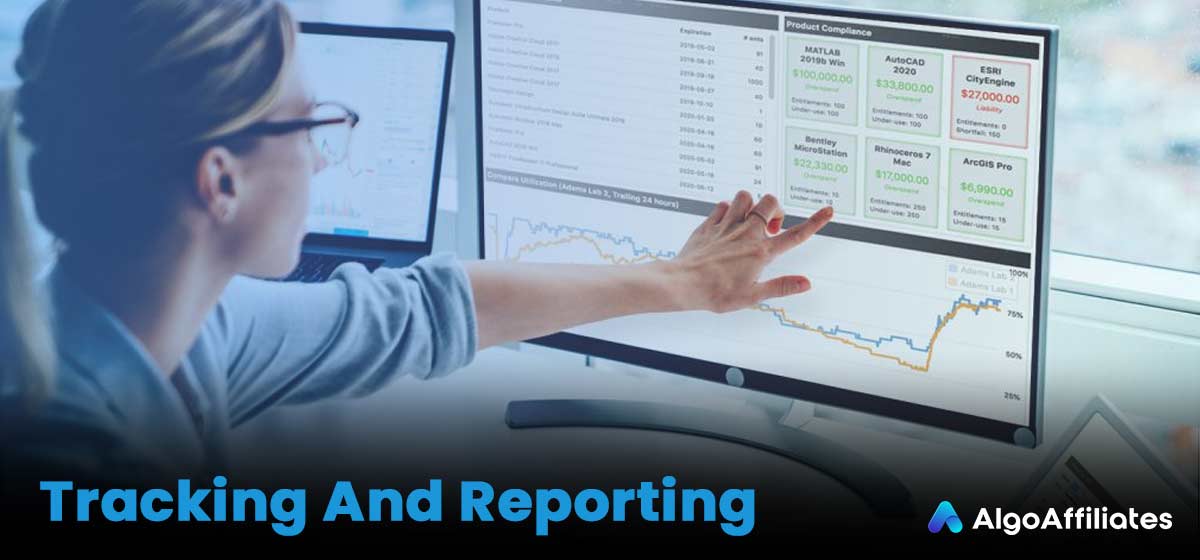 Trading Tools and Platforms
Stock traders often require several tools to assist them with their trading, and it would be best if you checked that the online broker offers them. Ensure that the broker provides the latest and most convenient tools, so your referrals can benefit from these tools. 
Some of the must-have features include analysis tools, charts, and real-time market data. It also helps to promote brokers that offer demo accounts and a knowledge base, so that novice traders can also sign up with the broker. 
You should also check the available trading platforms and ensure your referrals have several options to choose from for their convenience. The most popular and well-respected trading platforms are MetaTrader 4 and 5, as well as the Web Trader platform.  
Tracking And Reporting
You will need to keep track of your referrals clicks, conversions, and earnings. Therefore, it helps to partner with a stock trading affiliate program that makes it easier for you to track all this information. Ideally, they should provide a dashboard that offers insights into all the information you need to manage and optimize your marketing efforts. 
Tracking and reporting tools are essential to any marketing campaign. With this information, you can quickly tell what strategies are working, which ones need improvement, and which ones you should avoid altogether. If you are totally new to affiliate marketing, joining an affiliate network that offers excellent support is a must.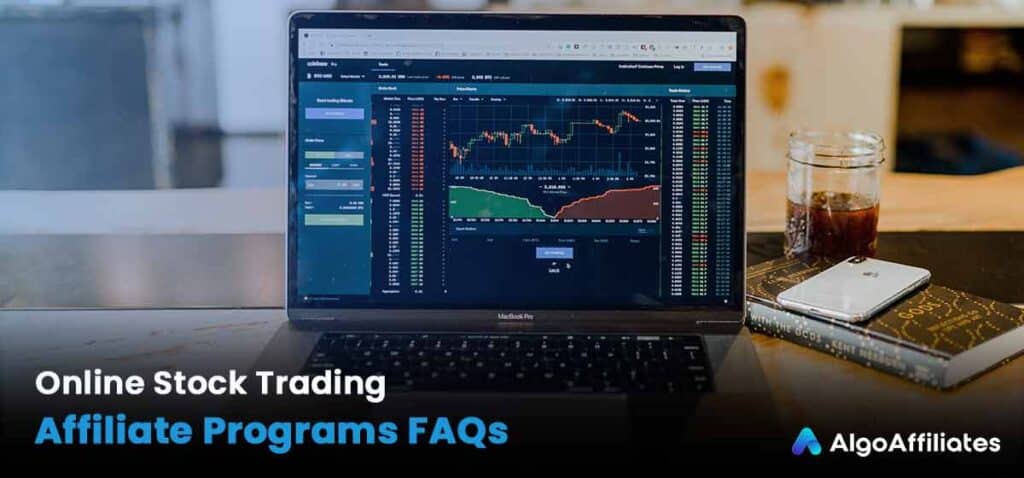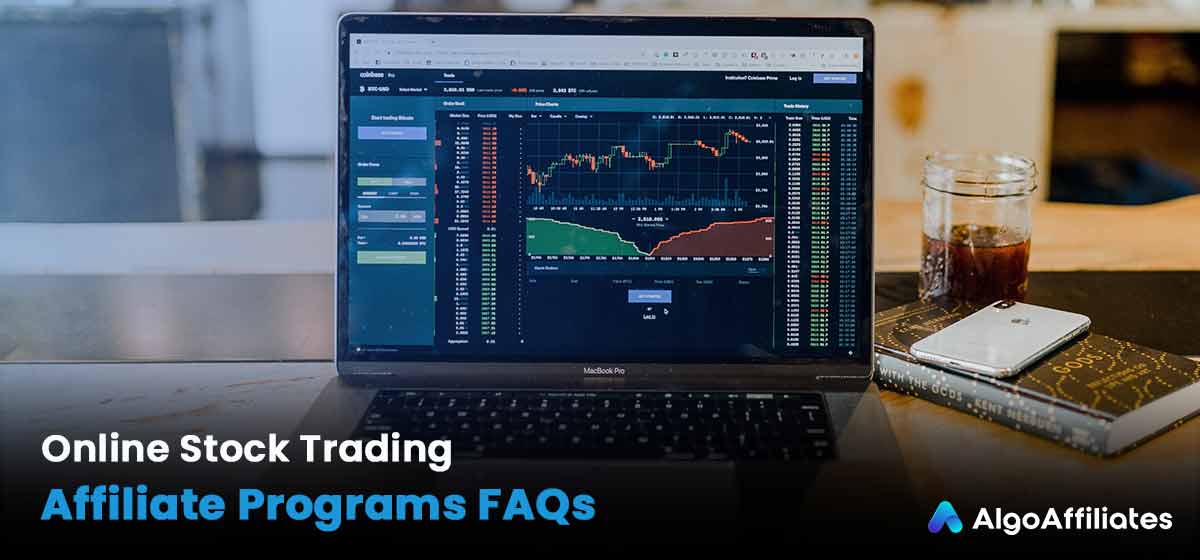 Should You Join a Stock Trading Affiliate Program?
If you're still undecided about joining a referral program as a stock trading affiliate, here are several benefits to help you make up your mind. 
Stock trading affiliate programs allow you to earn an income from your existing traffic. If you, especially, have a significantly large audience, you could make a considerable amount, depending on your commission plan and structure. 

Ability to switch brands and tactics quickly. As an affiliate, if the online broker isn't converting well, you can simply drop them and choose a different merchant to advertise. 

Stock trading affiliate programs don't require any capital to get started. Marketers only need to sign up for an affiliate account and promote the brokers to their audience. 

You require little experience to get started, which means that anyone can become an affiliate. However, it's advisable to be a bit knowledgeable on the stock markets, so you can quickly identify scam programs and avoid recommending them to your clients. While you can get started with minimal knowledge and experience, to reach super affiliate status, you will need to invest in growing your marketing knowledge. 

Referral programs are convenient and flexible in that you get to earn from wherever you are in the world. 

1.     Why Should I Promote Online Stock Trading Affiliate Offers?
The internet has made it easy for anyone to get started with investing in global financial assets online. This has seen huge demand for online stock trading platforms and services, with the average retail investor able to start the journey to financial freedom with minimal capital in the comfort of his home.
Additionally, online stock trading affiliate programs pay out lucrative commissions. Most of the programs offer exceptionally high CPA commissions, with others offering excellent recurring commissions for the lifetime of your referral.
2.     Where Should I Promote Online Stock Trading Affiliate Programs?
There are plenty of ways to share your affiliate links for online stock trading platforms. You can share on your social media channels as well as investment forums and publishing sites.
You can also promote them on comparison websites, financial news sites, as well as Q&A sites. It is important not to spam your links but rather you should provide valuable content to your audience.
Building a website or blog with valuable stock trading information and news can be a viable long-term project that can deliver on-going returns for years to come. Your approach to online stock trading affiliate programs should be focused on building high quality and value.
3.     Why Do Stock Trading Affiliate Programs Pay High Commissions?
Most referrals that sign up to online stock trading platforms generate a lot of revenue for the companies. Additionally, most customers also stick to one platform for a long period of time. This means that quality referrals will end up making a lot of money for the company which enables them to reward affiliates so well.
4.     Are Stock Trading Affiliate Programs Very Competitive?
Yes, they are. Because of the high commissions offered, there is plenty of competition in this niche. However, because it is a niche driven by trust, beginners can get started by referring to friends and family, and gradually build a trusting audience.
Competitive niches are ideal for affiliates as it provides variety and high payouts. This also compels affiliate programs to add value and provide unique marketing solutions for their publishers to achieve.
There is a rule of thumb in the affiliate marketing world which says if there is no competition in a niche, then there is no money to be made. As a publisher, you should see competition as a positive factor.
5.     Can I Make a Lot of Money Promoting Online Stock Trading Programs?
Yes, you can. The best online stock trading affiliate programs offer competitive and dynamic remuneration. Publishers can earn high CPA commissions as well as high recurring revenue share rates. This combination can help you earn a lot of money if you promote your affiliate links well.
As an example, if there is a stock trading affiliate offer that pays a $300 CPA, you only need a handful of conversions each week to make a decently monthly income.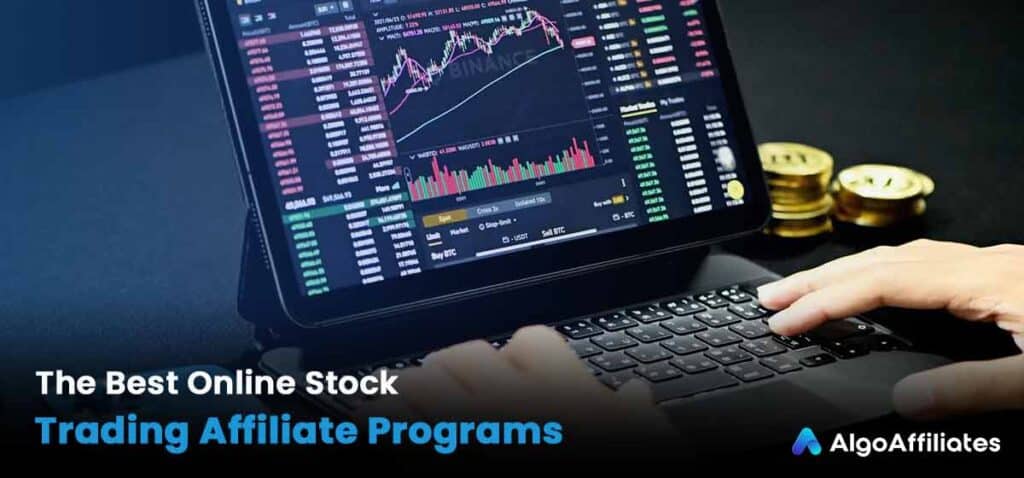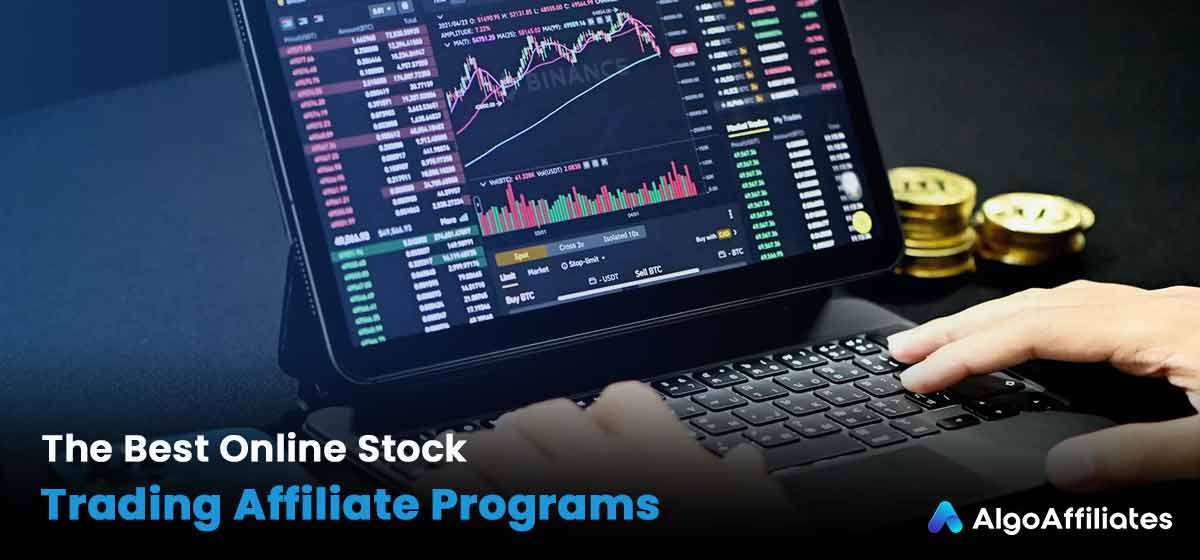 15 Best Online Stock Trading Affiliate Programs
1.     Algo-Affiliates
Algo-Affiliates is the best performance affiliate marketing network around, and  includ other fields such as health, dating, and loans in their
Over 300 of algo affiliates 1500+ offers are for the lucrative finance niche, with publishers given extensive support to boost their marketing efforts. Algo Affiliates  have a well-curated collection of CFD brokers offering CFD stock trading services to their customers, and publishers can enjoy attractive CPA payouts and commissions of up to 70%.
All the brokers offered by Algo-Affiliates are highly reputable and feature professional trading tools and resources such as advanced proprietary platforms and automated trading that make them an easy sell to customers.
In addition to quality online stock trading brands, Algo-Affiliates also offers publishers top self-optimizing technologies as well as extensive resources and support to ensure you have the best chance to achieve your marketing goals.
Features
Best stocks CFD broker affiliate offers
High commissions
Top technologies to boost conversion rates (AI-powered SmartLinks)
Comprehensive reporting
Professional affiliate managers to help you succeed
High converting offers
$250 minimum payout
2.     Plus500 Affiliate Program
Listed on the London Stock Exchange, Plus500 is one of the most established CFD brokerage firms in the world. The company (headquartered in Israel) was founded in 2008 and launched its affiliate program in 2009.
The company boasts over 400,000 active customers, with around half of them acquired between 2019 and 2021. It has operations in over 30 countries around the world and is one of the most recognizable brands in its industry.
Plus500 customers can trade both shares (in the traditional way) and stock CFDs. Plus500 runs a lucrative affiliate program that pays out CPAs from a minimum of $200 up to a maximum of $800 per qualified referral.
Publishers also get to earn additional recurring commissions of up to 10% when they refer other affiliate marketers. As one of the longest-running stock trading affiliate programs in this niche, there are plenty of resources and a strong community to help you boost your marketing efforts.
Features
High CPA commissions of up to $800
Earn extra commissions by referring other publishers
Comprehensive marketing materials
Easy affiliate signup process
Well-known trusted brand
Comprehensive reporting to help you analyze your performance
Payments via Skrill and Bank Wire
Low payout threshold of $150
Great support team
3.     IQ Option Affiliate Program
IQ Option is a popular CFD, crypto, and forex broker. It was founded in 2013 and serves millions of customers from over 178 countries around the world. IQ Option customers can trade stock CFDs and cryptocurrencies as well as speculate on several other financial asset classes such as Forex, ETFs, and Commodities.
IQ Option runs an industry-leading affiliate program that offers huge commissions to its publishers. Affiliate marketers can earn an instant CPA payout as well as a lifetime revenue share commission of up to 50%.
The IQ Options affiliate program has over 280,000 affiliates, and there are loads of resources and multilingual materials to help publishers widen the reach of their promotional activities. IQ Option its publishers twice a month, and it supports a wide range of payment methods such as bank wire, multiple cryptocurrencies, and popular eWallets. However, the first payment is only paid out after 10 successful referrals.
Features
Reputable and well-known brand globally
Beginner-friendly broker that can boost conversions
Instant CPA and up to 50% revenue share
Multiple convenient payment methods
Low customer deposits from as low as $10
Multi-language resources
Universal links and extensive analytics
4.     TradingView Affiliate Program
TradingView is a powerful charting tool for traders. It helps traders and investors to perform extensive analyses of the prices of tradable assets, including stocks. The tool features numerous broker integrations that make it convenient for customers to access their trading accounts directly from the TradingView platform.
The features of TradingView include detailed interactive charts, heat maps, screeners, custom scripts, and an integrated Economic Calendar. Over 30 million investors and traders visit TradingView every month, underlying the strength of the brand and its organic demand potential.
TradingView also serves as a forum for investors and traders, who can share their ideas and strategies about the market. TradingView prices its products from as low as $13 per month to as high as $60 per month. The TradingView affiliate program pays out a juicy 30% recurring commission for as long as your referrals keep their subscription active.
Features
Reputable brand in the industry
Free 30-day trial period to help boost conversions
Lengthy 90-day cookie life
High recurring lifetime commissions
Plenty of bonuses and promotions for your referrals
PayPal payments are paid out every month
Best-performing affiliates can gain even more benefits
5.     Robinhood Affiliate Program
Founded in 2014, Robinhood sought to disrupt the online trading arena with its mobile-centric and commission-free trading features. The company's popularity particularly exploded during the COVID-19 pandemic when it became a favourite investment platform among millennials and tech-savvy investors.
In addition to stocks, investors can also trade cryptocurrencies and ETFs on the beginner-friendly Robinhood trading platform. The Robinhood affiliate program is very lucrative for publishers, paying out $5 for every qualified lead, and a further $20 for every referral that makes a first deposit into his/her trading account.
Robinhood is a popular brand with a strong following on multiple social media platforms. This makes it an easy sell for publishers who have an audience interested in investment opportunities. There are plenty of marketing creatives as well as promotions throughout the year to further incentivize your audience to take action.
Features
Popular reputable global brand
Reliable payments
Low payment threshold of $50
High converting affiliate offers
Lengthy 30-day cookie life
Strong online community for customers
Plenty of resources to enhance your marketing offers
Numerous promotions throughout the year
6.     eToro Affiliate Program
Founded in 2007, eToro started out exclusively as a forex trading brokerage firm. Its defining moment came in 2009 when it introduced social trading. Today, eToro is the world's leading social investment platform, allowing investors to network, learn, share and copy trade positions of other successful traders.
eToro has operations in over 140 countries and currently boasts over 20 million customers. The eToro Partners program allows you to become part of this big story and get to earn generous rewards for referring your audience to a company that is always innovating.
There is plenty to promote- from stocks and other CFDs to diverse social trading products. eToro provides ample marketing creatives that are high-converting and very intuitive. The resources are available in over 20 different languages to help you implement a broad marketing plan to match your goals. Every publisher also receives extensive support from the professional and responsive eToro affiliate management team.
Features
Reputable global social trading brand
High commissions
Dynamic payouts depending on the country of your referral
Low payout threshold of $100
Multiple payment methods supported (popular eWallets and bank wire)
Multilingual marketing creatives
Innovative brand that always comes up with new products
Professional publisher support
7.     Investfly Affiliate Program
Investfly provides a platform for beginners and professional investors to build automated stock trading strategies as well as manage virtual portfolios. The platform's features include strategy-building tools, advanced stock screens, scheduled price alerts, backtesting, and a mobile app.
Investfly also runs various stock market competitions and games as well as social investment forums and following capabilities. For both newbies and experienced investors, Investfly is a powerful and valuable platform for automating any investment strategy as well as interacting with other investors.
Investfly has two pricing options: a premium account for $20 per month, and an elite account for $50 per month. The Investfly affiliate program pays up to 100% commission for qualifying referrals. You can earn a one-time $20 commission if you refer a premium customer, and $50 if you refer an elite customer.
Features
High CPA commissions
Quality brand for investors
Free 30-day trial for new customers
No restrictions on where and how to market your affiliate links
Low payout threshold of $100
Monthly payment frequency
8.     Capitalist Exploits Affiliate Program
Capitalist Exploits is a high-level investment newsletter designed to help investors to uncover great opportunities in global equities markets. The newsletter is written by top hedge fund managers that are responsible for managing billions of dollars at top firms.
The company offers two products: an insider newsletter priced at $35 per month (a 30-day trial period is available for $1), and an insider membership priced at $2499 annually. Capitalist Exploits is not merely a stock signal service; its newsletters feature detailed reporting on both micro and macroeconomic factors as well as in-depth practical insights on how to take full advantage of prevailing and potential future stock market opportunities.
The Capitalist Exploits affiliate program is a high ticket and pays out a solid 50% commission on every sale that a publisher generates.
Features
High commissions
Reputable team behind the newsletter
$100 payout threshold
Monthly payout frequency
30-day trial period
100% money-back guarantee
Low refund rates
Positive testimonials from customers
Excellent multi-year track record
9.     Finviz Affiliate Program
Finviz.com (Financial Visualizations) presents stock analyses and market research in a visually appealing manner, helping investors to view quick snapshots of trending opportunities in the market. It features stock screeners, market maps and news, major indices, upcoming earnings releases, insider trading updates, biggest gainers and losers, and many more.
There is a paid elite version that starts from $25 per month, and it provides investors with premium features such as advanced screeners and visualizations, real-time and extended hours' quotes, intraday advanced charts, correlations, important alerts, and notifications, as well as an ad-free experience. The Finviz affiliate program offers publishers an attractive 30% recurring commission that is paid out monthly.
Features
Easy affiliate signup process
Attractive recurring commissions
Lengthy 90-day cookie period
PayPal payments
$100 payout threshold
Real-time reporting on affiliate statistics
10.  SpeedTrader Affiliate Program
SpeedTrader is a direct market access broker that is specifically designed to serve active traders. Active day traders of stocks, ETFs, and options find SpeedTrader's low fees and commissions very convenient.
The SpeedTrader trading platform is intended to encourage high-frequency trading, with traders able to access it without any subscriptions if they generate commissions of at least $499.
Features of SpeedTrader include fast execution, direct access order routing, advanced level 2 data, one-click trading, real-time stock charting, and multiple-screen support. The SpeedTrader affiliate program pays a one-time CPA commission of $100 for every funded account referred to its platform. There are plenty of promotional materials to help you customize your marketing approach as well as a responsive publisher support team.
Features
High utility brand
High commissions
Timely PayPal payments
$100 on all referrals
Comprehensive reporting
Customizable promotional materials
Easy signup process
11.  Motley Fool Affiliate Program
Founded in 1993, Motley Fool is a financial and investing advice company. For over 25 years now, the company has been providing valuable insights that have helped millions of investors beat the market and achieve their financial goals.
Motley Fool has built an enviable reputation that has seen it thrive in the stock research and advice market which is very volatile. The company's products include stock advisor, epic bundle, everlasting stocks, industry-specific stocks, and digital explorer.
Pricing for its products starts from as low as $100 per year, up to over $2,000 annually. The Motley Fool affiliate program pays out a CPA of $100 for every referral that signs up for any subscription.
Features
Trusted investing advice brand
Comprehensive free resources
45-day cookie life
High commissions
Affiliate program run by Awin
Timely payments via bank wire
12.  Vantage Affiliate Program
Vantage Markets is a multi-asset broker that allows investors to trade CFDs on Stocks as well as Forex, Commodities, and Indices. The company has over 30 offices around the world and serves over 900,000 clients.
Vantage runs one of the most lucrative affiliate programs in the industry, with publishers able to earn CPA commissions of up to $800. For its affiliates, Vantage provides excellent support including free access to CellXpert, a platform that offers marketing solutions such as serving ads, managing campaign performance, tracking conversions, and viewing comprehensive affiliate statistics.
In addition to numerous resources, there is also a responsive affiliate support team that will provide assistance whenever required.
Features
Strong global brand
High commissions of up to $800
Best support for publishers
Multilingual marketing creatives
Transparent tracking and reporting
Award-winning broker
Plenty of bonuses and promotions for customers
Multiple payment methods supported
Payout threshold of $1,000
13.  Interactive Brokers
Interactive Brokers is a global multi-asset broker that serves clients in over 200 countries around the world, connecting them to over 150 global financial markets. The company has been around since 1977, evolving from an electronic broker to a versatile online brokerage firm.
This endurance has seen it enjoy a strong reputation as a reliable and trustworthy broker. The Interactive Brokers affiliate program pays out a CPA commission of $200 for every qualified lead, with the referred client also qualifying for a welcome bonus of Interactive Brokers (IBRK) shares.
There are plenty of marketing creatives in multiple languages for publishers to utilize as well as a professional affiliate support team that is very responsive to any inquiries. Nonetheless, publishers are limited to a maximum of 15 referrals per year, and a total maximum of 30.
Features
Reputable global brand
Lifetime cookies
High commissions
Reliable payments
Plenty of bonuses and promotions for new customers
Multilingual marketing resources
14.  XTB Affiliate Program
XTB is one of the leading listed FX and CFD brokerage firms. The company has offices in 13 countries and currently serves over 580,000 clients from around the world. In addition to stock CFDs, XTB customers can also trade real shares commission-free on the advanced proprietary platform, xStation.
XTB is a beginner-friendly broker, providing a comprehensive library for newbies to get started with online stock trading the right way. The XTB affiliate platform is one of the most lucrative in the industry, with publishers able to customize the kind of compensation they desire.
On its CPA model, publishers can earn commissions of up to $600 per conversion. There is also the revenue share model where publishers can earn recurring commissions of 20% on the spread income generated by their referrals. XTB provides publishers with extensive support, with regular campaigns always available as well as relevant content ideas.
Features
Exchange-listed online broker
Easily recognizable brand
Competitive remuneration and customizable payment structure
High commissions of up to $600 per referral
Advanced trading platform
Dedicated affiliate support manager
Numerous bonuses and promotions
High-converting offers
Professional reporting and aggregated statistics
15.  UnderValueStock.com Affiliate Program
Undervalued Stocks are a stock advisory company that provides its customers with actionable stock trading ideas. The company runs a proprietary trade selection system that scans for high-probability medium-term opportunities in the stock market. They then send out the best ideas that meet their risk/reward propositions to their subscribers.
Undervalued Stocks subscription is $29 per month. In addition to trade ideas, the company also helps subscribers create personalized trading plans and also provides them with numerous educational materials to help them become better stock market investors.
The Undervalued Stocks affiliate program offers publishers both monetary and non-monetary rewards. For every referral, publishers can earn 50% recurring commissions for up to 3 months, plus 2 months free subscription. Every referral also earns you a 1-month free subscription.
There are plenty of bonuses and promotions for customers, and the company does not place any restrictions on where to market your affiliate links.
Features
Useful service for investors
Plenty of incentives for new customers
High commissions in addition to non-monetary benefits
Easy affiliate signup process
Reliable payments
Numerous marketing materials
No promotion restrictions
30-day cookie life
Excellent affiliate support team
Final Word
Online stock trading platforms have witnessed huge demand in recent years. We have outlined the best online stock trading affiliate programs to help you get a piece of the action in this high-ticket niche.
A lead in this lucrative niche is worth his/her weight in gold because of the sticky nature of the services offered. This is why the best online stock trading affiliate programs are able to pay such high commissions for quality leads and customers.
No matter your investing knowledge or experience, you can earn money by helping your audience discover the best ways to make money by signing up for top online stock trading platforms.