Over the last decade, the stock market has been growing steadily, recovering quite well from the market crash in 2009. Although the industry is still slightly complex, more people are looking to get into stock investing. Investors injected $569 billion into the sector within the last five months, against $452 billion during the 2009-2020 bull run. 
As the stock market's value increases, more people are looking to leverage this. For this reason, affiliate marketers are now using stock trading affiliate programs as an ideal way of earning from their existing traffic. 
As is the case with other affiliate programs, there are several of these referral programs, and choosing the best can be a daunting task. Don't worry; we went to all the trouble so you wouldn't have to.
This article highlights all the vital information you need to know about referral programs for stock trading and how to filter out the best stock trading affiliates programs. 
Keep reading for some insightful tips, including why you should consider joining an affiliate program. 
What Are Stock Trading Affiliate Programs, And How Do They Work?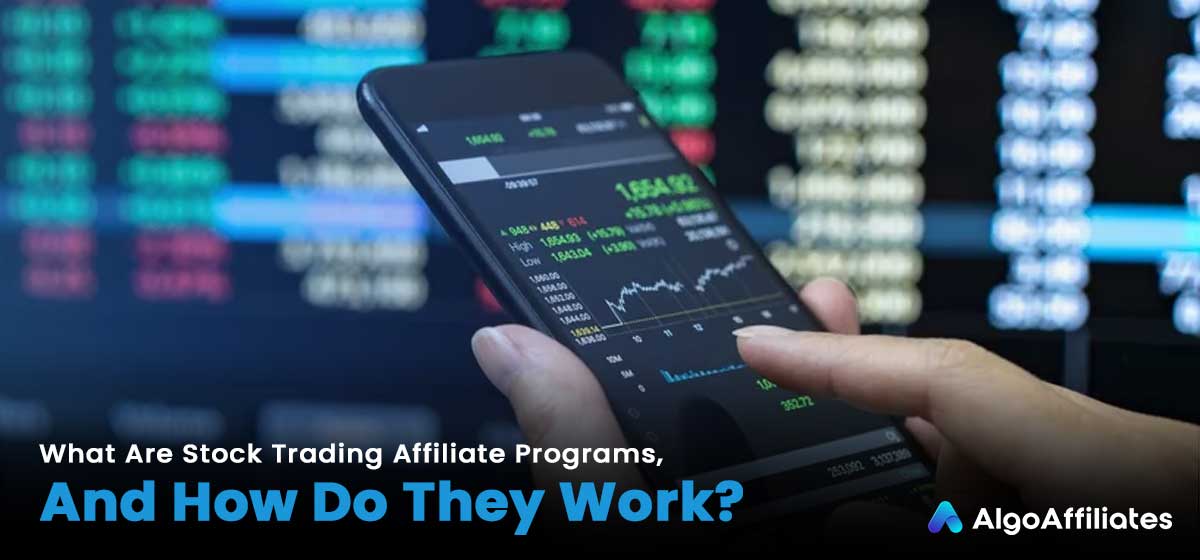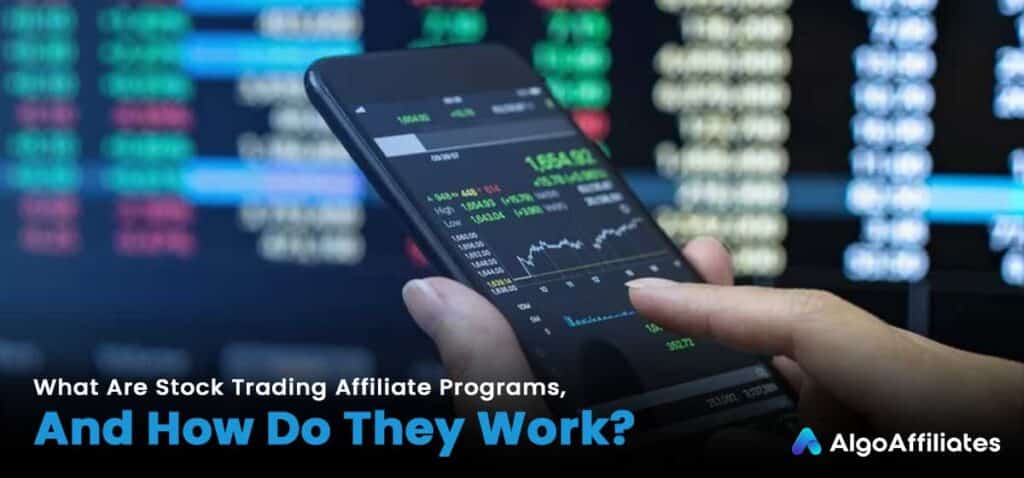 Before getting into the nitty-gritty details, let's start by defining what these programs are and how exactly they work.
Stock market affiliate programs are not any different from other affiliate marketing programs. They are a marketing channel that many stockbrokers are now turning to in a bid to get more traders on board. The programs are an agreement between the affiliates and the stockbroker's affiliate program (which may be internal or outsourced), which awards a commission for bringing more traders on board. 
Usually, the affiliates have a website or blog, which brings in significant traffic. All they have to do is advertise the stockbroker's platform and services to their audience. Depending on the agreement in place, the affiliates then earn commissions whenever any of their referrals takes a particular action, such as signing up for an account with the online stockbroker. 
In any affiliate program, there are four critical players, all of whom play specific roles to ensure the program's success: 
The merchant

is the business that provides the products and services being advertised. In this case, the online stockbroker is the merchant. Usually, the merchant will also offer strategies and tips that you can use to promote their services. 

The affiliate marketer is the person who implements various marketing strategies to promote the merchant's products in return for some commission. In many cases, the marketers are website owners or bloggers who advertise the merchant's products to their audiences. They use various advertising methods and channels including links, banners, reviews, social media, SEO, PPC, and more. 
The consumer

is an individual customer who buys/consumes the merchant's products or services. Some consumers may reach the merchant through direct channels, however, in the case of affiliate marketing, they reach the merchant through the advertising elements of the affiliate. 

The affiliate network

is the intermediary between the affiliate and merchant that manages the entire referral program and processes. The affiliate network or program uses an affiliate tracking platform that makes it easier for the merchant and the marketer to keep track of everything. The network often features an automated system that tracks and manages referral links, purchases, and commissions due to the affiliate. An example of a top affiliate network is Algo-Affiliates. 
Stock Trading Affiliate Programs Vs. Networks: What's The Difference? 
If you're thinking about becoming a stock market affiliate, you will probably come across both programs and networks. Although they both work similarly, they have some slight differences, which could be confusing to any new affiliates. 
Affiliate programs will typically have the merchant running the program. The merchant generally owns and manages the program and is in charge of every aspect. These programs will typically only focus on the products and services offered by the said merchant. 
On the other hand, affiliate networks typically involve a third-party company in charge of the referral program. The networks often have several merchants they work with who offer a diverse product range. In most cases, the affiliate network will take care of everything related to the affiliates, from onboarding new partners, providing marketing materials, managing payments and support, and more. For example, Algo-Affiliates is an affiliate network that works with many merchants in the finance sector and gives affiliates access to a wide range of products and services to promote such as forex, crypto, and stock trading.  
When deciding to become an affiliate marketer, you may be at a crossroads about joining a program directly or using an affiliate network. Although they are both excellent ways to earn extra income from your traffic, it would be best if you carefully considered both options. For most people, especially those just starting as affiliate marketers, joining a network would be the best way to go. You don't have to worry about finding the ideal program since the network offers a pool of offers to choose from. Additionally, working with a network eliminates the need to sign up with multiple programs and manage all those relationships, tracking, payments, and more. In essence, a network is a "one-stop-shop" for affiliates.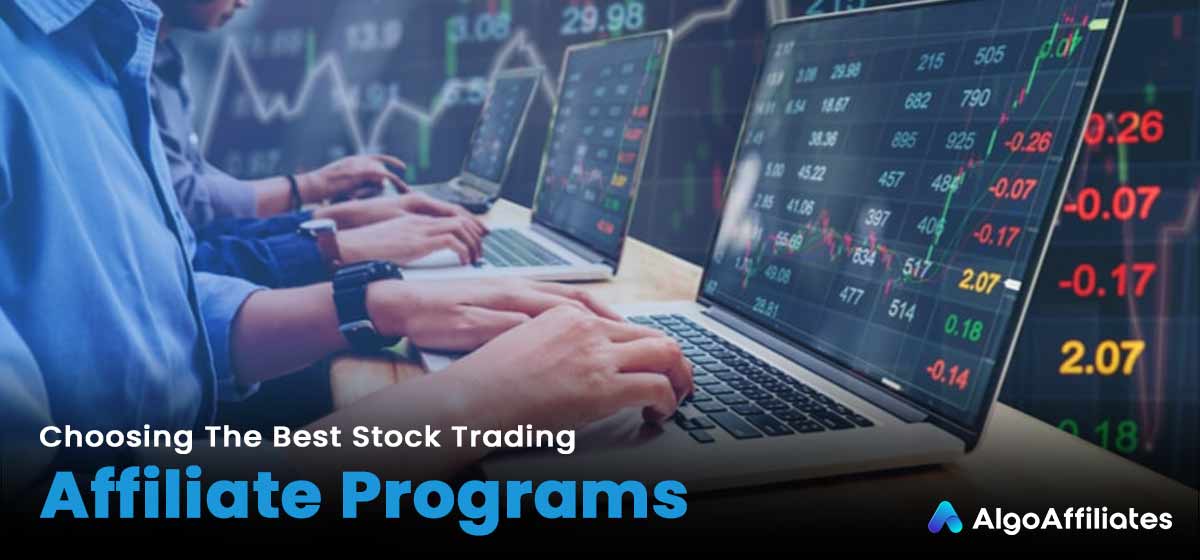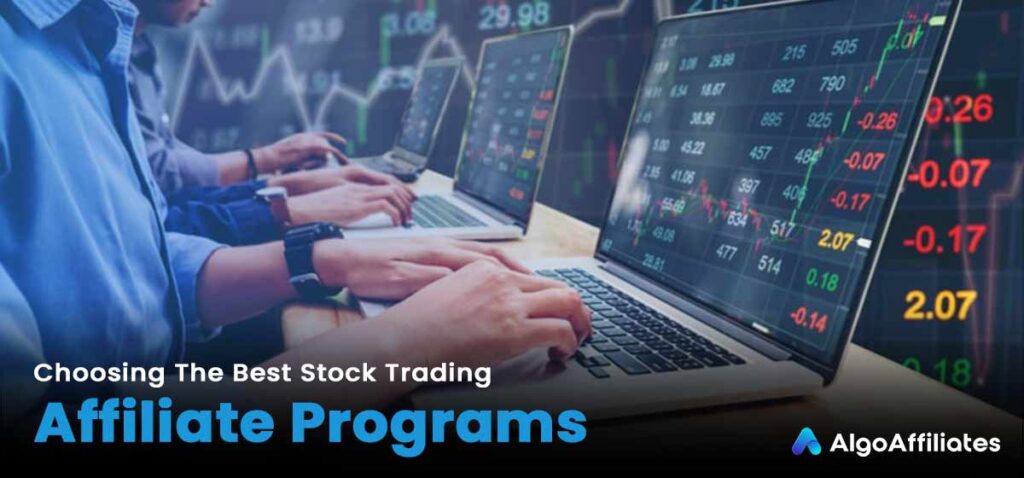 Choosing The Best Stock Trading Affiliate Programs
With different online stockbrokers cropping up by the day, it's no surprise that there are many stock trading affiliate programs currently available. These programs all vary in terms of referral payouts, available tools, and commission structures. 
So, what should you be on the lookout for when shopping around for a referral program? Here are five factors that should absolutely make it to your checklist. 
Reputation And Compliance with Regulation
Most traders cite regulation as an essential factor that they consider when choosing a brokerage firm. Therefore, you must check that the broker you're advertising is regulated and compliant with the regulations set in place. Ideally, the trader should also be licensed to operate in multiple regions, especially if your audience comes from all around the world. 
Keep in mind that the partnership will also reflect on your brand. The last thing you want is having to recommend a scam platform that swindles your referrals' money. A quick fact-check through online reviews could save you a lot of trouble. Besides, it would do everyone some good if you tested out the platform for a while before recommending it to others. 
Commissions Structure and Flexibility
There's no denying that the commission payout is a vital deciding factor and, in most cases, will be the first thing that you check. Stock trading affiliate programs will typically offer two types of commission structures: Cost per Acquisition (CPA) and revenue sharing. 
Under the CPA model, the affiliate earns their one-time commissions whenever any of their referrals sign up with the stockbroker and starts trading. Referral programs that follow this commission structure have varied requirements, fees, and minimum deposits required. Therefore, you should look around and compare several plans before choosing one. Again, depending on the plan's terms of agreement, you could receive your commissions after your referral makes a deposit or completes an initial trade. 
Referral programs that follow the revenue share model have the commissions calculated through the net spread. Therefore, you will receive your commissions as long as your referrals keep trading with the stockbroker. 
CPA referral programs are ideal if your referrals prefer to buy stocks and hold them for a certain period. Conversely, revenue-sharing programs are an excellent choice for those whose referrals are active traders since you earn commissions from each transaction. 
When choosing a referral program, you should ideally go for one that has flexible commission structures. As you get started with affiliate marketing, you may have difficulty identifying what kind of traders your referrals are. Therefore, joining a program that offers flexible commission structures could be more profitable.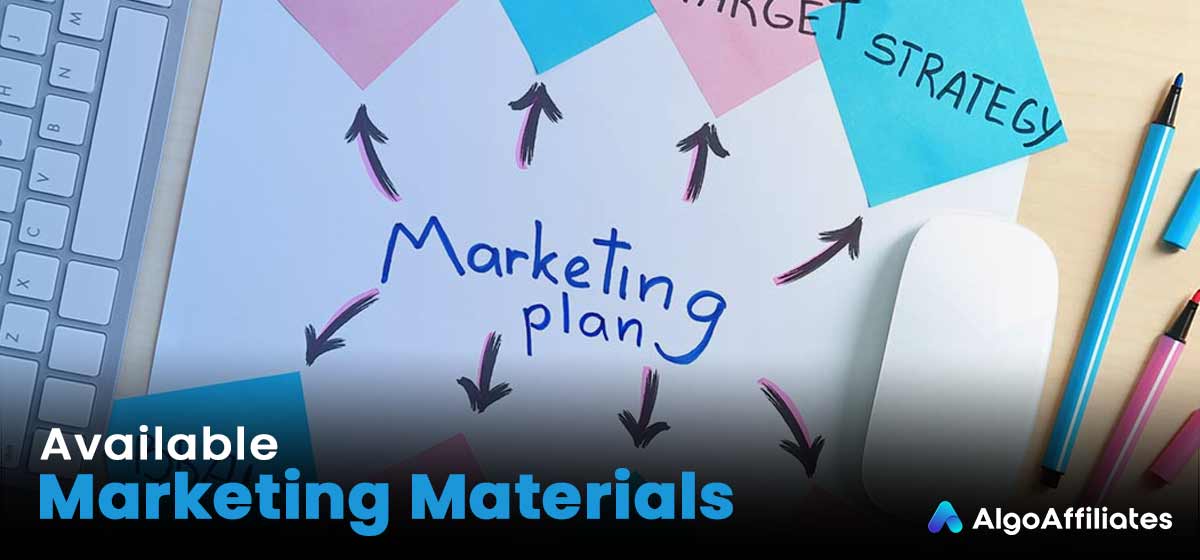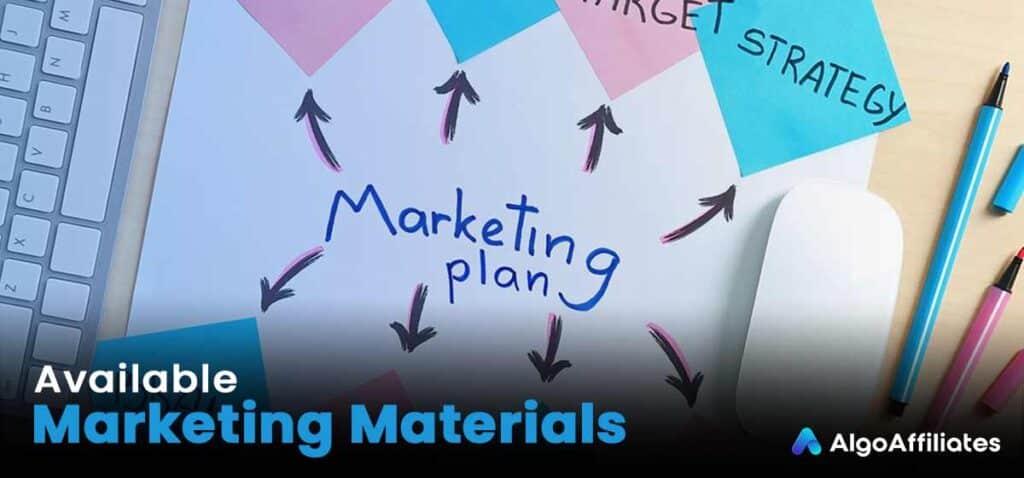 Available Marketing Materials
As we've mentioned above, the affiliate program will provide the marketing material that you will use. Whether you decide to join the program directly or through an affiliate network, ensure you are provided with enough marketing material. 
Most stock trading referral programs will provide landing pages, banners, links, and ads. However, given that marketing strategies play a crucial role in the success of any business, you should also be on the lookout for programs that offer additional material, such as social media content. 
As an affiliate marketer, you aren't limited to the different marketing strategies that you can use. Therefore, you can stick to other marketing methods and techniques if you have proof that they work. The key to success with marketing material is to constantly be A/B testing to find what performs the best with your various marketing channels. While some banners may work well on your website, they may not work as well on social media and vice versa. 
Trading Tools and Platforms
Stock traders often require several tools to assist them with their trading, and it would be best if you checked that the online broker offers them. Ensure that the broker provides the latest and most convenient tools, so your referrals can benefit from these tools. 
Some of the must-have features include analysis tools, charts, and real-time market data. It also helps to promote brokers that offer demo accounts and a knowledge base, so that novice traders can also sign up with the broker. 
You should also check the available trading platforms and ensure your referrals have several options to choose from for their convenience. The most popular and well-respected trading platforms are MetaTrader 4 and 5, as well as the Web Trader platform.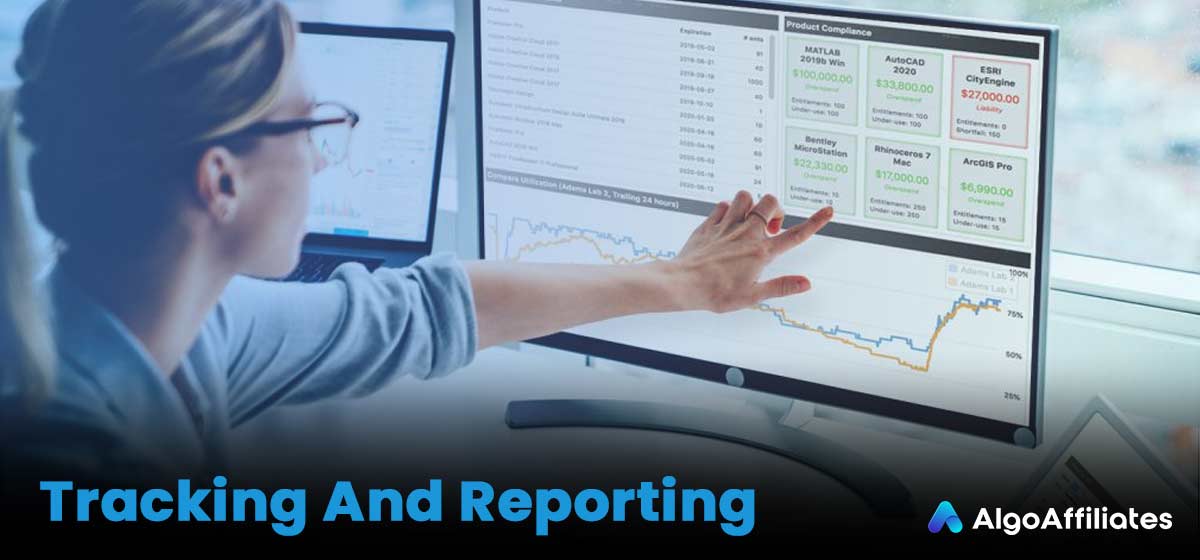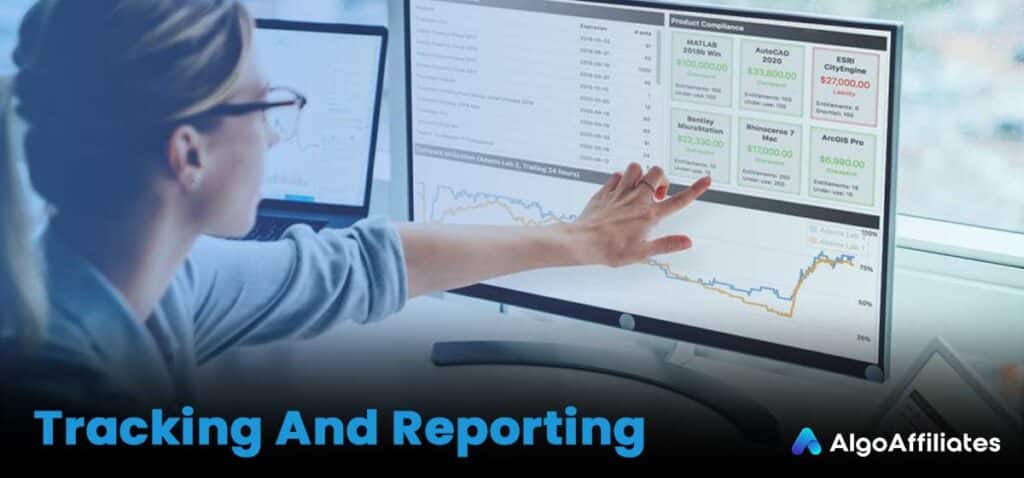 Tracking And Reporting
You will need to keep track of your referrals, clicks, conversions, and earnings. Therefore, it helps to partner with a stock trading affiliate program that makes it easier for you to track all this information. Ideally, they should provide a dashboard that offers insights into all the information you need to manage and optimize your marketing efforts. 
Tracking and reporting tools are essential to any marketing campaign. With this information, you can quickly tell what strategies are working, which ones need improvement, and which ones you should avoid altogether. If you are totally new to affiliate marketing, joining an affiliate network that offers excellent support is a must. 
Why Should You Join a Stock Trading Affiliate Program?
If you're still undecided about joining a referral program as a stock trading affiliate, here are several benefits to help you make up your mind. 
Stock trading affiliate programs allow you to earn an income from your existing traffic. If you, especially, have a significantly large audience, you could make a considerable amount, depending on your commission plan and structure. 

Ability to switch brands and tactics quickly. As an affiliate, if the online broker isn't converting well, you can simply drop them and choose a different merchant to advertise. 

Stock trading affiliate programs don't require any capital to get started. Marketers only need to sign up for an affiliate account and promote the brokers to their audience. 

You require little experience to get started, which means that anyone can become an affiliate. However, it's advisable to be a bit knowledgeable on the stock markets, so you can quickly identify scam programs and avoid recommending them to your clients. While you can get started with minimal knowledge and experience, to reach super affiliate status, you will need to invest in growing your marketing knowledge. 

Referral programs are convenient and flexible in that you get to earn from wherever you are in the world. 
Contact Algo Affiliates for The Best Stock Trading Affiliate Program
The ideal stock trading referral program lets you make money from your existing traffic conveniently. However, finding the right program isn't always easy, and you may have to do some digging if you decide to venture on your own. 
Algo-Affiliates is a well-respected affiliate network that gives you access to many brokers, offers, and excellent support. Choose from hundreds of multi-lingual offers with excellent commissions, as well as automated optimization tools that help affiliates earn more. 
Join Algo-Affiliates today and start monetizing your traffic!