Diet and health are hugely popular topics for hundreds of millions of people across the globe. Many people don't want to join weight loss clubs or go to the gym, which is why the online health market is such a huge opportunity for affiliates.
Whether you have a website, or a blog related to dieting and weight loss, a great way to connect with your audience is to take them along on a journey where you or someone you know tries the products and share the pros and cons, the best diets that worked and provide encouragement along the way.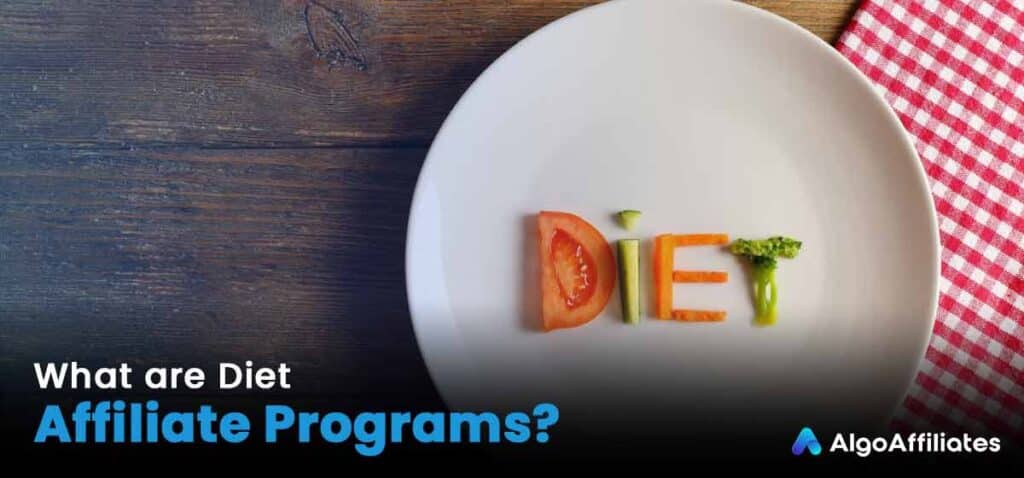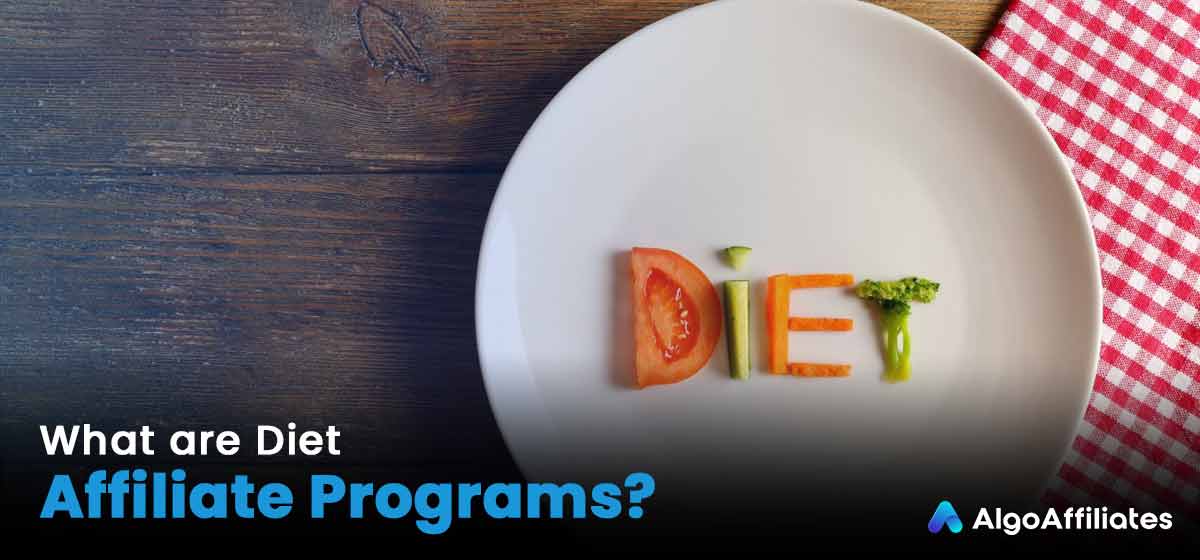 What are Diet Affiliate Programs?
Among the many affiliate marketing programs and networks, there are many that focus on diet, health, and the nutraceutical market. Nutraceuticals are defined as "a food or part of it that provides the body with medical or health benefits, including the prevention and treatment of a disease."
Across these subjects, diet and weight loss are one of the most popular for health bloggers with a regular fresh audience looking to get slim or beach-body ready or focused on their long-term health. This could be to lose weight to take pressure off joints, to feel better about themselves, or many other reasons.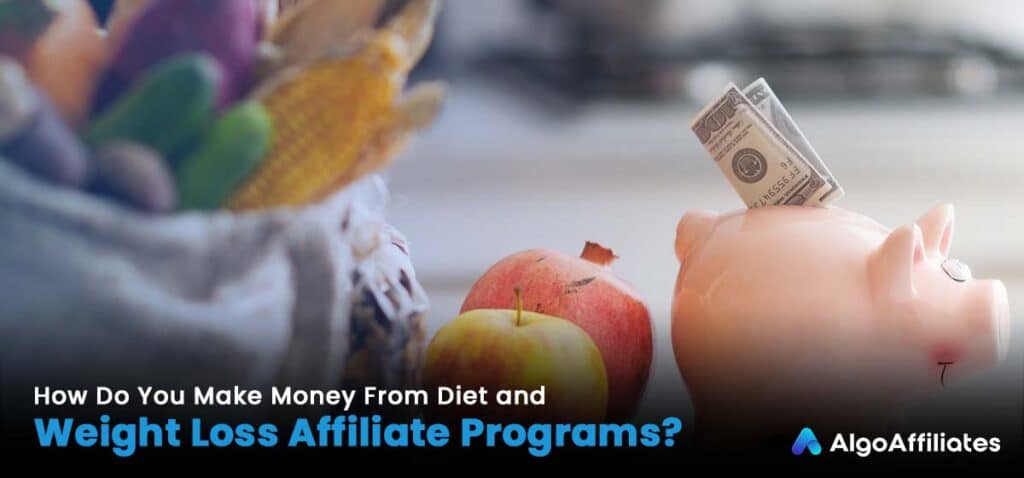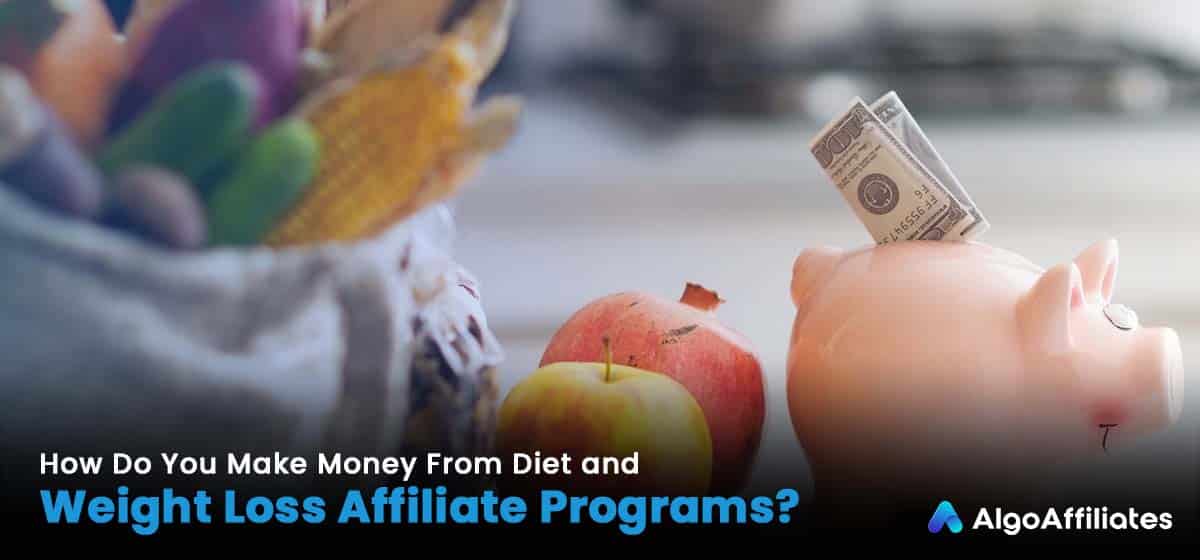 How Do You Make Money From Diet and Weight Loss Affiliate Programs?
Naturally, there are plenty of affiliate programs wanting to take a piece of the multi-billion-dollar market. They range from traditional names in the field to science-focused challenger brands, and a wide range of companies selling basic products at a premium, either directly or via subscription.
As an affiliate, when you join a diet and weight loss affiliate program, you will get to choose from a range of affiliate offers for a host of products. You then promote these products to your audience and whenever a sale is made, you will earn a commission.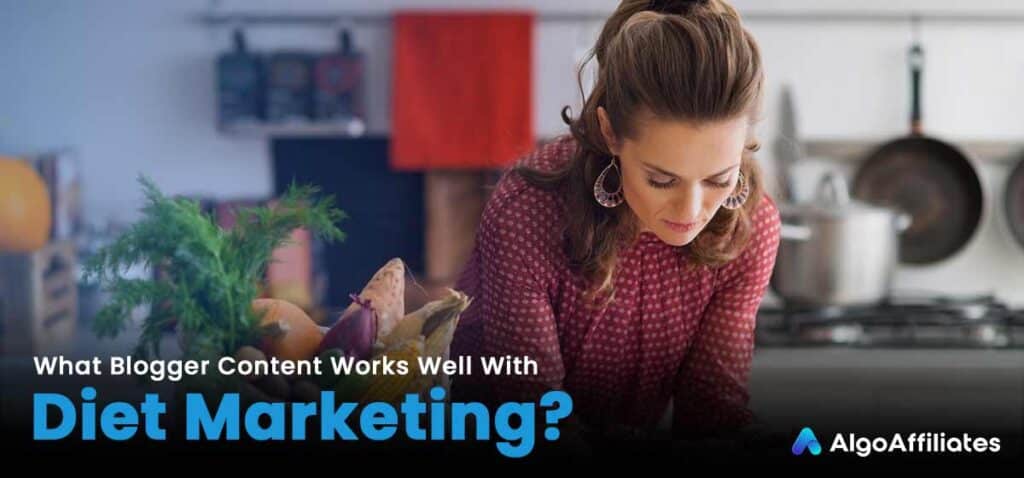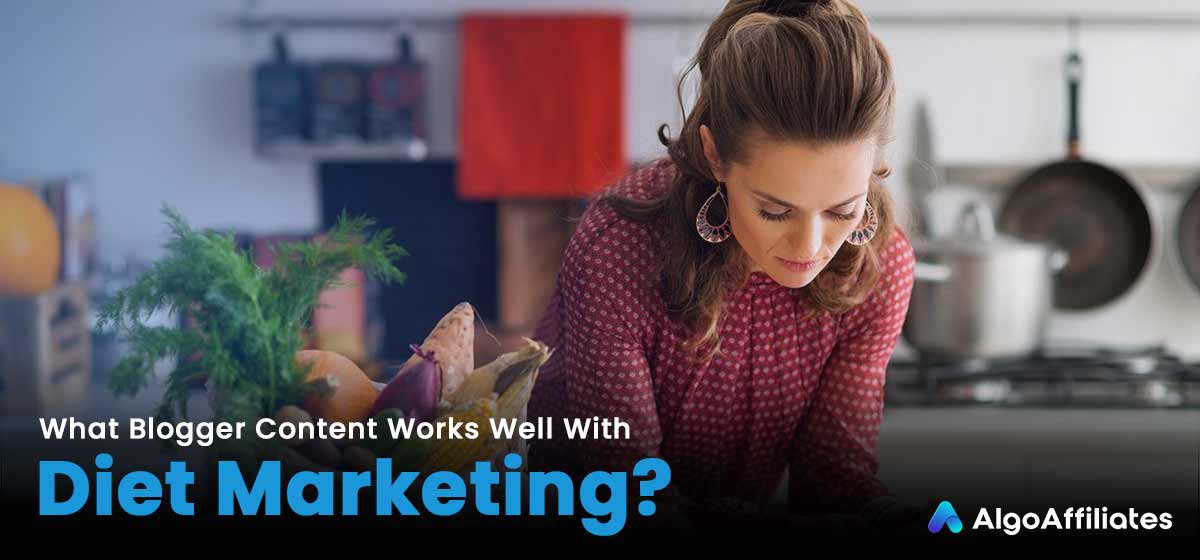 What Blogger Content Works Well With Diet Marketing?
The key to diet blogging is to be on the journey yourself or have tried various products and become someone who knows what works. With everyone individual going on a different route to diet success (and the many that fail), you need to be non-judgmental, encouraging, and honest with your audience.
Be aware that most diets start in the New Year and before the start of summer, so put extra focus on your content around those periods. And, if you have achieved the main goal of your diet, don't be afraid to try different ways to maintain your ideal or comfortable weight to keep the story going.

You could even try getting your audience to submit their success stories and share this with your viewers. For most people who have failed with diets in the past, reading real success stories and seeing impressive results is always a great motivator.
Focus on:
Practical, realistic goals for weight loss
Products that work and their benefits
Explain when you had bad patches
Highlight possible side effects
Explain the science in a plain manner
Celebrate with your audience and encourage them to share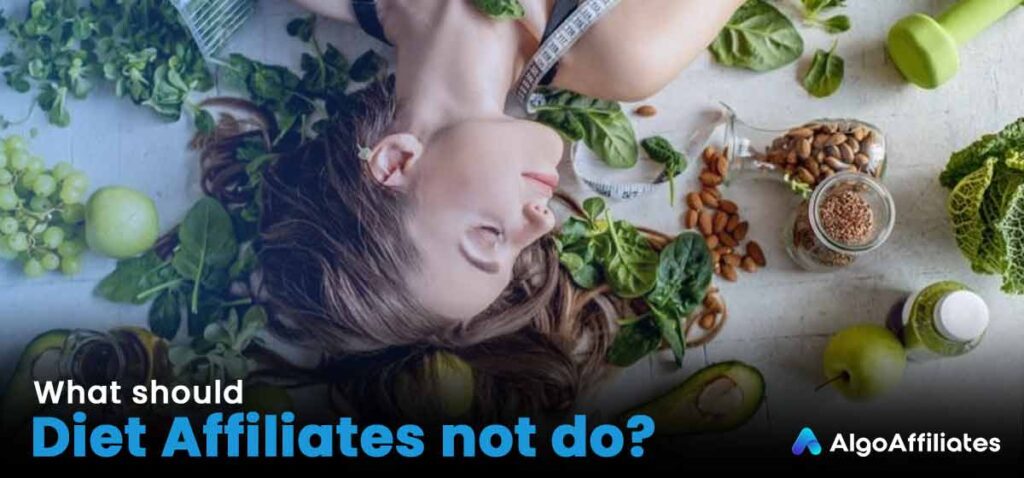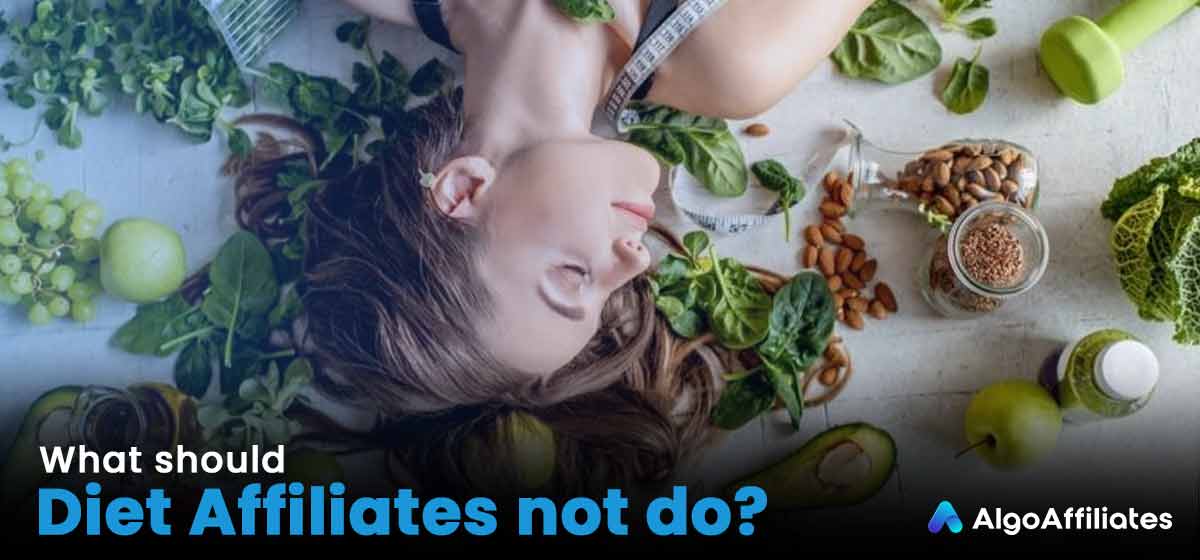 What should diet affiliates not do?
Unless you are an accredited health professional or dietician, do not make medical or health claims in your content. Similarly, do not parrot medical claims from health and diet products unless you have seen the evidence that backs those claims up.
Also, don't cut corners or promote extreme diets, starvation, or extended fasting, and ensure that your content is authentic, mixing diet content with healthy eating, and promoting strong mental health. Even though your audience may be remote and largely anonymous, you need to take care of them like a good friend.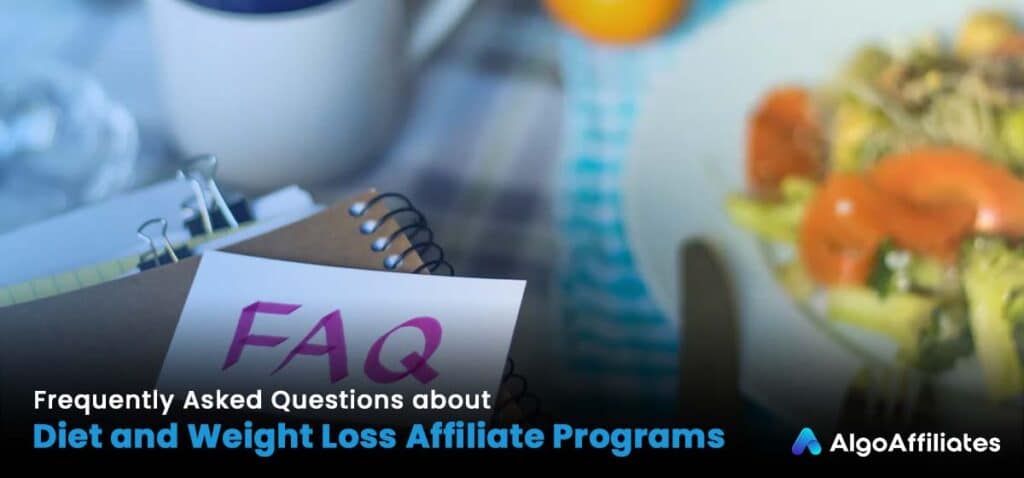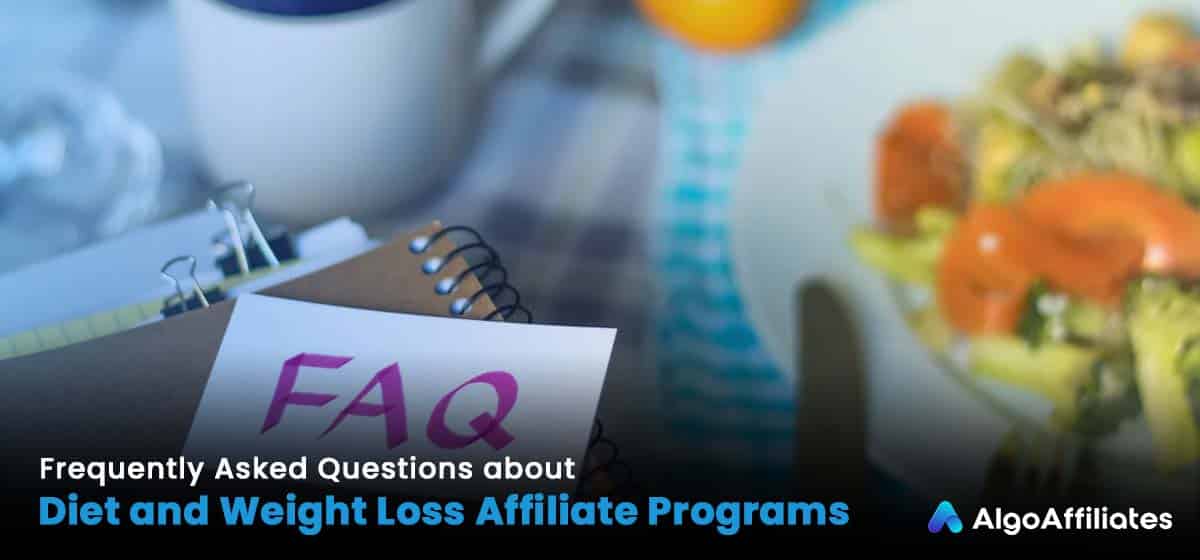 Frequently Asked Questions about Diet and Weight Loss Affiliate Programs
1.     Does diet and health affiliate marketing work?
The short answer is YES! The diet, health, and wellness market is worth hundreds of billions of dollars. Many affiliate marketers make a handsome living from promoting diet and weight loss products.
Finding marketing techniques and strategies that work will take time but once you crack the code, there is plenty of money to be made with dieting and weight loss offers. Breaking into this space as an affiliate takes hard work and persistence but the rewards are worth it.

2.     What diet affiliate marketing programs should I use?
That depends on your audience. The more traditional audiences will like familiar brands and health services, while younger readers are open to cooler, science-based, or all-natural-focused brands and services. Knowing your target audience is vital for choosing affiliate offers.
The affiliate program you choose should be reliable, reputable, and service oriented. Having an experienced and knowledgeable affiliate manager is crucial. Building a relationship with them will allow you to ask for deeper insights into what is working.
3.     How fast can I make money with diet and weight loss affiliate offers?
It is vital to understand that affiliate marketing is not a get-rich-quick scheme. You need to approach affiliate marketing like any other business. This means developing a clear business plan and most importantly a detailed marketing strategy and plan.
The fastest way to start seeing conversions is to start with buying traffic, this could be PPC ads, sponsored ads on social media, or other ad networks. However, you will need to have a reasonable marketing budget to find what works best.

If you prefer the SEO content route, then this will take many months until you start seeing traffic and hopefully conversions. The major benefit of SEO is that you can start for free by writing the content yourself. The biggest advantage of SEO is the long-term ability to generate ongoing traffic which ultimately results in a better ROI than paid traffic.
4.     What should I check about the affiliate program before joining?
These are the core requirements you should check:
Program's reputation
Payment terms
Cookie duration
Payment options
Commissions and payouts
Support availability
Once you are satisfied with your findings for the above points, make sure to read the program's terms and conditions, so you are fully aware of what is allowed, what is prohibited, and any other factors that may impact you. Remember, you are building a business which means you are entering into a legal contract, and like any good businessperson, this means taking time to understand what agreements you are opting into.
5.     There are so many free diets and programs to download, why would someone want to pay?
The internet is filled with "free stuff," however, every day, billions of sales take place for premium products. Consumers are becoming more and more savvy and most of the "free stuff" is not always the best or is just a stepping-stone for marketers to then try to convert people into paying customers.

As an affiliate marketer, your target audience are people with disposable income that are prepared to open their wallets and pay. Those people out there that are just looking for freebies are not your target audience unless you can upsell them
If you have the choice between a customer that is willing and ready to pay for a product and another who wants things free that you still have to convince to start paying… which one will you choose?
20 Best Diet and Weight Loss Affiliate Programs
Weight loss is a huge market, with everything from meal plans to pills, and natural remedies that can help with dieting. Check out our guide to the top 20 best diet and weight loss affiliate programs and how you can start earning superb commissions.
1.     WeightWatchers Affiliate Marketing Program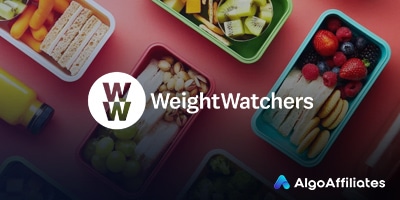 WeightWatchers (now more commonly known as WW)  has been going for around 60 years, honing a practical and achievable set of goals to help people around the world lose weight and feel better.

WeightWatchers helps people in the US market lose weight through a points-based meal system, and it has developed an online marketplace alongside traditional meetups and its ready-meal range.
WeightWatchers is a little frugal with its affiliates, offering just $10 per subscription, and nothing for in-store purchases or resubscribing. But as one of the largest brand names in dieting, it should attract plenty of interest among your audience.
You can link to their celebrity ambassador stories to gain attention, and WeightWatchers has plenty of deals, including free subscriptions, but the affiliate still gets their commission.

Do be aware that around 90% of members are female, averaging around 48 years old, and younger people might be looking for faster or more science-focused solutions to their dieting needs.
Payout: Monthly
Reward: $10 per subscription
Payment threshold: $25 minimum
Cookie duration: 14 days
2.     TerraLeads CPA Hub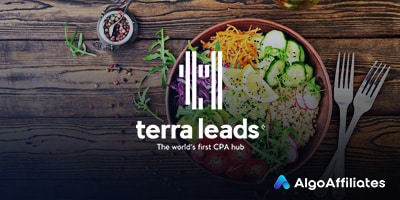 At the more trending end of the dieting affiliate marketing spectrum is TerraLeads, a brand that makes and sells its own nutraceutical products, using affiliates to promote its own store, the CPA Hub.
TerraLeads offers a broad range of diet and health products for buyers in Europe and Asia. All the products are made in Europe to meet EU health standards.
As the TerraLeads hub sells its own products, there are plenty of deals, and products focused on specific regions and markets. The wide range means you can promote their diet products, but your readers might buy a broad selection of other products and you will still get a cut of each sale.
A big benefit of TerraLeads is that affiliates can cash out whenever they want, once they have generated at least $50 in commissions. Affiliates can also collect t-coins for a range of in-store bonuses to add extra value to their diet blogging efforts.

Payout: On request
Reward: Varies
Payment threshold: $50 minimum
Cookie duration: 60 days
3.     Nutrition Forest Affiliate Program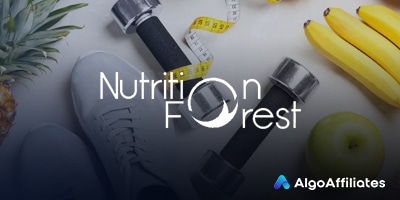 Taking the natural approach to diets, Nutrition Forest is a well-established business, dating back to 2009. Its affiliate program is managed by ShareASale, and they offer 35% commission on referrals and 15% commission on sales.
The Nutrition Forest Affiliate Program offers a range of natural, organic, and nutritional supplements. Leading diet examples include Garcinia Cambogia which promotes weight loss by reducing one's appetite to Green Tea Extract which promotes weight loss and mental health.
With average orders of over $100, and that's with the vigorous discounts for most items, Nutrition Forest has both the feel-good factor of natural products and an established business that is good for affiliates to work with.
Payout: 15 days
Reward: Up to 35%
Payment threshold: No minimum
Cookie duration: 30 days
4.     Algo-Affiliates Diet & Weight Loss Affiliate Network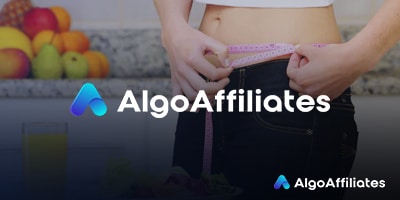 If you are not sure which diet marketing affiliate to use, go with Algo-Affiliates. Our performance marketing approach enables you to work with a range of diet and health products and services, to deliver the best-of-breed offers for your blog or site.
At Algo-Affiliates Network, we make use of proprietary traffic monetization algorithms to deliver the most relevant smart links for your diet-centric audience that should generate strong sales and subscriptions. Be sure to take advantage of time-sensitive or seasonal marketing offers from our advertising partners to maximize commissions.
Payouts vary depending on the diet partners and their services or diet products. But by working with highest paying affiliate programs will see strong returns from products that align with your content.
Check out Algo-Affiliates for your diet and weight loss affiliate offers now!
Payout: Varies
Reward: Varies
Payment threshold: Varies
Cookie duration: Typically, 30 days
5.     The Vitamin Shoppe Affiliate Program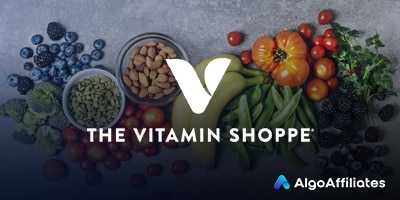 Selling vitamins, supplements, digestion, gut health aids, and much more, The Vitamin Shoppe has been in business since the 70s and continues with a vigorous online presence, driven by the power of affiliate marketing.
The Vitamin Shoppe Affiliate Program, powered by CJ Affiliates, pays a reasonable return of up to 10% on sales, across over 25,000 products, that the health-conscious reader will want to help them with their health or diet needs.
Payout: 30 days
Reward: 4% to 10% on sales
Payment threshold: No minimum
Cookie duration: 7 days
6.     BioFit Probiotics Affiliate Program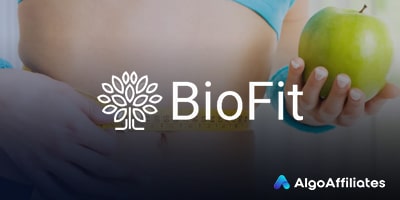 Probiotics appear in many diets and health magazines as a recommended way to improve the stomach and dietary systems, improve their efficiency, and boost weight loss. BioFit offers US-made, FDA-approved, natural products to help reduce body weight. It is available in a range of different-sized products, with various books and other content to help people build their ideal diet.
BioFit's affiliate program is easy to sign up for and offers plenty of relevant adverts like "a diet offer for women over 40" which should easily fit most blog demographics. With a decent 75% commission on sales, affiliates can make an excellent income from regular users who see the benefit of probiotics in their diet.
Payout: 30 days
Reward: 75% on sales
Payment threshold: No minimum
Cookie duration: 30 days
7.     Do Fasting Affiliate Program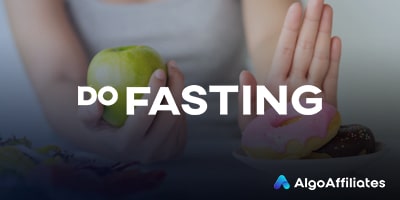 Having warned against extreme fasting diets, intermittent fasting is a well-recognized way of managing a diet. After all, most wild animals and our humanoid ancestors were used to very long waits between meals.
Do Fasting's affiliate program offers an app-based program that is tailored to your needs, encouraging a small steps-based approach to losing weight and improving your health. By focusing on when people eat and not what they eat, it is a different approach for those who may have struggled with traditional dieting.
As long as you maintain a healthy diet when you do eat, the fasting process leads to ketosis as the body burns fat resources as it gets hungry. Affiliates can direct their audience to the online survey to find out the basics of their fasting needs, which links to the sign-up and sales process, with a range of offers for individual budgets.
With plenty of positive statistics to refer to, an ambassador program and the power of an app-based approach that fits in with people's lives, it is a compelling service for affiliates to promote.
Payout: 30 days
Reward: Around $45 per conversion
Payment threshold: No minimum
Cookie duration: 30 days
8.     The Smoothie Diet Affiliate Program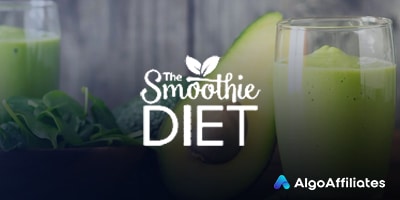 Yet another alternative to traditional diets is the smoothie approach, which makes food easier to digest and gets the body craving healthy foods instead of sugar-rich ones. Unlike most anonymous enterprises, The Smoothie Diet is promoted by Drew Sgoutas, a certified health coach and nutrition expert.
His experience led to the smoothie diet, with a free plan to get started that could encourage your readers to join up for the full program. The Smoothie Diet affiliate program, managed by Clickbank, offers a flagship 21-day challenge to get people started on their weight loss quest, with a high percentage commission, plus other products to upsell.
With plenty of exciting smoothie recipes, shopping lists, and loads of tips on how to keep the weight off through nutritional balance, this is an easy affiliate offer to promote. You could also consider working in affiliate links for meals and smoothie ingredients in your content to further monetize your audience.
Payout: 30 days
Reward: 75% commission per sale
Payment threshold: No minimum
Cookie duration: 30 days
9.     Hellofresh Affiliate Program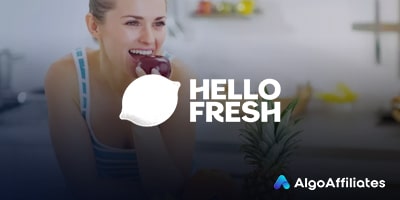 Hellofresh is a British food delivery service focused on fresh produce that will make a great affiliate offering for an audience using a diet plan or app. Hellofresh provides pre-proportioned recipe boxes as part of a subscription service, with fixed commissions for the affiliate.
With a wide variety of offers including fast meals, veggie options, calorie-smart meals, and others, it boomed during the coronavirus pandemic lockdowns, and is now a firm part of the UK food landscape, delivering across most of Britain, making it ideal for UK-focused bloggers.
Incentives as part of the Hellofresh affiliate program include an £8 fixed fee commission on all sales and 25% of the order value on all sales generated. The average order value is £26.
Payout: Monthly
Reward: £8/£5 for subscriptions, 25% commission per sale
Payment threshold: No minimum
Cookie duration: 30 days
10.  The Mediterranean Diet Plan Affiliate Program
Long recognized for its general health benefits, the Mediterranean plan is also a great diet approach, plus the affiliate program offers up to 90% commission on sales.
You might not have the weather of Italy or Greece, but through your marketing channels, you can still promote the healthy lifestyle and diet of The Med, while gaining a solid income.
The Mediterranean Diet Plan affiliate program compares the toxicity of a typical western diet to the benefits of an olive-rich diet through an initial 30-day plan, billed as the most thrilling and exciting 30 days.
The site sells a range of guides via app or books, and accessories like calendars to help make the lifestyle-based approach a part of everyday life, with the promise of steady weight loss and more energy for life.
The Mediterranean Plan is badged as the best converting new diet offer on Clickbank, boosted by the likes of a diet olive oil supplement, plus the affiliate program offers powerful links to Facebook posts, email templates, and more to encourage subscriptions.
Payout: Monthly
Reward: Up to 90% commission
Payment threshold: No minimum
Cookie duration: 30 days
11.  Noom Affiliate Program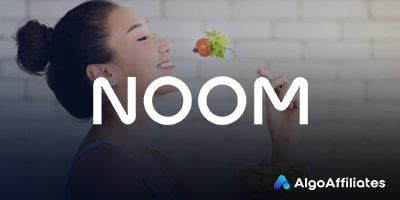 Noom offers a more modern take on the Weight Watchers' approach with a wellness and healthcare focus, powered by technology to drive personal behavior changes. By making diet changes and stress relief a habit, they actively monitor progress across a 16-week boot camp-like program.
The technology and science-led approach and modern design of the website and app will appeal to younger site visitors, and the Noom affiliate program, powered by Acceleration Partners, has plenty of competitive bonus opportunities for what is a fast-growing brand.
The Noom app has daily lessons and motivations, and a digital personal coach to get your audience hooked on weight tracking, food, and water monitoring, step counts, and other data to help achieve your goals and keep you in charge of your own progress, with vegan and vegetarian options available.
Plans cost between $60 to $199 per month, with affiliates getting paid $15 for each trial subscription, and it all starts with an engaging 15-minute quiz that should get people into the sign-up phase with enthusiasm.
Payout: Monthly
Reward: Up to $15 per trial, $30 per new user sale
Payment threshold: $50
Cookie duration: 30 days
12.  The Mayo Clinic Affiliate Program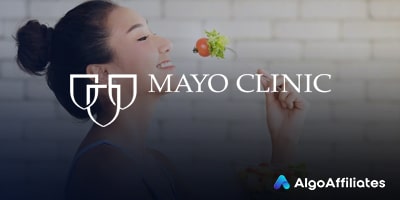 Apart from instantly bringing to mind the delights of mayonnaise, The Mayo Clinic is actually an authority on all things health related. And it comes as no surprise that they offer a diet plan, badged as a weight-loss program for life, and a strong affiliate marketing program to go with it.
By improving good habits and removing bad ones from your daily life, the Mayo Clinic offers a two-week jump-start approach with meal plans, followed by consistently reinforced good behavior to keep the weight off or lose more.
Backed by the strong brand name certainly in the US, the Mayo affiliate program works globally for huge reach, and it pays 75% commissions for all subscribers you send their way. Subs cost from $19.99 to $49.99 per month, so there's a strong revenue opportunity. The program comes with plenty of medical/health advice for that touch of authority along with the diet and lifestyle changes that you can blog about and test out.
Payout: Monthly
Reward: 75% commission
Payment threshold: No minimum
Cookie duration: 30 days
13.  KetoKrate Affiliate Program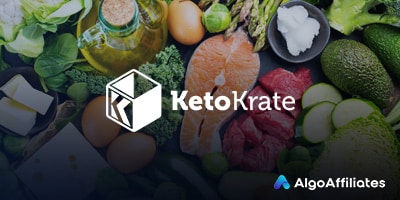 KetoKrate sends out monthly packs of snacks for those on Keto diets to improve their range of options. Based around a fun site and service, with different Krates every month packed with 8 to 12 snacks. This is a great affiliate program for any affiliate that focuses on the Keto market.
Subscriptions cost $39.99 a month and there's a keto shop to keep buying the snacks that your readers love, helping increase the value of your affiliate efforts. The affiliate program is run by ShareASale, and they pay a 15% commission on sales.
Payout: Monthly
Reward: 15% commission on sales + bonuses
Payment threshold: No minimum
Cookie duration: 30 days
14.  MyFoodDiary Affiliate Program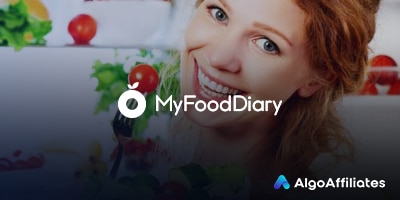 Calorie-counting apps were one of the first diet trends for the mobile age and are still hugely popular. They move the focus away from what people eat to how much they intake. Using a calorie counter app like MyFoodDiary, people can focus on sticking to a fixed intake to lose weight.
After entering some basic information and goals, your food is entered and compared to the app's huge food database, to get the diet ball rolling. Then there's an analysis of your nutrition, motivational feedback, and exercise and weight logs to track progress. This is all available via a simple subscription of $9 per month.
Affiliates can talk about MyFoodDiary alongside any type of diet or health content, making it a universal tool that makes an easy sell via the MyFoodDiary affiliate marketing program. With lots of satisfied customers, it is easy to talk about the community and see how your readers are doing with it.
Payout: Quarterly
Reward: $6 per subscription
Payment threshold: No minimum
Cookie duration: 30 days
15.  ModifyHealth Affiliate Program (Medical Condition Diets)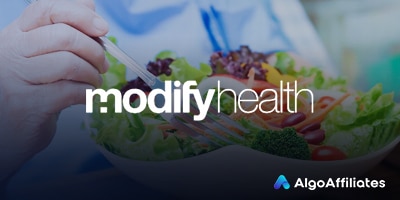 With obesity causing heart problems and a greater risk of death for the over-50s, DASH (Dietary Approaches to Stop Hypertension) is specifically focused on helping people improve their heart health to live longer. That noble goal has a high uptake in western markets where obesity is a growing issue, and related health problems are endemic.
ModifyHealth offers a DASH diet subscription service to help reduce bad foods and improve health. It offers a Mediterranean diet for the heart, low-sodium diets, and Low-FODMAP (fermentable oligosaccharides, disaccharides, monosaccharides, and polyols) for those with irritable bowel syndrome (IBS) and similar problems.
The ModifyHealth affiliate program, delivered by Refersion, is ideal for blogs and sites covering the risks of obesity or those suffering from IBS and similar conditions. Subscriptions start from $129 per week, with measurable health benefits over most diet offerings.
Payout: Quarterly
Reward: $10 per subscription
Payment threshold: No minimum
Cookie duration: 7 days
16.  The Green Chef Keto Affiliate Program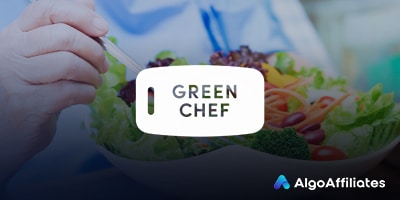 Keto is the leading diet trend of the 2020s and is hugely popular around the world. Rather than fuss about what to eat, The Green Chef Keto plan sends three or four meals per week for between 2-6 people, with subscriptions starting from around $100.
That convenience means no worrying about ingredients or what to eat. It delivers across the continent and as delivered meals are an increasingly popular choice for homes, most families are no strangers to this type of diet, even if the benefits of Keto are new.
The Green Chef Affiliate Program is powered by CJ Affiliate and offers a flat $15 reward per subscription. As Keto becomes increasingly popular and talked about in the media, it makes a great Keto affiliate marketing program option for bloggers and diet content producers, with rapid growth.
There are also lots of keto-friendly ancillary services (like KetoKrate above and Lumen below) that can be used as extra affiliate programs to keep a range of income options open.
Payout: Monthly
Reward: $15 per subscription
Payment threshold: $50 minimum
Cookie duration: 7 days
17.  Lumen Metabolism Tracker Affiliate App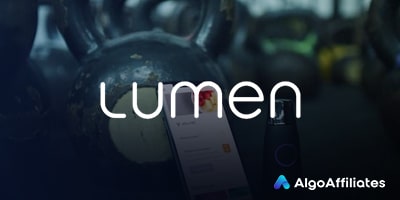 Taking a break from the endless food deliveries and apps, the Lumen Metabolism Tracker is a useful piece of hardware for those on a Keto or other diet. To master a Keto diet, you need to know when the body is in ketosis, which this gadget does.
The solution identifies if you are burning fat or carbs through your breath (so no needles or other terrors) and comes with an iOS or Android app for reporting and monitoring.
You use the device by breathing in, holding that for 10 seconds, and breathing into the Lumen's port. It shows the results on the app.
It then recommends what to eat next to get your body into ketosis. As a bonus, Lumen provides activity and sleep tracking, and a metabolic health indicator to improve the package value.
Lumen's affiliate program pays $50 for each sale of a Lumen subscription. Packages start from $249 to $399 with the device provided free depending on the length of the subscription. For bloggers with a tech section, Lumen is a natural fit and likely to appeal to all gadget fans who feel these devices can help on their dieting journey.
Payout: Monthly
Reward: $50 per sale
Payment threshold: No minimum
Cookie duration: 30 days
18.  Eat, Sleep, Burn Affiliate Program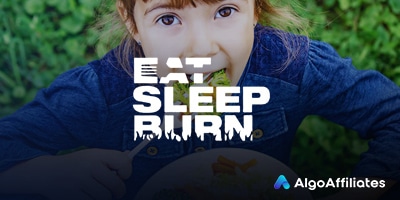 Among the more novel dieting concepts is the one that suggests you can lose weight while you sleep. That's not all of this package offers, but it will certainly attract readers to your affiliate links.
The website spiel might have the feel of a cheesy marketing scam about it, but it is logical that poor-quality sleep is bad for your diet and health.
By sleeping better, you promote the burning of body fat, and don't feel lousy when you wake up. The Eat Sleep Burn affiliate program from AlphaNation pays $50 for sales of the digital book guide.
Bloggers could have fun discussing the pros and cons of the method (we all lose weight during the night, but mainly through sweating). But if you get readers trying it, and enjoying success, then it could become a major revenue source, with some recurring revenue.
Also, as a digital product with instant delivery, there's none of the waiting as with most of the other products and services in this list.
Payout: Monthly
Reward: Up to $50 per sale
Payment threshold: No minimum
Cookie duration: 60 days
19.  Purple Carrot Vegan Affiliate Program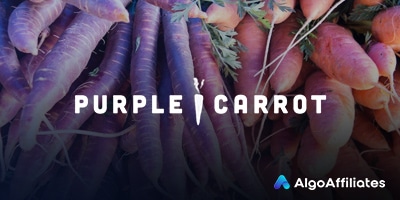 Vegetarianism and veganism are becoming popular lifestyle and health choices for many, and Purple Carrot is one of many vegan services that provide plant-based prepared meals and meal kits.
Subscriptions are available from around $60 per week, depending on the number of meals and people in the family. Meals range from tacos to ramen and burgers to curries, all plant-based, making the selections good for your health and the planet.
The company is US-only but there are plenty of local alternatives that bloggers and content producers can turn to for other regions.
Purple Carrot's affiliate program is perfect for bloggers focused on the vegan market or alternative lifestyles, and even promoting an eco-friendly footprint. With $25 payouts per subscription, it can deliver a reasonable income as the number of vegans will only continue to grow as meat becomes more expensive or less available in our changing world.
Payout: Monthly
Reward: $25 per subscription
Payment threshold: No minimum
Cookie duration: 30 days
20.  eVitamins Health and Beauty Affiliate Program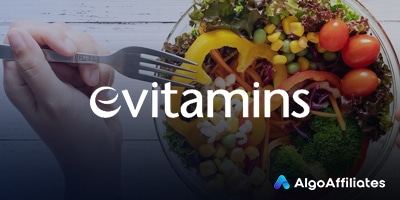 Packed with over 700 types of vitamins, supplements, natural diet aids, and amino acids, eVitamins is a great place for dieters to stock up on the products that their diet might be missing, or to build up their stocks with bulk buys.
The eVitamins', affiliate program, managed by CJ Affiliates, offers between 12% to 20% on sales, depending on the product. With leading health brands and generic alternatives, there are plenty of price points, and loads of blog content to base your own articles on.
And then there's the rest of the store, with bath and beauty, pet and other products which means sales can mount up with those little extras to make this a potentially great affiliate program to share with your audience.
Payout: Monthly
Reward: From 12% to 20% per product
Payment threshold: $25 minimum
Cookie duration: 30 days