Introduction to Crypto Casino Affiliate Programs
The fusion of cryptocurrencies and online gambling has revolutionized the casino affiliate landscape. Crypto casino affiliate programs have emerged as a new and lucrative avenue for affiliates to tap into a growing and tech-savvy audience. But what exactly are these programs, how have cryptocurrencies reshaped the online gambling space, and why is it crucial to pick the right one? Let's delve in.
What is a Casino Affiliate Program?
A casino affiliate program is essentially a partnership between the online casino and an individual or company (the affiliate). The primary role of the affiliate is to promote the casino to potential players. In return for this promotion, the affiliate earns a commission based on the activity or revenue generated by the players they've referred. This commission could be a one-time payment for every new player (often referred to as a Cost Per Acquisition or CPA model) or a percentage of the revenue generated by the player (known as a Revenue Share model). It's a win-win situation: casinos gain more players, and affiliates earn a commission for their promotional efforts.
Rise of Cryptocurrency in Online Casinos
Cryptocurrencies, led by the famous Bitcoin, have seen exponential growth in the past decade. The decentralized nature, anonymity, and instant transactions of cryptocurrencies have made them an attractive option for many industries, including online gambling.
Online casinos were quick to see the potential of cryptocurrencies. By incorporating them, casinos could offer players a more discreet and faster way to deposit and withdraw funds. No longer bound by traditional banking procedures and fees, crypto casinos promised swift, anonymous, and borderless transactions. For the affiliate market, this meant a broader global audience and the prospect of more significant commissions due to the higher deposit and withdrawal limits associated with cryptocurrencies.

Importance of Choosing the Right Affiliate Program
With the proliferation of crypto casinos, a multitude of affiliate programs has also sprung up. However, not all are created equal. It's imperative for potential affiliates to choose the right program for several reasons:
Reputation and Trustworthiness: Associating with a reputable brand ensures that the referred players have a good experience, leading to higher retention and more earnings for the affiliate.
Commission Structures: Different programs offer various commission structures. Affiliates need to find a program whose model aligns with their earning expectations and traffic quality.
Support and Tools: A good affiliate program provides its members with marketing tools, promotional materials, and dedicated support to maximize their earning potential.
Payment Flexibility: With the volatile nature of cryptocurrencies, affiliates should look for programs that offer flexible payment options, be it in crypto or traditional currency.
By understanding the essence of casino affiliate programs, recognizing the transformative role of cryptocurrencies in the gambling world, and discerning the importance of aligning with the right program, individuals are well-equipped to navigate and thrive in the dynamic world of crypto casino affiliate marketing.
Model of Operation in Crypto Casino Affiliate Programs
In the dynamic world of crypto casino affiliate programs, understanding the different models of operation is pivotal. These models dictate how an affiliate is compensated for their promotional efforts. Each model comes with its advantages and challenges, making it essential for potential affiliates to comprehend them fully to align their strategies accordingly. Let's delve into the three primary models of operation.
Revenue Share Model
The Revenue Share Model, often referred to as "RevShare," is a commission structure where affiliates earn a percentage of the net revenue generated by the players they refer. This revenue is calculated after subtracting bonuses, chargebacks, and other operational costs.

Advantages:
Long-term Earnings: As long as the referred player remains active on the casino platform, the affiliate continues to earn.
Potential for High Earnings: If an affiliate refers high-rollers or very active players, their monthly commission can be substantial.
Challenges:
Fluctuating Earnings: Monthly earnings can vary based on player activity and luck.
Negative Carryover: Some programs come with a negative carryover, meaning if players win big one month, the negative balance is carried over to the next month.
Cost Per Acquisition Model
The Cost Per Acquisition (CPA) Model is straightforward. Affiliates receive a one-time, fixed fee for every player they refer who meets specific criteria, such as making a minimum deposit or wagering a certain amount.
Advantages:
Predictable Earnings: Affiliates know in advance how much they will earn for each qualified player.
No Effect of Player's Performance: Affiliates earn regardless of whether the player wins or loses.
Challenges:
One-time Payment: Unlike RevShare, there's no ongoing commission from a player after the initial payment.
Stricter Criteria: Players often need to meet specific requirements for the affiliate to receive the CPA fee.
Hybrid Model
A blend of the above two, the Hybrid Model combines elements of both RevShare and CPA. Affiliates get a one-time payment for every referred player and a percentage of the revenue generated by that player.

Advantages:
Balanced Earnings: Affiliates benefit from both immediate and long-term earnings.
Flexibility: This model offers a middle ground for those unsure of which primary model to choose.
Challenges:
Lower Rates: Since it's a combination, the rates for both CPA and RevShare might be lower than if chosen individually.
In conclusion, the ideal model varies based on an affiliate's preferences, target audience, and marketing strategy. Some may prioritize immediate earnings, while others might be in for the long haul. Understanding the nuances of each model ensures that affiliates make informed decisions, optimizing their promotional efforts and maximizing their returns.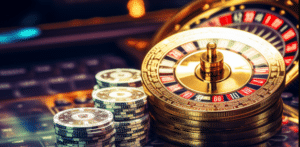 Benefits of Engaging in Crypto Casino Affiliate Programs
The convergence of cryptocurrency and online gambling has unlocked a realm of opportunities, especially for those in the affiliate marketing sector. Engaging with crypto casino affiliate programs is not just about tapping into a trendy niche; it offers tangible benefits that can lead to substantial rewards. Let's explore some of these advantages.

High Revenue Potential
One of the standout perks of crypto casino affiliate programs is the potential for high earnings. Given the unique nature of cryptocurrency transactions—typically higher deposit and withdrawal limits compared to traditional currencies—affiliates can benefit in several ways:
Higher Deposits: Crypto gamblers often deposit larger amounts due to the inherent properties of cryptocurrencies, which can lead to higher commissions for affiliates under the Revenue Share Model.
Attractive Commission Structures: Many crypto casinos offer enticing commission structures, sometimes even higher than their traditional counterparts, to attract quality affiliates.
No Transactional Delays: Instant crypto transactions mean players can start playing immediately, leading to faster earnings for affiliates.
Growing Market of Crypto Gamblers
The surge in cryptocurrency popularity has led to an influx of a new breed of gamblers who prioritize security, anonymity, and swift transactions. For affiliates, this presents:
New Audience Segments: Affiliates can target a tech-savvy, younger demographic that prefers using cryptocurrencies.
Global Reach: Cryptocurrencies are borderless, enabling affiliates to tap into markets that might have been challenging to access with traditional payment methods.
Higher Player Retention: Many crypto gamblers remain loyal to crypto casinos due to the benefits they offer, leading to continuous earnings for affiliates.
Transparency with Blockchain
Blockchain, the technology underpinning cryptocurrencies, is synonymous with transparency. This transparency extends to affiliate programs as well:
Trustworthy Tracking: Affiliates can trust that their referrals are tracked accurately thanks to the decentralized and immutable nature of the blockchain.
Transparent Commissions: Earnings, calculations, and payouts are transparent, ensuring that affiliates are paid fairly.
Dispute Reduction: The transparent nature of blockchain-based transactions means fewer disputes regarding referrals and commissions.
In summary, crypto casino affiliate programs are not just a fleeting trend but a genuine opportunity. The marriage of the dynamic world of cryptocurrencies with the ever-green allure of gambling offers affiliates a chance to earn, grow, and thrive in a transparent and lucrative environment.

Potential Risks and Challenges
While crypto casino affiliate programs present numerous benefits, it's essential to approach them with a balanced perspective. Like any venture, these programs come with their fair share of risks and challenges. Awareness of these potential pitfalls can help affiliates make informed decisions and devise strategies to mitigate them. Let's delve into some of these concerns.
Market Volatility
Cryptocurrencies are known for their price volatility. This volatility can directly impact affiliates in several ways:
Fluctuating Earnings: If commissions are paid in cryptocurrencies, the value of those earnings can vary significantly from one day to the next.
Player Hesitation: Potential players might be hesitant to deposit large sums into crypto casinos due to fear of drastic price drops.
Conversion Issues: If an affiliate chooses to convert their crypto earnings to a traditional currency, they might get less than anticipated due to sudden market downturns.
Regulatory Concerns
The intersection of cryptocurrency and gambling is a regulatory grey area in many jurisdictions. Affiliates must be aware of:
Legal Restrictions: Some countries or states might have laws against promoting or participating in online gambling, especially when it involves cryptocurrencies.
Licensing: Affiliates should ensure they partner with licensed and regulated crypto casinos to avoid potential legal ramifications.
Changing Landscape: As governments worldwide come to terms with cryptocurrency, they might introduce new regulations affecting crypto gambling and its promotion.
Stiff Competition
The lucrative nature of crypto casino affiliate programs means that the space is crowded. Affiliates face:
Competing for Visibility: With so many affiliates promoting similar platforms, standing out and attracting potential players can be challenging.
Higher Marketing Costs: To differentiate themselves, affiliates might need to invest more in advertising, reducing their overall profit margins.
Saturation Concerns: With numerous crypto casinos entering the market, there's a risk of the industry becoming saturated, leading to reduced player interest and, by extension, decreased affiliate earnings.
In conclusion, while the allure of crypto casino affiliate programs is undeniable, potential affiliates must approach them with caution and awareness. By understanding the risks and challenges, affiliates can make informed decisions, align with the right partners, and adopt strategies that ensure long-term success.
Tips for Success in Crypto Casino Affiliate Marketing
Delving into the realm of crypto casino affiliate marketing can be a lucrative venture, but achieving success requires a combination of strategy, knowledge, and adaptability. Given the unique nature of the crypto market coupled with the dynamics of online gambling, affiliates need to employ specific strategies to stand out and ensure consistent returns. Here are some pivotal tips to achieve success in this niche.
Understand Your Audience
Effective marketing is rooted in understanding the audience, and this holds particularly true for the crypto casino niche.
Segmentation: Not all crypto enthusiasts are gamblers and vice versa. Segment your audience based on their preferences, whether they're slot lovers, live casino fans, or sports betting aficionados.
Tailor Your Content: Once you understand your audience's preferences, tailor your content to resonate with them. For instance, a younger, tech-savvy audience might appreciate detailed reviews, while casual gamblers might just want to know about bonuses and promotions.
Feedback Loop: Regularly gather feedback from your audience. Whether through comments, surveys, or direct interactions, understanding their evolving needs can guide your marketing strategies.
Use Engaging Marketing Tools
In a space as competitive as affiliate marketing, having the right tools at your disposal can make all the difference.
Visual Content: Use high-quality images, infographics, and videos to explain complex concepts like how blockchain works or the advantages of crypto gambling.
Interactive Elements: Consider employing quizzes, polls, or interactive games to engage your audience and make your platform more interactive.
SEO Best Practices: Ensure your content is optimized for search engines. Use relevant keywords, meta descriptions, and high-quality backlinks to improve your site's visibility.
Stay Updated with Crypto Trends
The crypto world is evolving rapidly. Staying updated can give you a significant edge.

Regular Research: Dedicate time to read about the latest crypto trends, emerging coins, and technological advancements in blockchain.
Engage in Communities: Join crypto forums, Reddit communities, or Telegram groups to stay in the loop and understand the pulse of the community.
Adapt Your Strategy: If a new cryptocurrency becomes popular or if there's a significant change in the market (like a regulatory update), be ready to pivot your marketing strategy to reflect these changes.
In conclusion, success in crypto casino affiliate marketing is not just about promoting a platform but understanding the intricate dance between the worlds of cryptocurrency and online gambling. By continuously learning, adapting, and employing the right strategies, affiliates can not only achieve success but also establish themselves as authoritative voices in this niche.
Conclusion: The Future of Crypto Casino Affiliate Programs
The blend of the dynamic world of cryptocurrencies with the persistent appeal of online gambling marks the dawning of an era filled with possibilities. As we draw this comprehensive exploration to a close, it's pertinent to cast our gaze forward and envision what the future might hold for crypto casino affiliate programs.
Continued Growth and Opportunities
Broader Adoption: As cryptocurrencies continue to gain mainstream acceptance, more online casinos are likely to integrate them, expanding the horizon for affiliate marketers.
Diverse Offerings: As the technology underpinning these platforms matures, we can expect a wider array of games and gambling options that cater to the varied tastes of the crypto audience.
Technological Advancements: Innovations like smart contracts on the blockchain might lead to more transparent and automated affiliate programs, ensuring fair and timely compensations.
Adapting to Changes
Regulatory Evolution: The regulatory landscape for both cryptocurrencies and online gambling is ever-evolving. Affiliates will need to stay abreast of these changes, adapting their strategies to ensure compliance and relevance.
Market Dynamics: The volatility inherent to the crypto market necessitates that affiliates remain flexible in their approach, ready to pivot their strategies in response to market shifts.
Educational Role: As new users continue to delve into the world of crypto gambling, affiliates might find themselves playing a more educational role, guiding novices through the intricacies of crypto transactions, wallet management, and security best practices.
Drawing our exploration to a close, the interplay between cryptocurrencies and online gambling is undoubtedly an exciting frontier for affiliate marketing. With the promise of continued growth, bolstered by technological advancements and a shifting regulatory landscape, the future seems bright. However, like any venture, success will favor those who stay informed, adaptable, and committed to delivering value to their audience. The dice have been cast, and the game is on.

FAQ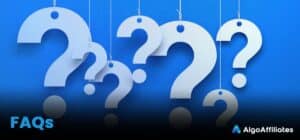 What is a crypto casino affiliate program?
A crypto casino affiliate program allows individuals or entities to earn commissions by promoting cryptocurrency-based online casinos. Affiliates earn based on the traffic or transactions they direct to the casino through their referral links.
How are commissions typically paid out in these affiliate programs?
Commissions can be paid out in various forms, including a flat fee (Cost Per Acquisition), a percentage of the revenue share, or a hybrid of both. Payments can be in traditional currency or cryptocurrencies, depending on the program.
Are crypto casino affiliate earnings affected by cryptocurrency volatility?
Yes, if commissions are paid in cryptocurrencies, the actual value of those earnings can fluctuate based on the market value of the cryptocurrency.
Is promoting crypto casinos legal everywhere?
No, the legality of promoting crypto casinos varies by jurisdiction. Some countries or states might have laws against promoting or participating in online gambling, especially when it involves cryptocurrencies. Always check local regulations before joining an affiliate program.
What types of games can I promote as a crypto casino affiliate?
Depending on the platform, you can promote a wide range of games, from slots and table games to live casino games and sports betting options.

How can I ensure that the crypto casino I'm promoting is trustworthy?
Look for casinos that are licensed and regulated by reputable authorities. Also, check for user reviews, security measures, and the transparency of their operations.
Do I need a website to become an affiliate?
While having a website can be beneficial, some affiliate programs might also accept individuals who promote through social media, email marketing, or other online platforms.
How can I increase my earnings as a crypto casino affiliate?
Understanding your audience, using engaging marketing tools, staying updated with crypto trends, and continuously refining your strategies based on feedback and performance metrics can help enhance your earnings.
Are there any upfront costs to join these affiliate programs?
Typically, there are no upfront costs to join a crypto casino affiliate program. However, you might incur expenses related to marketing, creating content, or setting up and maintaining a website.