Published on May 10, 2022
Understanding Free Affiliate Programs That Pay Daily
Payouts are undoubtedly one of the most important
There are numerous factors to consider when deciding which affiliate program to join. Daily Payouts are undoubtedly one of the most important.
You will be spending a lot of time and effort marketing products, and it is only fair that you be well and reliably compensated for it. When assessing payouts, affiliate marketers consider high and reliable commissions. The frequency of payment is especially important because it will ensure that your affiliate marketing business enjoys positive cash flows. Most affiliate programs offer fortnightly or monthly payouts, and this might be inconvenient for some affiliate marketers. This is why free affiliate marketing programs that pay daily are now highly sought.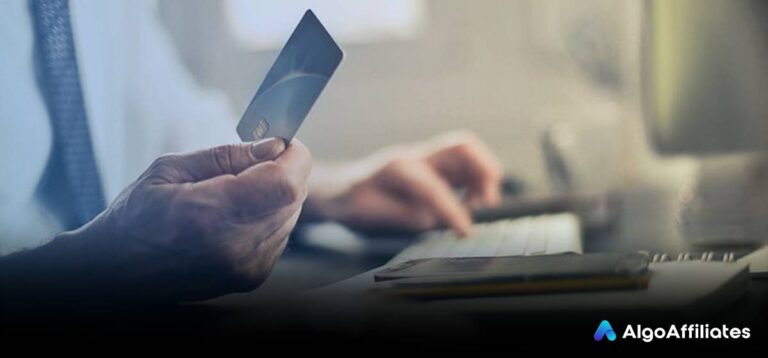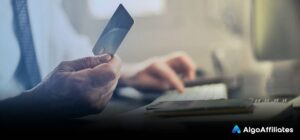 The Role of Affiliate Programs
To understand the role of affiliate programs, it is important to understand the different roles of major players in affiliate marketing.
These major players include: 
These are companies that provide goods and services. They are also known as brands, and it is their products that are promoted by affiliates and publishers. 
Affiliate marketers are also known as publishers. Their role is to promote the products owned by Merchants. Affiliate marketers are compensated for the results of their marketing efforts.
Consumers are the customers that affiliate marketers target and Merchants wish to convert. Consumers are the main reason affiliate marketing exists. Consumers do not have to pay more when they are referred by affiliate marketers, and in fact, they may even benefit from discounts and other promotional offers. 
Affiliate Programs/Networks
Affiliate programs are the intermediary between the Merchants and Publishers, and they ensure that both parties benefit. Affiliate programs essentially manage the process. They help Merchants to carry out their marketing plans for affiliates that will ensure they reach as many consumers as possible. Affiliate networks help Affiliate Marketers to access numerous Merchants that wish to have their products promoted.
How Affiliate Programs Work in 5 Steps
Having understood the vital role of all the players, here is a simple step-by-step breakdown of how they work:
Merchants and affiliate marketers sign up to join an affiliate program/network such as Algo Affiliates.  Merchants then offer products (offers) to be promoted through the affiliate program and the Publishers join to gain access to promote the brands.
Step 2 – select a product:
The publisher selects the product(s) they wish to promote. It is important to choose products that are relevant to your target audience, and those that you understand well and can easily promote. 
Step 3 – get the links to promote:
Get the affiliate promotional links of your selected product(s) so that every action and purchase by your target consumers are linked to your marketing efforts will be easily tracked and the appropriate commissions paid. Step 4 – bring traffic
: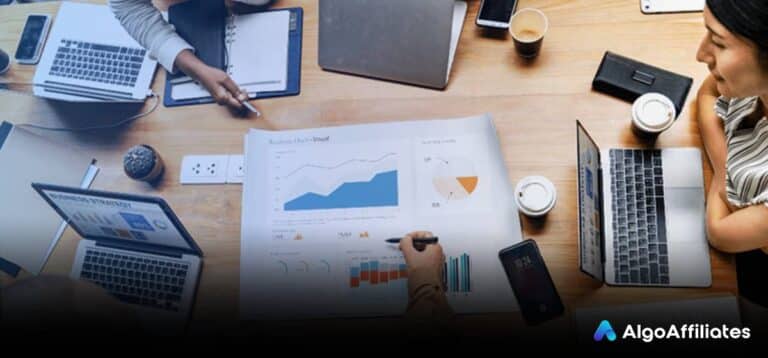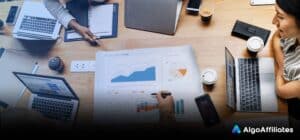 Start promoting the products by sharing affiliate links. You can share the links on social media, email, or via your blog or website. 
Earn your affiliate commissions for the actions/purchases linked to your marketing efforts. It is important to select an affiliate program that offers payouts in methods that are safe and convenient for you. 
Why Join Free Affiliate Programs That Pay Daily?
Free affiliate programs that pay daily provide practical advantages for many publishers. In particular, they are ideal for affiliate marketers that are just getting started with their affiliate marketing journey. The daily flow of funds is a great boost for publishers who need money to sustain the expansion of their affiliate business early on. Proper affiliate marketing efforts require time (and even money), and the daily payouts can help ease the pressure of finances that many publishers have to face when they are just getting started. 
Daily payouts can also be ideal for publishers who wish to test out new marketing methods. This way, the affiliate marketers are able to get instant feedback on the effectiveness of any marketing strategy. For instance, if you wish to try out paid advertising on a new social media channel, an affiliate program that pays daily will help you assess whether to cut short the promotional campaign so as to save money, or to continue the campaign if it is bearing fruits. Additionally, daily payouts can also allow publishers to also try out new niches or brands and different payout models easily.  
Are Daily Payouts Important?
As an affiliate marketer, receiving compensation is a top priority for you. And it is even better if you can get compensated every single day. But while daily payouts may sound attractive, they are not without some disadvantages.
To start with, most free affiliate programs that pay daily usually offer low commission structures because they have to consider some risks associated with instant payouts. For the merchant, and by extension the affiliate program to pay out a commission, there must be verification that a legitimate transaction has been completed.
Having a shorter payout frequency limits the time required to perform this verification. This means that merchants have to account for unforeseen risks such as refunds, returns, and chargebacks. This is why free affiliate programs that pay daily may, understandably, offer low commissions and some may even have other stringent conditions to help protect merchants from additional risks. 
Payment frequency is, by all means, an important consideration for all affiliate marketers, but it should not be the only consideration when selecting which affiliate program to join. 
Choosing an Affiliate Program that Pays daily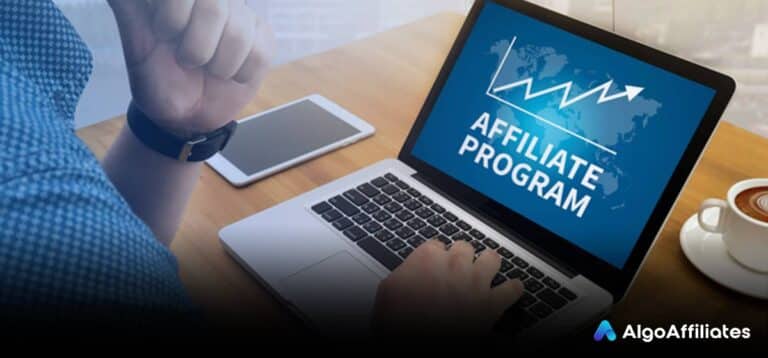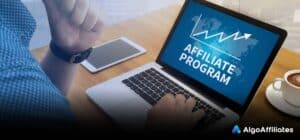 Beyond the frequency of payouts, here are some other important factors to consider when choosing which affiliate program to join:
It is vital to join a reputable affiliate program. An affiliate program with good standing proves that both merchants and affiliate marketers trust the network. Merchants are able to join the network because they are guaranteed to meet their marketing objectives, whereas publishers are confident that they will be well supported with their promotional activities as well as attain great and reliable compensation for their efforts. A reputable affiliate program will be very transparent, with no hidden terms and conditions designed to limit your rightful compensation.
A good affiliate network will offer publishers a wide range of products and offers to promote. While most affiliate networks will tout their rich selection of products available for promotion, for publishers, it is important to consider quality over quantity. This means that you need to make sure you are dealing with quality merchant products. Promoting quality products is easy, convenient, and very lucrative; and it will also earn you the trust of your audience. 
High Commissions and Convenient Payment Methods
No matter the frequency of payments, it is important to ensure that you join an affiliate program that offers high commissions. At the very least, high commissions will ensure that you are able to earn decent amounts even when you make minimal conversions. High commissions are, however, only important if you can actually get to receive the money. This means that you should join an affiliate program that will allow you to access your money via safe and convenient payment methods. There should be no hassles whatsoever when you wish to enjoy your commissions. 
Tech and Marketing Support
An affiliate program is essentially your affiliate marketing partner. And a good partner should be invested in your success just as much as yourself. This means that they should have effective tech and marketing support to enhance your affiliate marketing efforts. You should be able to easily access marketing resources and creatives that will help you run a comprehensive promotion for your chosen brands. As well, the affiliate program should support efficient tracking of affiliate purchases so that you will be given due compensation for your efforts.  
The Best Tips for *Free* Traffic Generation Strategies
After joining an affiliate program, it is now time to start promoting your favorite brands. The idea of promotion is to generate quality traffic from your prospective marketing channels. Traditionally, affiliate marketers have used websites for their promotion efforts. The websites have typically taken various forms such as Reviews, Blogs, Forums, Education, News, or Ratings. It is always important to create original, unique, and high-quality content that will help your audience gain real value. It also helps if your content is SEO-friendly. Search Engine Optimization is a big deal for affiliate marketers because it helps in creating organic traffic, rather than expensive paid traffic. There is also email marketing which is effective and much less expensive. 
While considered traditional, these techniques are now pretty much the standard, and they continue to be effective. There are however new trends for lead generation which can help affiliate marketers get ahead in 2022 such as:
Video marketing has been growing in recent years. In particular, short videos are the new trend in 2022 as they are easily sharable and consumable on popular social media platforms such as YouTube, Facebook, Twitter, and even TikTok. 
A microsite is a 'sub-site', or a 'mini-site' used to target a specific target audience, usually for a limited time period. For instance, if you have a site promoting a brand, you can create a microsite when the relevant merchant runs a promotional event or discounts. Microsites help publishers not to clutter their homepages as well as provide niche content and run targeted marketing campaigns. 
The rise of social media has led to the emergence of 'influencers'. These are individuals who have amassed a huge following on different social media platforms. Unlike celebrities, influencers can literally be anyone and can be found anywhere. When seeking influencers, it is important to seek out those that have consistently built their brand and cultivated a following that trusts them. This way, they can actually recommend a product to a receptive audience. It is important to note that influencer marketing is highly individual and should be carefully planned. 
Here are more advanced strategies for affiliate marketers to explore.
Affiliate Marketing with Algo Affiliates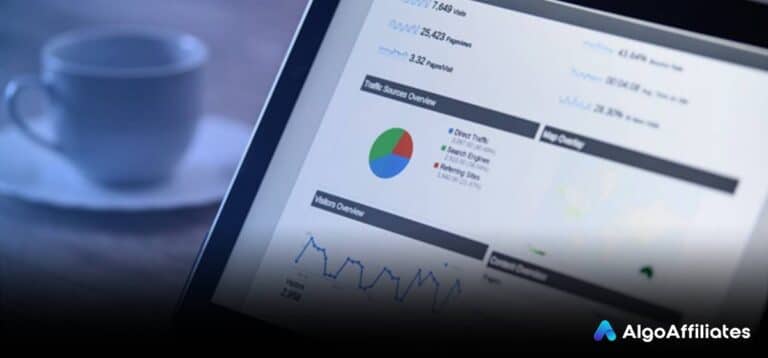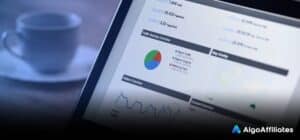 Algo Affiliates stands out as a top affiliate network in 2022, checking all the important parameters affiliate marketers should take into consideration. Although Algo Affiliates is a relatively new network, Algo Affiliates is backed by a highly experienced team that has run various reputable affiliate networks. The Algo Affiliates team has brought their knowledge, experience, and superior technology to Algo Affiliates .
Algo Affiliates offers a wide variety of niche categories beyond finance to also include gambling, dating, lifestyle, education, health, entertainment, and many more.
In all the niches, Algo Affiliates has enlisted only quality merchants who offer quality products as well as attract payouts. Affiliate marketers are able to choose different commission models such as CPA, CPS, CPL, and Revenue Share (read more about affiliate commission models here). The payment frequency is very flexible and reliable. 
It is not just about connecting affiliate marketers to offers at Algo Affiliates.
the affiliate program also offers exceptional support to ensure that publishers are well equipped to run fruitful marketing campaigns. There are numerous educational resources, including an active blog that helps all levels of marketers to stay up to date with the latest trend in the industry. 
Choosing an affiliate program is an important decision in your affiliate marketing journey- a decision that can have a huge effect on your success. Before you jump at the first free affiliate program that pays daily, contact the Algo Affiliates team and let them tailor a deal for you.